Sporting Classics' 15th annual Awards of Excellence once again salutes the "best of the best" — those companies and individuals whose products and services are having a significant and long-lasting impact on our sporting lives.
Nominees for the awards are submitted by the magazine's senior and contributing editors, then finalized by the Sporting Classics staff. The honorees were chosen for their achievements in defining what a great sporting product should be. Their engineering, craftsmanship, and innovations have set higher standards than ever before.
Clothing – Russell Moccasin High Country Hunter Extreme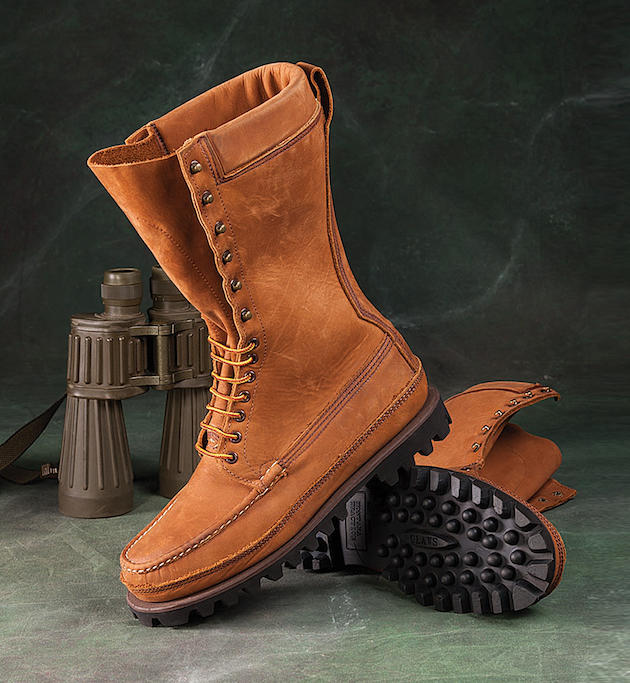 Not too many years ago building a boot was simply a matter of stitching a few pieces of cowhide onto a hard rubber sole. Today, boot-making has become a complex process involving a variety of high-tech components and special treatments. That's certainly the case in Russell's High Country Hunter Extreme.
This new boot has a single-piece Air Bob Sole that bridges the gap between the arch and the ball of the foot for added support and vastly improved longevity. The Air Bob Sole and its hollow, air-filled cleats give and grab, providing superior traction.
The boot's Pecos Gaucho leather is a waxy, rugged nubuck leather with a high degree of water repellency. The Extreme also features a True-Fit fiberglass shank (68 percent lighter than steel but equally strong) that solidifies the arch area and makes the boot more rigid for sure-footed traction. For those long treks, the 12-inch boot has a thick bottom layer of Poron Technical Foam that doesn't compress under walking pressure. The uppers are lined in Turtleskin and leather, providing superb lower leg and ankle support.
Available in both men's and women's sizes.
Company of the Year – Nosler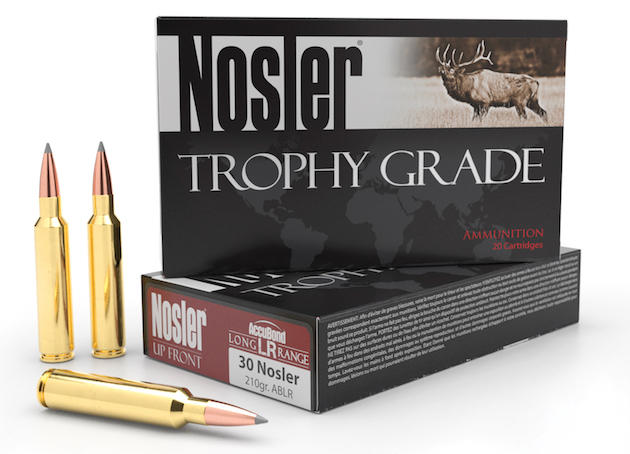 A family owned company located in Bend, Oregon, Nosler, Inc. is built on a legacy of innovation. From the invention of the Nosler Partition in the 1940s, to the introduction of Nosler rifles, ammunition, brass, reloading manuals, and now a family of high-power cartridges, the 68-year tradition of innovation and excellence continues in 2016.
Nosler has made big waves in the shooting world over the last several years with the introduction of their AccuBond Long Range bullets, as well as its own line of company-named cartridges: the 26 Nosler in 2014 and 28 Nosler in 2015. This year the trend continues with the new 30 Nosler, a beltless .30 cal. (.308-inch) cartridge capable of firing a 180-grain AccuBond bullet at 3,200 fps from a standard-length action.
Fishing  – St. Croix's Legend Elite Series

St. Croix has overhauled their flagship freshwater series with new blank technologies and premium components. The Legend Elite series now includes 57 models with specialized tapers for bass, walleye, pike, musky, salmon, and steelhead — all with dramatically improved balance and unprecedented sensitivity.
Legend Elite blanks are engineered with St. Croix's exclusive Integrated Poly Curve (IPC) tooling technology and its new Taper Enhancement Technology that together provide unique, computer-designed-and-cut patterns for improved actions and increased sensitivity. They're built with high-modulus/high-strain SCV graphite with carbon-matte scrim and reinforced with super-high-modulus SCVI graphite for added power and reduced weight. New advanced components include Fuji Torzite guides with solid titanium frames for 100 percent corrosion-proof performance.
Designed and handcrafted in Park Falls, Wisconsin, Legend Elites come with a protective rod sack and a 15-year transferable warranty backed by St. Croix Superstar Service. They retail from $370–$550.
Shotguns – Perazzi High Tech

The new High Tech is a significant evolutionary step in Perazzi's magnificent MX8 and MX12 platforms. The goal was to preserve the feel and superb pointability natural to Perazzi guns, but to reduce recoil and improve stability.  This was achieved by increasing the receiver width by 3mm, thus lowering the center of mass in between the hands. The combination of the wider receiver and reverse, tapered rib further improved weight distribution.
The gun's innovative design needed a new aesthetic to distinguish it from previous models. The High Tech has a new rib ventilation to improve cooling, a restyled stock profile for the wider receiver, and receiver color options to allow the customer to personalize it. All classic engraving patterns are available. Custom business logos, national flags, or symbols can also be requested on the bottom of the receiver.
Shooters will benefit from the features that have made Perazzi great, such as superior barrels, a reliable, crisp trigger, the strongest locking system, and custom stock measurements.
The High Tech will be offered in all the current configurations for trap, skeet, sporting, the Olympic Games, pigeon shooting, and hunting. The new models will be hitting dealer shelves this spring.
Optics – Nightforce SHV Riflescopes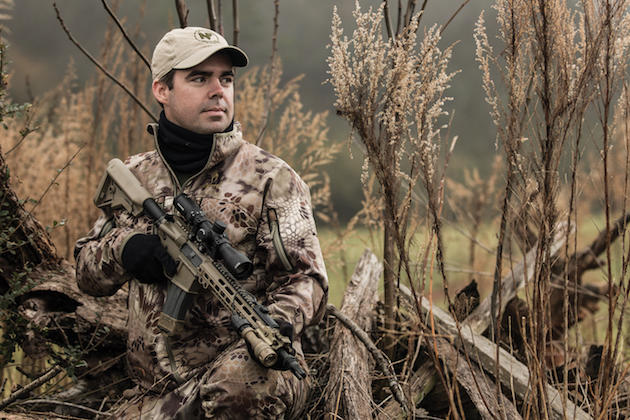 It was a difficult challenge, but the engineers at Nightforce set out to design a riflescope with premium components and precise tolerances that could be offered at a price point within reach of a wide range of hunters and shooters. To achieve that goal, Nightforce decided to limit the scope's options, turn to simpler controls, and use a less-complex manufacturing process in creating their new line of SHV riflescopes.
Available in 3-10×42, 4-14×56, and 5-20×56, SHV riflescopes feature fully multi-coated lenses optimized for low-light performance and side-parallax adjustments. Their 30mm tubes are machined from 6061 T6 aircraft-grade aluminum that provides serious strength. All adjustments are capped and weatherproof. Two reticles are offered: IHR or MOAR.
SHV riflescopes are covered by Nightforce's limited lifetime warranty.
Fishing Lodge – Westwind Tugboat Adventures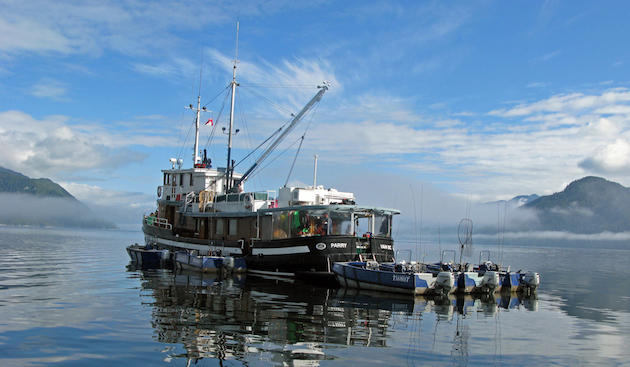 Westwind Tugboat is truly one of North America's greatest fishing adventures. Cruising the Inside Passage of British Columbia, Westwind's beautiful 85-foot converted tugboat carries guests to majestic fjords surrounded by lush forests, whales, bears, and eagles. Its 12 passengers enjoy fabulous cuisine and fine wines while exploring legendary waters for trophy salmon and halibut. They're completely equipped with outdoor clothing, a full variety of tackle, and have the full use of custom-built 18-foot skiffs with personal guide service.
Every Westwind Tugboat cruise is an unforgettable seven-day adventure of wilderness fishing, beachcombing, sightseeing, and relaxing in the midst of incredible scenery. This is a paradise for sportsmen and nature lovers, young and old alike, on the trip of a lifetime.
Shooting Sports –  Norma-USA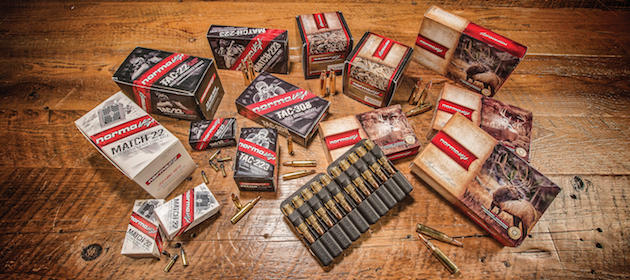 Norma's products — ammunition, brass, bullets, and gunpowder — are known worldwide for their superior quality.
Last year was another standout for Norma Precision Ammunition and Components. The company moved into a new warehouse in Tennessee, added a line of precision brass cases, and dramatically increased its USA lineup of ammunition.
For 2016, Norma's new products include the Match .22 LR to compliment its Match and Tac lineup, as well as several additions to its extensive line of brass cases — notably the 6.5 Creedmoor and .284 Winchester, both a favorite of long-range target shooters.
Norma also has a 40-grain .22-caliber subsonic offering, and just recently entered the shotshell market with target, upland, and waterfowl loads. Visit Norma's website for more developments and updates.
Rifles – Hill Country's American Classic Rifle

Now celebrating its 20th anniversary year, Hill Country Rifles is proud to proclaim that it still clings to the old-world art of handcrafting premium-grade rifles.
Hill Country's new American Classic Rifle exemplifies this level of fine craftsmanship. Each rifle is one of a kind, with a carefully selected, air-dried stock that is filed, sanded, checkered, and finished by Michael Ullman, a riflesmith and president of the American Custom Gunmaker's Guild.
The rifle's action is stoned and polished by hand to produce crisp lines and a smooth operation. The American Classic also features a specific, custom barrel contour.
For its 20th Anniversary, HCR is building a special edition of the American Classic in .30-06. You can see its progress at www.hillcountryrifles.com.
Hunting Lodge – Pine Hill Plantation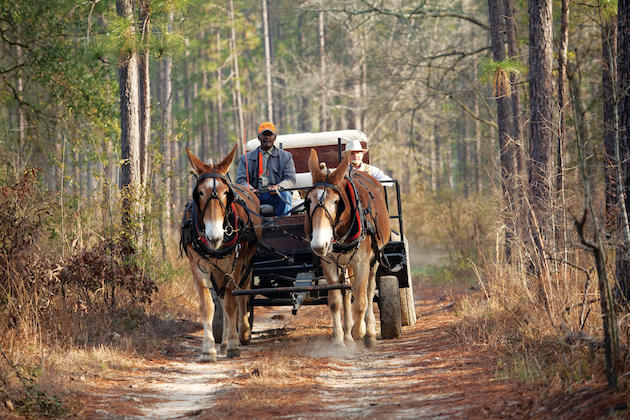 At Pine Hill Plantation, owners Doug and Jackie Coe enjoy sharing their passion for history, tradition, and wingshooting authenticity … and it shows.
Throughout the plantation's five-month-long gunning season, guests are treated to vintage Georgia quail hunting from horseback and mule-drawn wagon. "Quail hunting from horseback is as deeply embedded in the southern plantation psyche as grits and cornbread," said Doug, "and the mule-drawn wagon is an iconic symbol of the grand plantation social experience."
Once the day's hunt is over, guests return to one of four beautifully appointed lodges, where they are pampered by their own staff and their personal chef prepares meals to order in their private dining room.
What really sets Pine Hill apart is its carefully managed 6,000 acres of longleaf pine forest, much of it carpeted in native wiregrass. The Coes have applied the same wildlife management practices as some of the most exclusive plantations to create an ideal habitat for birds and a picturesque setting for exhilarating covey rises.
After his hunt at Pine Hill Plantation, one guest wrote: "I grew up hunting quail on our 13,000-acre family plantation that my grandfather created in the 1940s. The last three days at Pine Hill were as good as any three days that I ever spent at our family plantation."