Kick off the new year right with Sporting Classics' latest and greatest issue. The new Jan/Feb 2018 magazine is mailing to subscribers now and will hit newsstands January 2. Inside you'll find tales of man-eaters—both real and imagined—thieves, bobwhite quail, dangerous and endangered species, kudu and Kamchatka, elk and duck hunting in foreign locales, and the sporting adventures of Ernest Hemingway's eldest son. A can't-miss issue!
On the cover you'll find one of our most interesting illustrations yet. In 1983 Andy Warhol was commissioned by his friends and publishers Ronald and Frayda Feldman to create a series of ten endangered species rainbow silkscreens to raise environmental consciousness. Our cover image, Black Rhinoceros, is from that monumental series. The bold outlining and psychedelic color palate—characteristics of Warhol's unique style—along with the poignant expression of this great beast, which is suggestive of its fate, create an unforgettable tension between art and truth.
Featured in the new issue:
The Heart of the Game
Hunting is part of a larger husbandry in which the life of the country is enhanced.
By Thomas McGuane
The Sea Serpent
The captain insisted the monster was real. Now all they had to do was capture it.
By William Elliott
Bob White: The Story of a Quail
Life can be challenging for Mr. and Mrs. Bob White.
By Charles H. Morton
A Shooting Adventure in South China
A tale of thwarting robbers with an empty gun.
By John L. Anderson
The Last Rhino
Listed as seriously endangered, rhinos could face extinction in the wild within the next few years.
By Joe Coogan
Wild, Remote Russia
They would finally do battle with Kamchatka's heavyweights.
By Bryan Gregson
On the Spoor of a Spiral Horn
The old bull proved to be telling evidence of wildlife conservation at its best.
By Simon K. Barr
The Rhatamahatmeya's Tale
The rogue elephant wasn't content to just kill and maul his victims.
By Sir Samuel Baker
One Last Cast: The Legacy of Jack Hemingway
By Duncan Dobie
Last-Second Lion
A hunt for an African lion, just days before the new USFWS import regulations went into effect.
By Nick Muckerman
The Way It Used To Be
Mongolia once hosted the best elk hunting in the world.
By Stuart Williams
Ducks Down Under
The author would enjoy many surprises during his week of waterfowling in Australia.
By Ramsey Russell
Columns by Mike Gaddis, Roger Pinckney, Jameson Parker, John Seerey-Lester, Robert Matthews, Dwight Van Brunt, Gayne C. Young, Lindsay Sellers, Michael Altizer, Ron Spomer, and Jim Casada.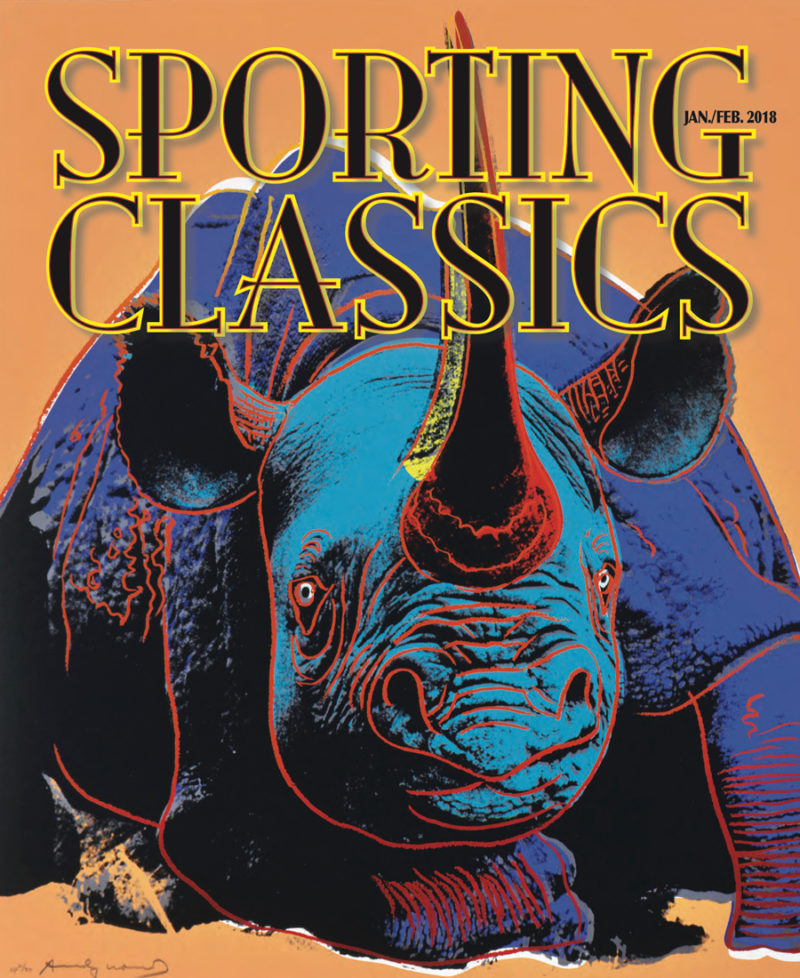 Cover image: © 2018 The Andy Warhol Foundation for the Visual Arts, Inc. / Licensed by Artists Rights Society (ARS), New York
Courtesy Ronald Feldman Gallery, New York