From the hills at night my father, Curtis, and I can hear only the dogs calling from the kennels down the bluff and the wind ribboning through the stands of cypress and live oak. The evening sun purples the distant ridges, and somewhere in the grass, pheasants and quail await us come daybreak. We've come here to Joshua Creek Ranch, in the Texas Hill Country, to hunt together a final time before my nuptials in the spring. My father and I haven't been afield together since I left my native Tennessee for South Carolina nearly a year ago. Between work and planning for the wedding, I've struggled finding time and money to make the pilgrimage home and get out with him, but he doesn't hold it against me.
After the ceremony, the dynamics of our family will change more than they already have, and I'll take on new responsibilities as a husband, no longer answering to myself alone. But here at Joshua Creek, we'll hunt as we always have—father and son and nothing else. We sit on the back porch of our cabin sipping whiskey, watching the last gasps of daylight dissolve, anxious for what the fields will bring.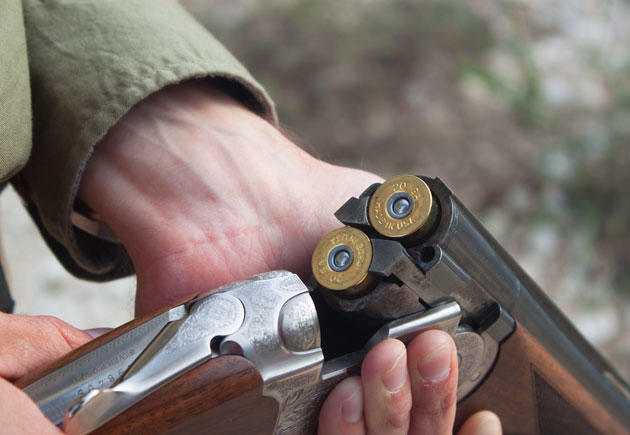 The next morning we eat bacon, eggs, and potatoes at the Cypress Lodge, an old home front that now operates as the ranch's main dining hall and lounge. The lodge is quiet and through the rear windows sunlight spills into the room and across the heavy wooden table. Outside, the day rises full tilt over the plains and cypress thickets. Founded a quarter-century ago, Joshua Creek Ranch covers 1,300 acres of limestone hills and grasslands 40 minutes north of San Antonio. Comanches and pioneers once battled over this land, but now the only shots are for deer, game birds, and skeet.
The starches and strong coffee free me from a subtle hangover as my dad talks dogs and shotguns with an oilman seated next to us. My father has spent his career in sales—hocking everything from sides of beef and cases of hotdogs to computer servers and telephone systems. I'm convinced he can carry on a conversation with anyone.
He and I intended to take a trip such as this after I graduated college—but the day my classmates strode across the stage for their diplomas, I began my first day at a telemarketing firm, writing scripts and white papers for operators to recite over the phone. I hated the position almost immediately, but my second job came soon enough and then this one, drawing me farther from home. When an opportunity to visit Joshua Creek presented itself, I knew he needed to meet me here or our outing wouldn't happen before the wedding.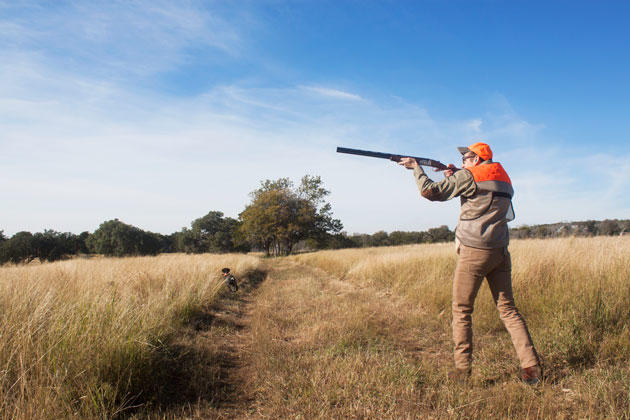 After breakfast, we meet our guide Billy outside, load the trucks, and follow a dirt road a mile or so. We come upon a meadow, rich and broken only by a few loose congregations of trees. At the tailgate, my father and I load our Berettas and then strike out along the trail, trailing two German shorthairs and a cocker spaniel, Billy between us directing the dogs.
The few wingshooting outfitters my father and I patronized in my youth were smoke-filled and based out of doublewide trailers with girly calendars pinned to the walls and birds that needed coaxing to fly. Once, after returning from the field, we watched a gap-toothed boy, .22 in hand, crouch behind a hay bale and pick off quail returning to the cages from the grass. My father and I didn't go on a guided bird hunt for years after that.
Joshua Creek stands as the antithesis of such operations. Our cabin is clean and comfortable. The staff is helpful but never pesters. And most importantly, the fields foster hard-flying coveys.
We follow the path up a slope and soon a shorthair points. We ease forward, guns shouldered. Billy commands the spaniel to flush, and a covey flashes into the air. I level my shotgun and draw a bead. We each shoot and two quail neatly fold into the grass. After a moment the shorthairs bound back onto the road, jowls cradling the birds. We eject the spent shells and reload. We inevitably won't shoot this well all day, but this first run seems foretold, a promise delivered.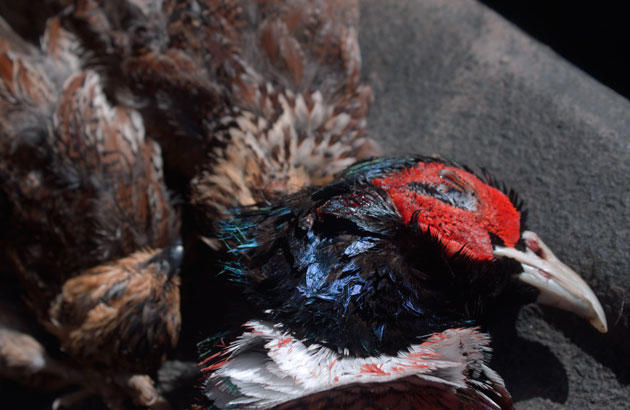 The birds come regular and strong. My father and I each claim a good number, but we struggle hitting just as many. I drop a hen, but half an hour later I can't roll a ringneck as it skitters from the grass. My father bags a rooster, but he can't get a decent shot at a second. Neither of us are deadeyes, but birds aren't easy to hit.
Joshua Creek prides itself on maintaining healthy, free-roaming coveys and speculates 25 percent of the birds on the property survive from year to year. Likewise, the ranch ensures quail and pheasants introduced to bolster the populations have had minimal human interactions. And the birds behave as proof—none need extra prodding to fly nor do they rise and settle within yards. Instead, they tear from the brush as if alight, driving toward distant treelines.
The ranch encourages these untamed coveys by clearing brush and dead trees from the fields, growing vegetation conducive to fowl, managing predators, and containing fungal disease from killing native live oaks. The staff works hard for the well being of the coveys, and it pays off with wild-flying birds. Likewise, this year the ranch began releasing mallards among its ponds and streams, employing similar management principles, hoping to bring duck shooting to the Hill Country.
At noon we head for the trucks, shoulders sore, vests filled, dogs panting.
After lunch my father and I spend the afternoon roaming the ranch's sporting clays course, which wrinkles through the lopping bluffs and verdant pastures. We warm-up with singles and then get competitive and start trying for doubles. I've never found sporting clays very interesting, but this course stands above any I've seen. The clay pigeons whip from the scrub such as would local birds. We shoot over the sweeping, endless landscapes, back dropped by imperial limestone bluffs, the surrounding country still and feral in a way far removed from the rest of the world.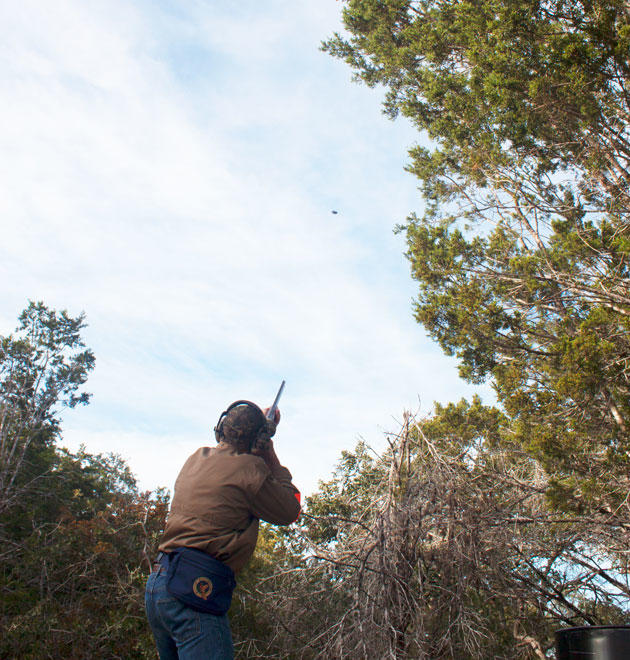 As we make our way between stations, we discuss the morning's hunt and others we've shared over the years—shooting mallards on the Mississippi from rotted-plywood blinds, squirrel hunting the fall we lived in Arkansas, stalking whitetails on the farm he leases back home. I know he and I will get out and shoot together once I'm married, but I can't help but feel an era is coming to a close. I haven't lived under his roof for nearly a decade, yet the ceremony seems like the final threshold dividing the boy he raised and the man I've shaped for myself. I'll begin forging my own family under, yet apart from his, cleaving to another—him and my mother no longer my strongest ties of kinship.
For dinner we eat alone at the Cypress Lodge. The cook brings a platter of duck sausage to the table, and my father and I split them over a bottle of wine. Tomorrow we'll head to the airport and board different planes to different cities—me to Charleston, South Carolina, and him to Nashville—but for now, we share a meal across the table from each other.
After ten minutes or so he asks what my fiancé and I have planned for Christmas, and I tell him—two weeks away from the office, out of South Carolina. He didn't know I'd be off for that long and says there are still plenty of whitetails to shoot in Tennessee that time of year. I tell him I know, that I'd like to get to a stand if I could trust someone to put me on deer. He takes a mouthful of sausage and surrenders a grin. He says he thinks he knows a guy.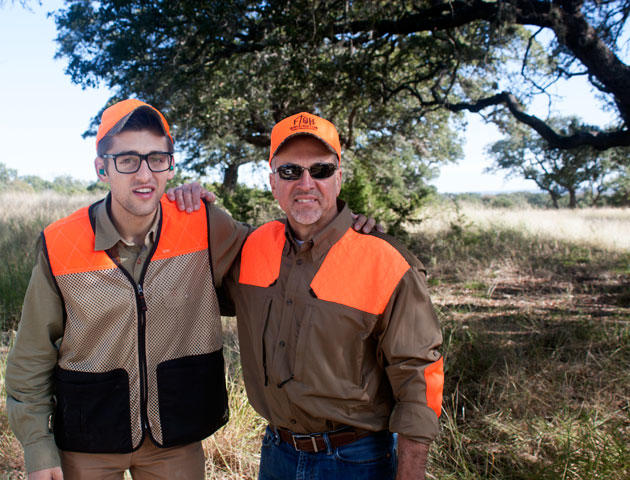 +++
Sign up for our daily newsletter to get the latest from Sporting Classics straight to your inbox.