Sir Henry Seton-Karr (1853-1914) was an English explorer, hunter, and a conservative politician who sat in the House of Commons from 1885 to 1906. He was the son of George Berkeley Seton-Karr of the Indian Civil Service. He was educated at Harrow School and Corpus Christi College, University of Oxford, where he obtained a Master of Arts in Law.
I first encountered him as "Lord Carr" in an account of buffalo hunting with Napoleon Bonaparte Earnest. N.B. "Boney" Earnest was himself a true western character who had scouted, fought Indians, and been a professional buffalo hunter. Buffalo Bill Cody said Earnest was "two of the three greatest liars in Wyoming."
Earnest eventually established the Pick Ranch west of Casper, Wyoming, which Seton-Karr acquired a financial interest in. Seton-Karr had hunted red stags in Norway, and when he saw the head of a bull elk in a storefront on the Strand in London, he determined to hunt one himself.
He was put in touch with Earnest through a mutual friend and began to hunt in the mountainous regions of Wyoming in 1877. (His accounts of hunting and fishing are recorded in his self-published book My Sporting Holidays.) Using a Purdey double rifle in .500 Express, he shot 30 bull elk, 13 grizzly bears, four bighorn rams, and unknown numbers of deer and antelope. Before we cry foul, we should recall that those were very different times from ours.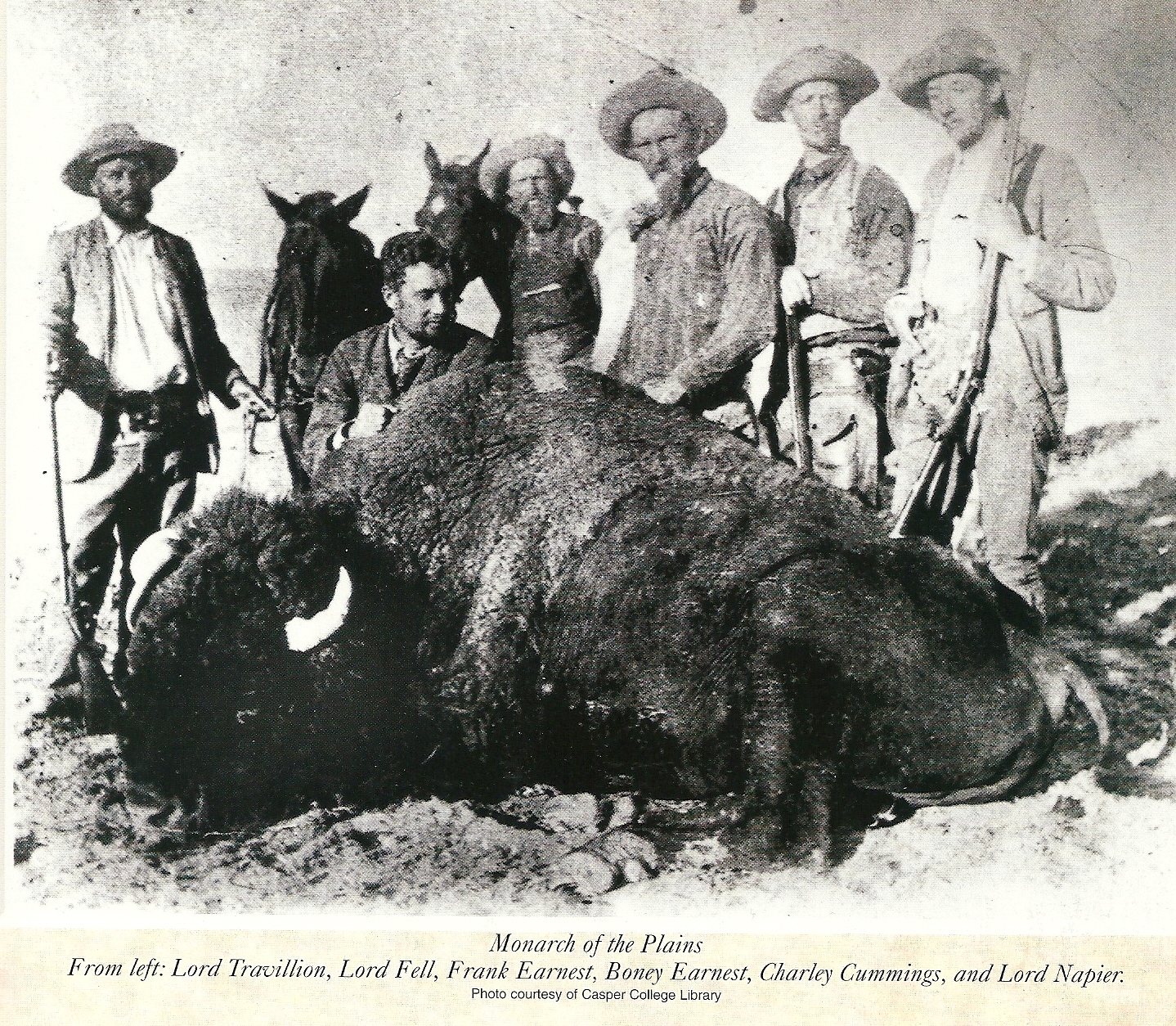 We have the attached photographs thanks to his efforts to make a visual record of some of his trophies. Accompanied by (from left to right) Lord George Travillion, Lord Fell, Frank and Boney Earnest, Charles Cummings, and Lord Napier, he was in on the kill of the largest bull buffalo Boney Earnest had ever seen. Seton-Karr is not in the photo because he was behind the camera.
Fascinated by the fact that many Westerners openly went armed to the teeth, he penned the following:
It has been said that [the] abolition of dueling in England has been followed by a loss of courtesy and politeness between man and man, and by a general deterioration of the outward fashion of speech and manners of society as compared with the more ceremonious intercourse of a century ago. However this may be, there is no doubt that the law of the revolver, to some extent, at all events operated to make western intercourse polite.
To quote the late Col. Jeff Cooper, "An armed society is a polite society."
Returning from a hunting trip in Canada where he killed an average-size bull moose, Seton-Karr was traveling first class on the Empress of Ireland when it was rammed and sank in the St. Lawrence River on May 29, 1914. In the late 1980s a section of moose antler was recovered from the wrecked ship by an Ontario salvage diver named John Reekie.
It is unknown what became of Seton-Karr's rifle.