From the July/August 2017 issue of  Sporting Classics.
SWAROVSKI BTX BINOCULAR (PICTURED ABOVE)
The new BTX from Swarovski Optik North is a unique binocular system that combines the features and benefits of a spotting scope and binocular. Both experts and novices will appreciate the angled view and ergonomic forehead rest. Crystal-clear Swarovision technology captures even the smallest details with color fidelity and razor-sharpness. The BTX has either a 30x or 35x magnification, and the new balance rail and professional tripod head are optional.
HUSKEMAW 4-16 RIFLESCOPE


The 4-16 Riflescope is the most all-around-versatile magnification available in the Huskemaw lineup. It's perfect for most hunting calibers with its patented RFBC turret and HuntSmart reticle for precise shooting and wind-holdover.
SIG SAUER RANGEFINDER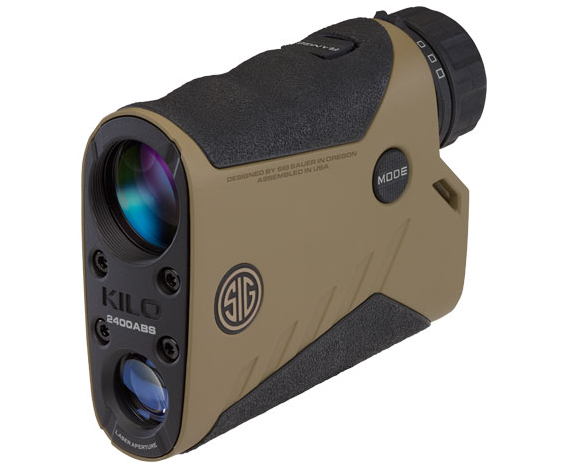 The KILO2400ABS is the world's most advanced rangefinder, featuring an embedded Applied Ballistics calculator, onboard environmental sensors, and Bluetooth for synchronizing custom profiles with a free, downloadable ballistic app for both iOS and Android smartphones. It also includes a tripod adapter, smartphone jack WindMETER, ballistic nylon Molle kit bag, and nylon carry pouch. The rangefinder has all the tools you need for precision target shooting and hunting.
MEOPTA MEOSTAR RIFLESCOPE

Meopta is offering two new bullet-drop-compensation (BDC) reticles in its most popular hunting scopes—the MeoStar R2 1-6×24 RD and MeoStar R1r 3-12×56 RD. The BDC-2 reticle provides holdover options out to 800 yards, while the BDC-3 reticle provides holdover out to 500 yards. Both feature an illuminated red dot that is easy to see in all light conditions.
GERMAN PRECISION OPTICS PASSION RIFLESCOPE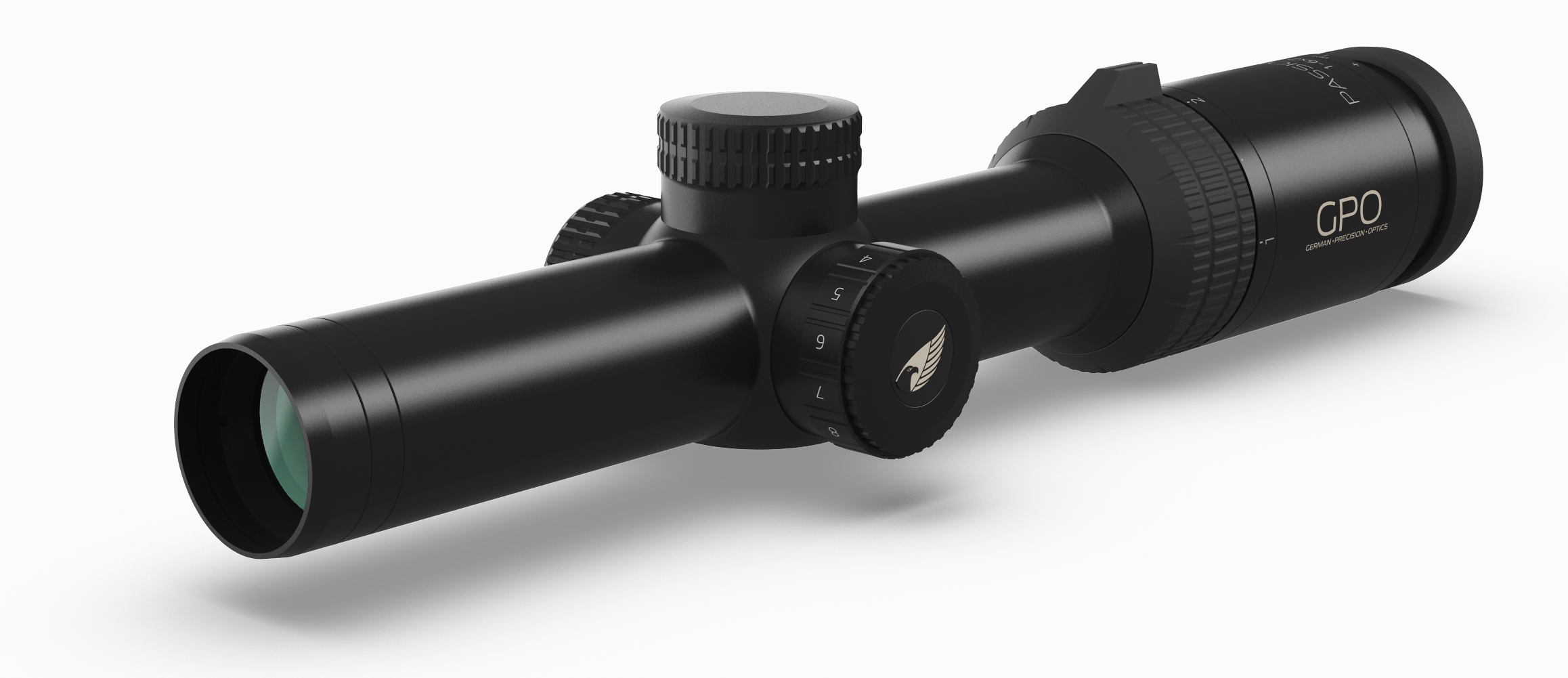 The newest premium-optics company, German Precision Optics has pushed performance boundaries with the Passion 1-8x24i riflescope. The 30mm dangerous-game scope is packed with cutting-edge technology, including fiber-optic iControl illumination, proprietary GPObright high-transmission lens coatings, Passiontrac reset turrets, and Passiondrop hydrophobic exterior lens coatings. The scope also features a Double HD objective lens and an 8x zoom factor that allows extreme versatility in high-pressure situations.
REVIC OPTICS PMR 428 RIFLESCOPE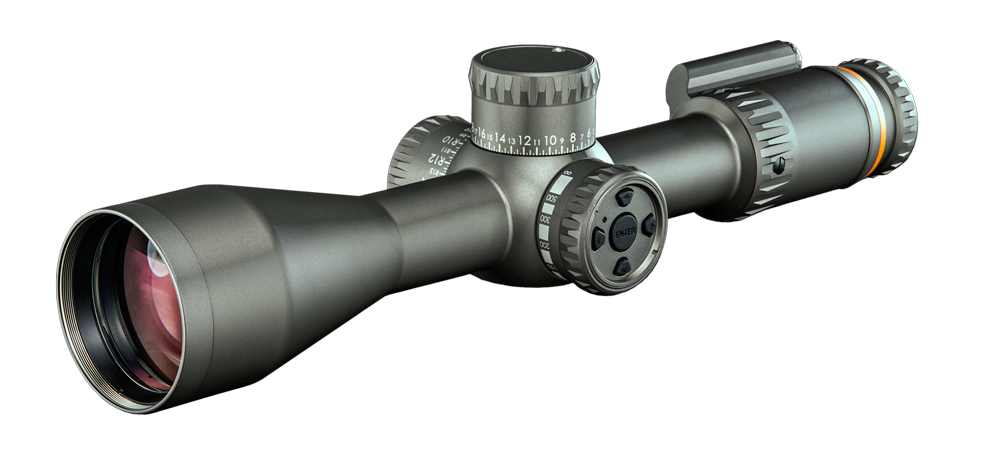 Revic Optics has introduced its first riflescope: the PMR 428. This 4.5-28×56 riflescope delivers everything for the long-range shooter. Adjust the elevation turret to your target distance, and it activates the "virtual BDC," which automatically corrects for inclination, compass direction, temperature, and pressure.
CENTERPOINT SPECTRUM RIFLESCOPE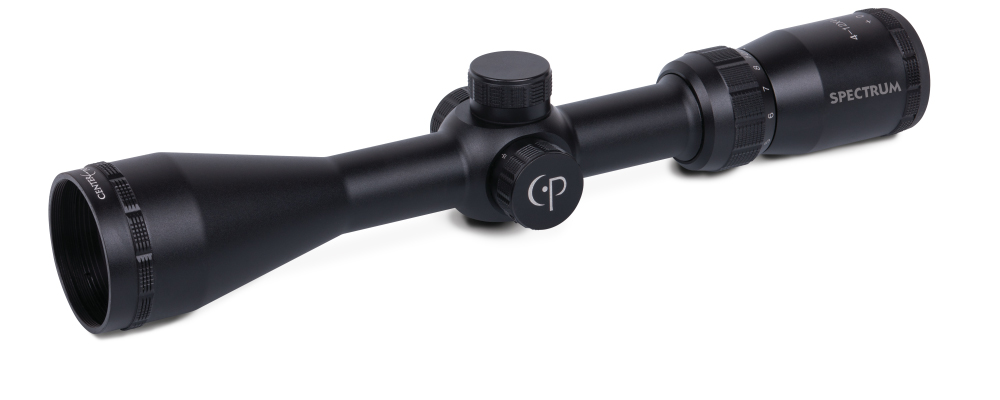 CenterPoint Optics has introduced three models in its new Spectrum First Focal Plane series. Until now riflescopes with reticles in the first focal plane have been priced out of range for value-conscious hunters. First-focal-plane scopes place the reticle in the first focal plane rather than in the second. This helps increase accuracy, as the scale of the reticle proportionally changes as you reduce or enlarge the magnification—meaning no shift in point of impact. The three models include a 4-12x44mm, 3-9x40mm, and a 1-4×24.
NIGHTFORCE ATACR RIFLESCOPE


The new ATACR 4-16×50 brings outstanding clarity, low-light performance, and other key features of the ATACR riflescopes—long favored for extended-range shooting by military and tactical professionals—to the sportsman in a riflescope created specifically for hunting.
VORTEX FURY BINOCULAR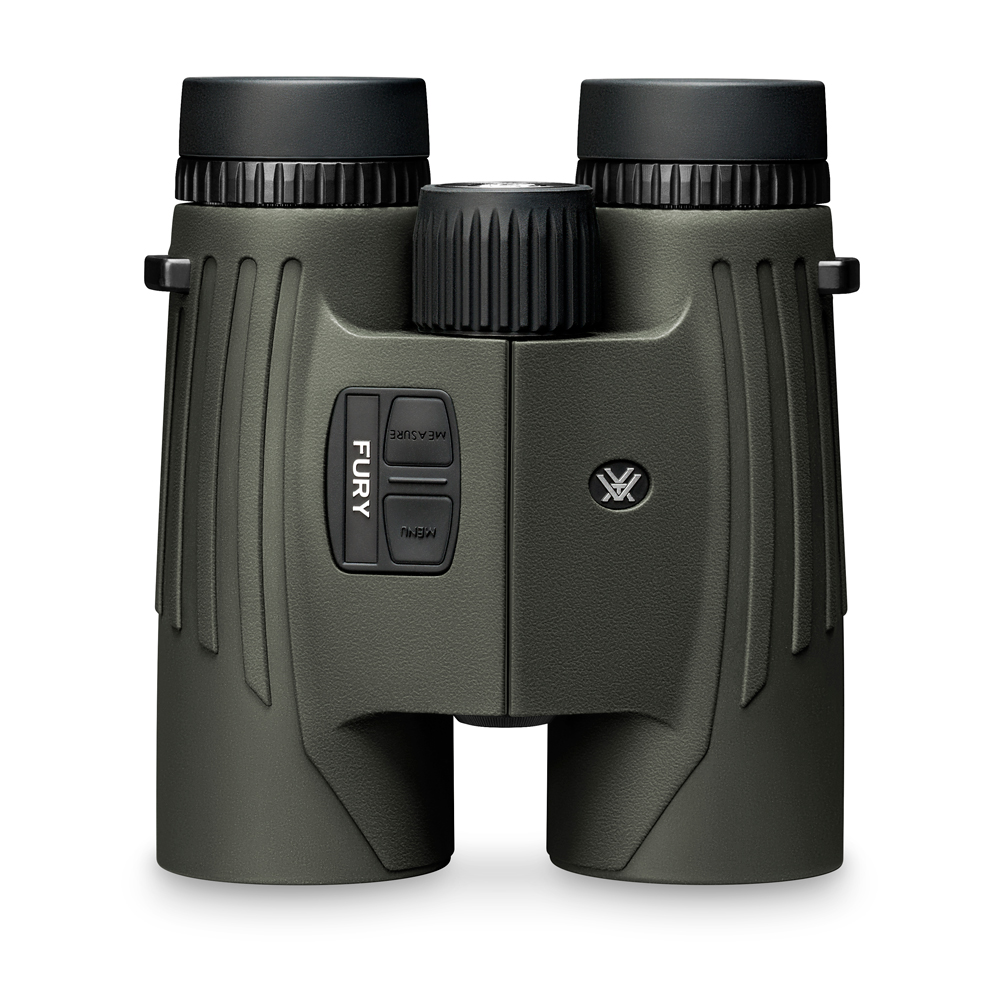 High-quality optics and long-distance ranging capability come together in the new Fury HD 10×42 Rangefinding binocular. Capable of ranging reflective targets out to 1,600 yards with an ultra-fast readout, the binocular enables you to quickly get the distance data you need to effectively execute your shot. Illuminated display can be set to yards or meters. Features angle-compensated, line-of-sight, and scan modes.
WARNE MOUNTAIN TECH RINGS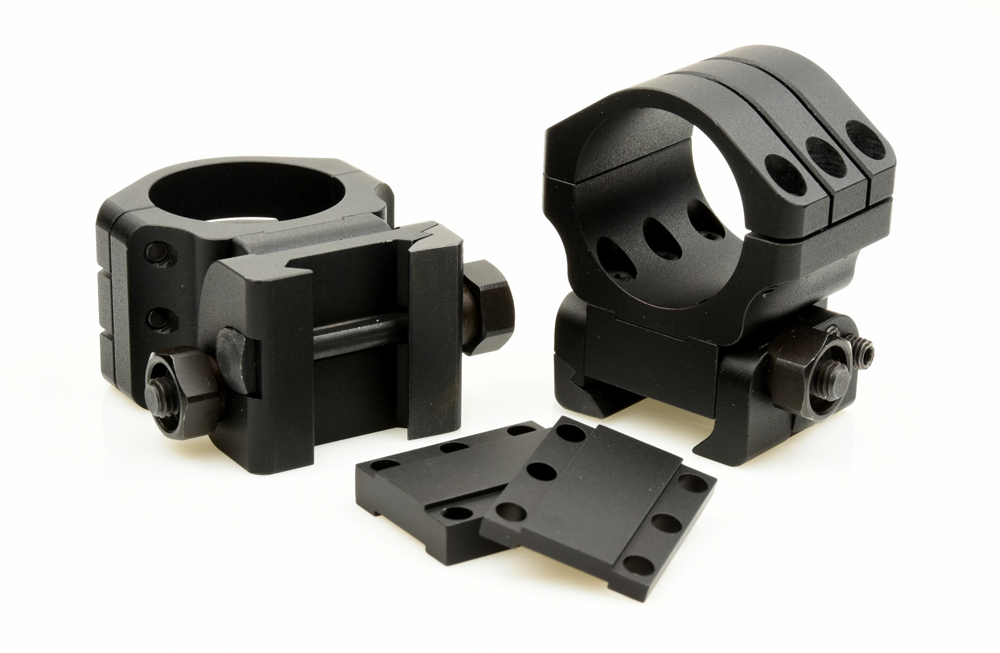 Mountain Tech rings and rails are designed to stand up to the harshest conditions while handling the brutal recoil of lightweight magnum rifles. Mountain Tech is equally at home on precision, long-range rifles, where nothing short of the best is acceptable.
BARSKA LEVEL RIFLESCOPE SERIES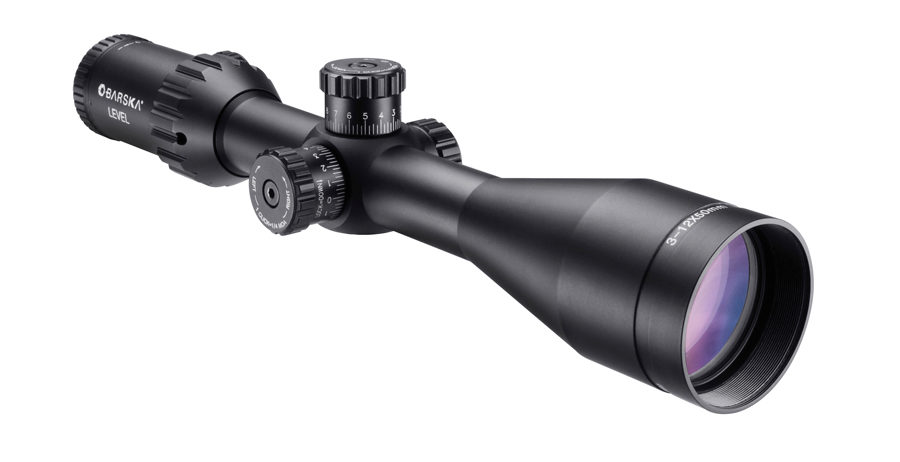 The new Level Series from Barska includes three riflescope models, all precision-engineered to make targeting easier with the help of an illuminated red-and-green MOA reticle. A side-mounted rheostat enables you to quickly adjust the color and brightness of the reticle; windage and elevation knobs facilitate precise adjustments that can be locked in place to avoid any unintentional movement. Barska Level riflescopes feature fully multi-coated optics.
TRIJICON ACCUPOWER RIFLESCOPE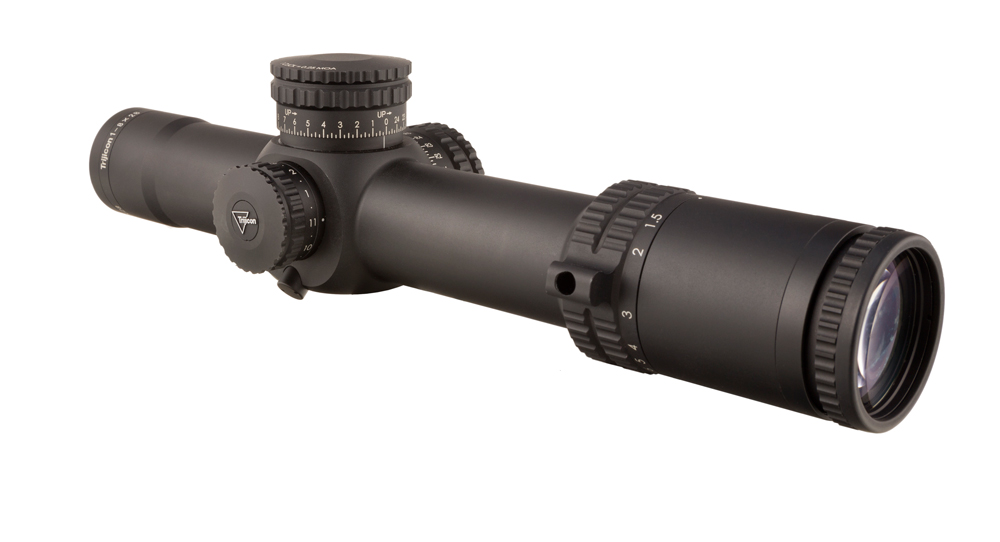 Trijicon is renowned for providing big-game hunters with illuminated optics that shine in any scenario. The new AccuPower 1-8x riflescope integrates aircraft-grade aluminum housing, superior-quality glass lenses, and advanced, application-specific red or green illuminated reticles, offering the durability and dependability that big-game hunters appreciate.
SCHMIDT & BENDER POLAR T96 RIFLESCOPE

Schmidt & Bender's new 4-16×56 Polar T96 represents the company's brightest optics and most feature-packed hunting riflescope to date. It offers 96 percent light transmission to the eye, a 34mm tube, side-parallax adjustment, and illuminated dot reticles in either first- or second-focal-plane designs.
LEICA MAGNUS RIFLESCOPE

Thanks to its compact dimensions and large, 50mm objective lens, Leica's second-generation Magnus i 1.8-12×50 riflescope is an extremely versatile optic for hunting. Its outstanding zoom factor, teamed with a minimum magnification of 1.8x, make it ideal for stalking deer and elk or climbing after sheep in the mountains.
RUDOLPH OPTICS T1 RIFLESCOPE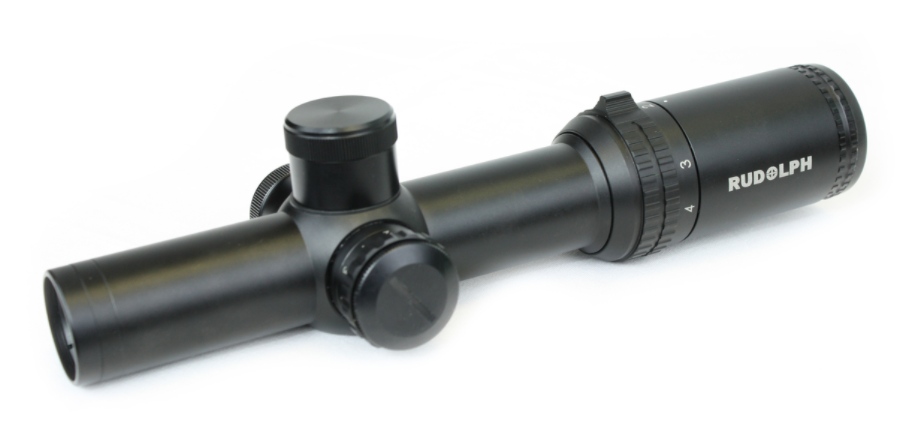 The T1 1-4x24mm IR FFP model, which features the new T8 FFP reticle, is perfect for 3-Gun competition and stalking big game. The 1x magnification allows for close-in, both-eyes-open shooting, while the 4x magnification allows for engagement of targets out to 450 yards. All Rudolph Optics riflescopes are covered by an industry-leading "no questions asked" lifetime warranty.
SIGHTMARK RAPID RIFLESCOPE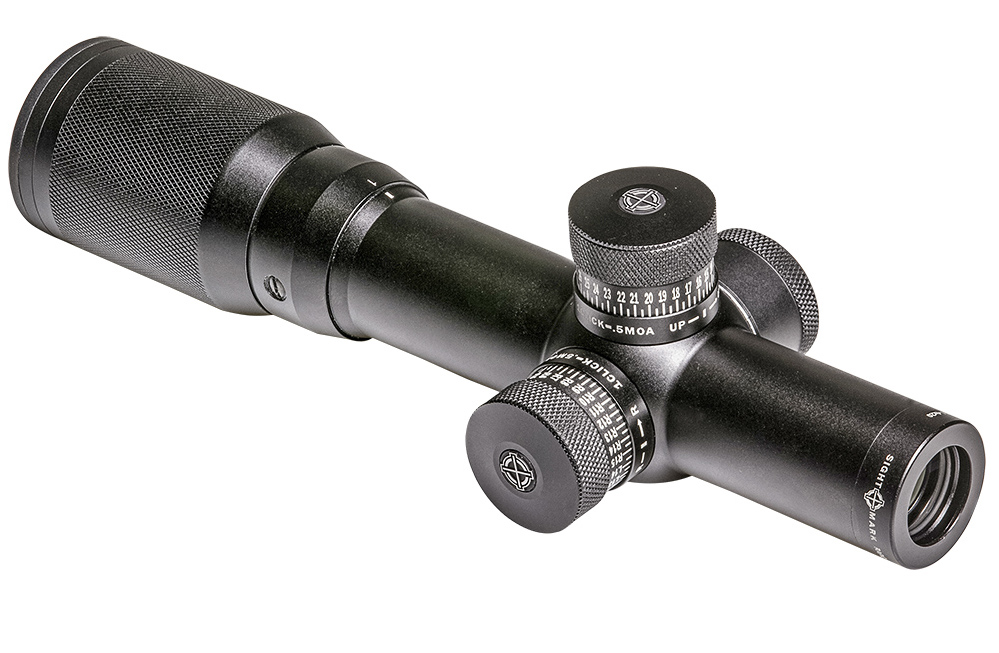 The AR 1-4×20 SHR-223 is the latest model in Sightmark's game-changing Rapid riflescope series. Its defining feature (along with fully multi-coated, scratch-resistant lenses, and adjustable illuminated reticle) is the zoom. Simply rotate the entire eyepiece to adjust between 1-4x. No throw-lever, no fumbling for a power ring.
HI-LUX M40 TACTICAL HUNTER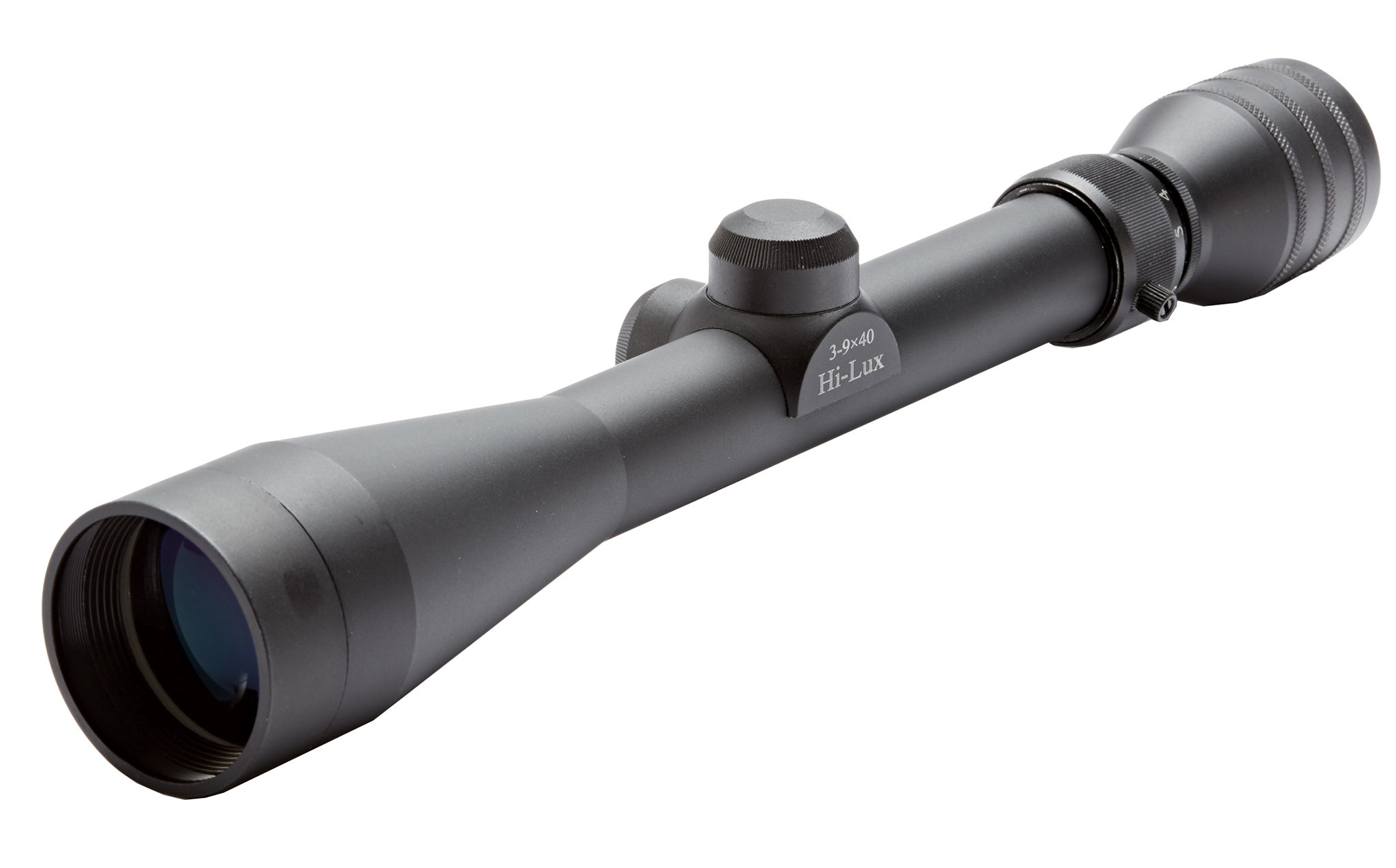 The M40 Tactical Hunter is a modern version of the green M40 scopes manufactured by Redfield during the Vietnam War. The new Hi-Lux M40 Tactical Hunter has an etched-glass ranging scale in the first focal plane and a ballistic-drop-compensating (BDC) wire reticle in the second focal plane. The scope enables you to frame targets within the parallel lines or the two vertical stadia markers on the horizontal crosshair. Once you know the distance, you can use the BDC reticle at 9X to make your holdover.
LEUPOLD VX-6HD RIFLESCOPE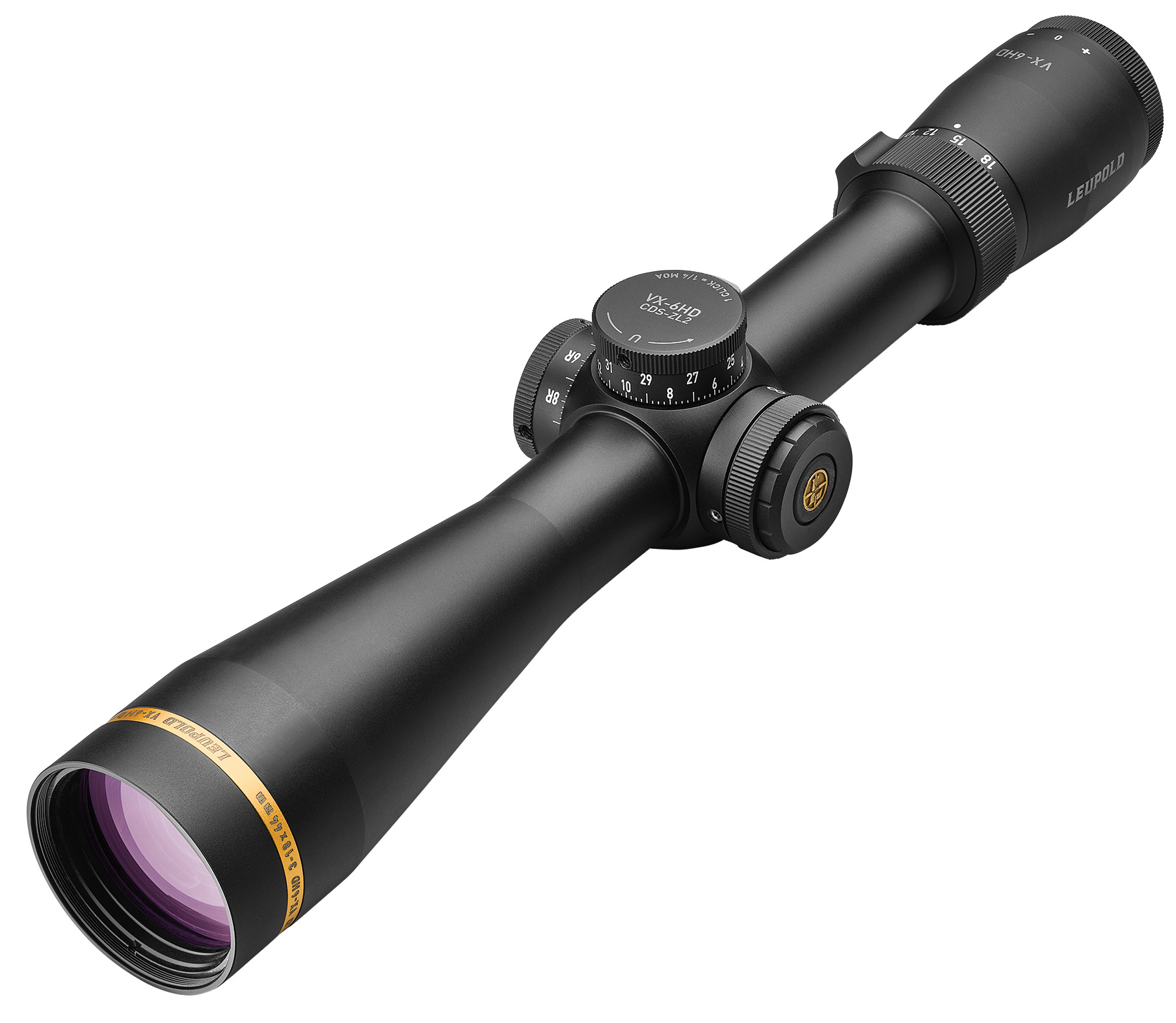 Leupold's VX-6HD riflescope combines high-definition performance with the Twilight Max Light Management System and includes an electronic reticle level. When canted by more than a degree, the reticle flashes. Once level, the reticle stops flashing. A Guard-ion hydrophobic lens-coating repels water, dirt, and fingerprints. Locking CDS-ZL2 elevation adjustments provide two full revolutions.
GUNWERKS G7 BR2500 RANGEFINDER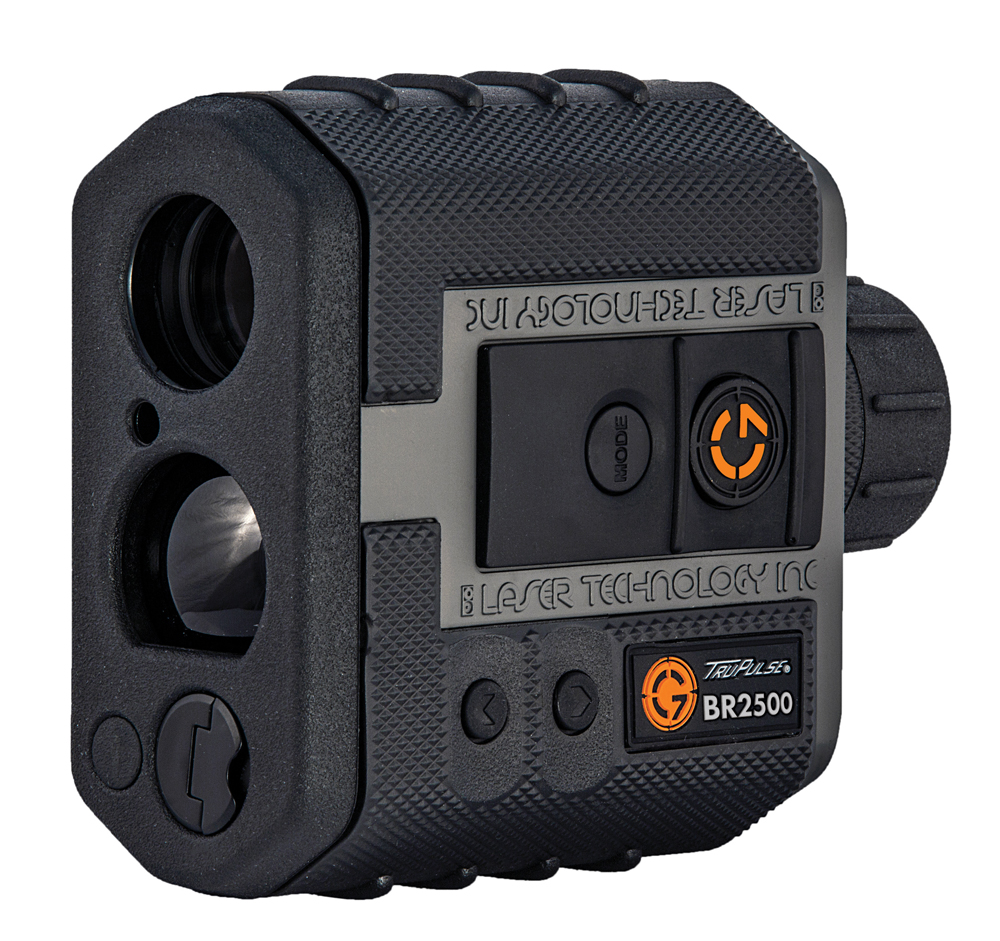 Gunwerks' latest update to the groundbreaking BR2 laser rangefinder, the G7 BR2500 Ballistic Rangefinder boasts an effective 2,500-yard range while still maintaining an eye-safe Class 1 laser. Ranging and ballistic algorithms have also been updated, along with temperature and pressure sensors to give true, compensated ballistic calculations and rangefinding capabilities at extreme ranges.
DNZ 215 TACTICAL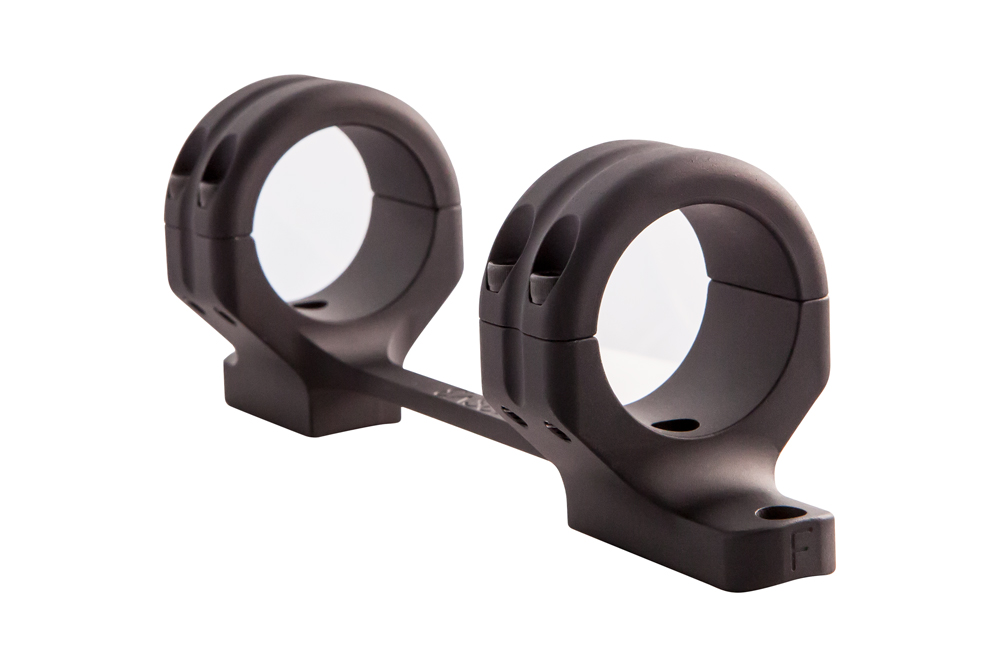 Designed to handle the most extreme use in the field, the new 215 Tactical series one-piece scope mount features .80-inch-wide rings, each with four .62-inch hardened-steel screws that engage the mount with about 20 threads per screw. The rings are scalloped outside the centerline, acting more like four rings instead of two, resulting in unmatched holding power. The connecting bar between the rings has been thinned down to ¼-inch wide and placed on the centerline of the action, enabling use on both right- and left-handed firearms. The 215 Tactical series is available in a straight 0 MOA model for shots out to 600 yards and a 21.5 MOA for 600- to 1,000-plus-yard shots.
NIKON RANGEFINDER/BINOCULAR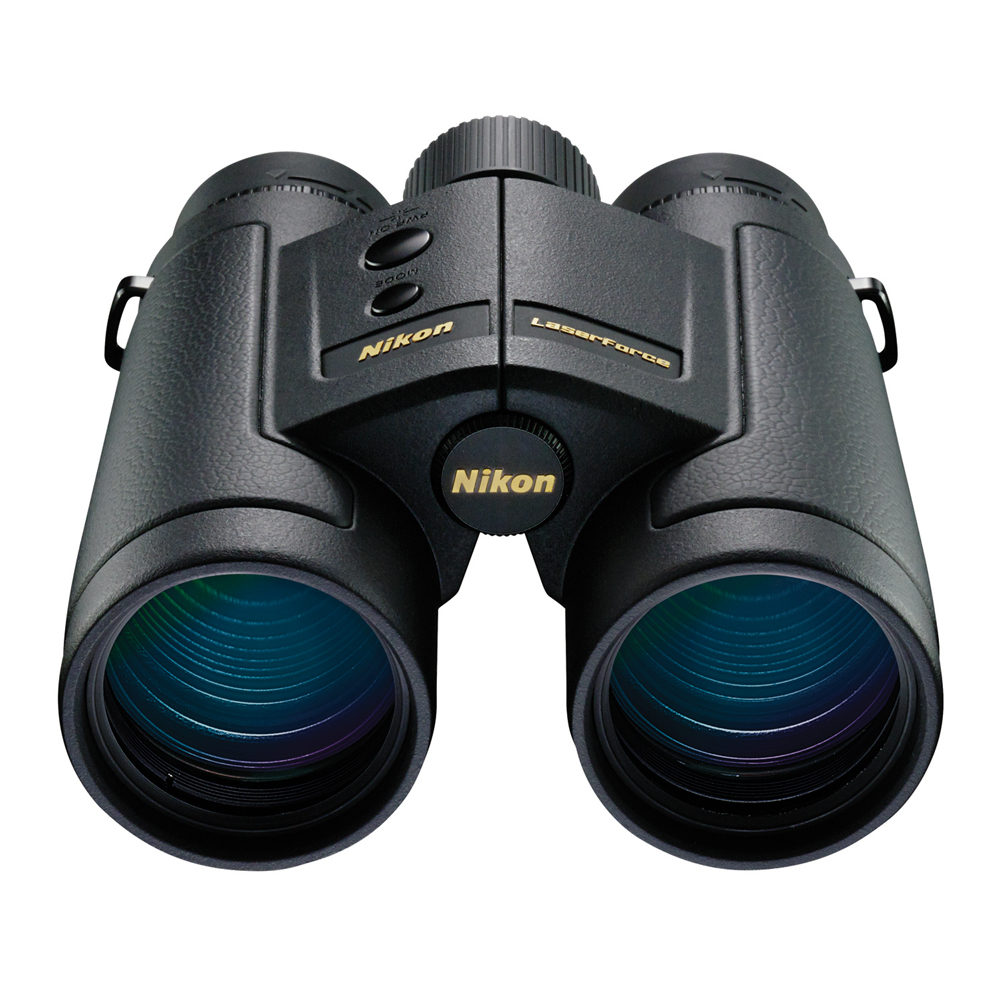 Nikon's new Rangefinder/Binocular provides precision measurement from 10-1900 yards. It features full multilayer-coated lenses and prisms, incline/decline technology, single and continuous measurement, ED Glass, OLED display, and auto shut-off after eight seconds (saves battery).
AIMPOINT MICRO S-1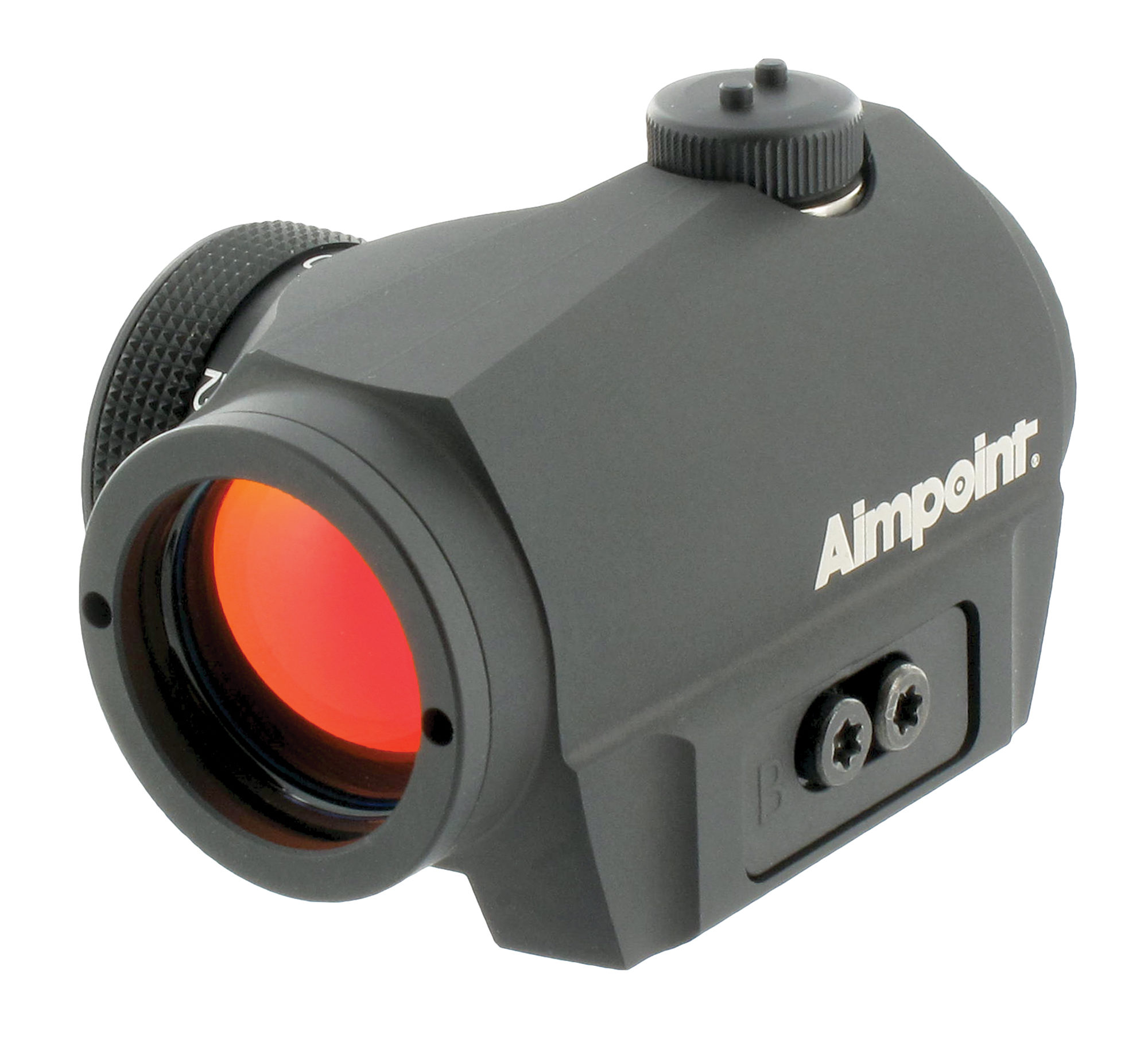 The Aimpoint Micro S-1 was designed specifically for use on shotguns. The innovative carbon-fiber-reinforced mounting system positions the optic on the lowest possible optical axis without adding unnecessary weight. The Micro S-1 sight attaches directly to the shotgun at any point along the ventilated rib, and interchangeable adapter plates are included to accommodate most popular shotgun rib sizes.
BURRIS DROPTINE BINOCULAR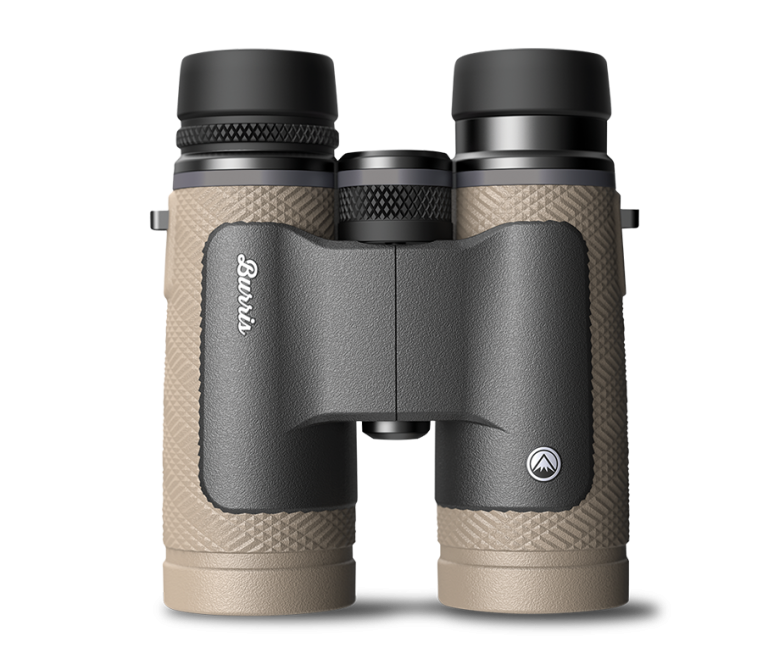 The new Droptine line from Burris includes an 8x42mm and 10x42mm, both featuring a convenient central-focus knob and multi-coated lenses for maximum light transmission and reduced glare. The binoculars are sealed and nitrogen-filled for waterproof and fogproof performance. The outer surfaces are rubber-armored.
WEAVER TACTICAL RAPID FIRE RED DOT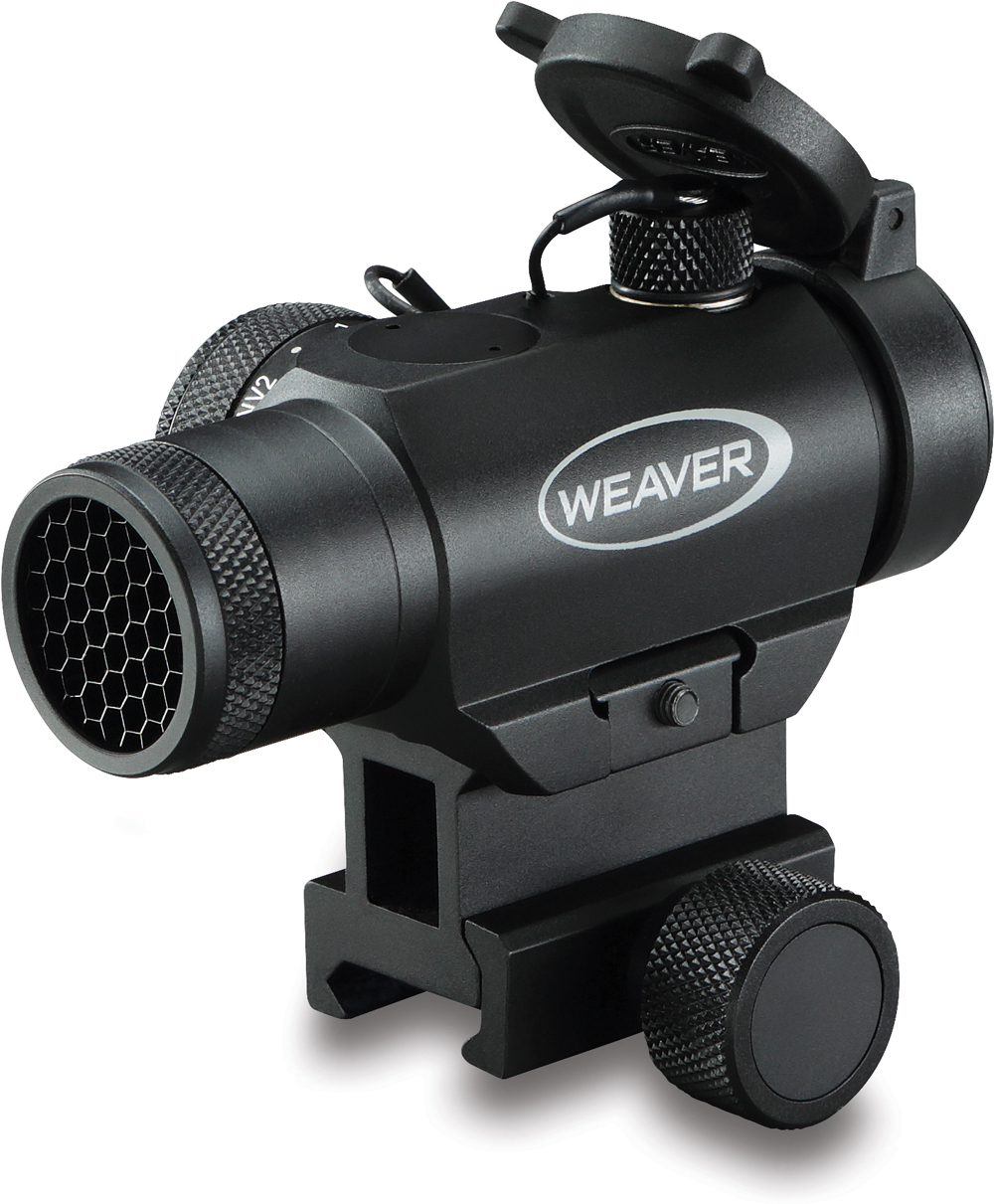 The new 1x25mm Weaver Tactical Rapid Fire Red Dot is constructed with a rugged yet lightweight body. It features Weaver's new removable Tactical Mount with a TorqueKnob tool-less thumbscrew to allow fast mounting and transition to a variety of firearms. The 2 MOA red dot with precise ½ MOA click adjustments has six illumination settings, including two for night vision.
BUSHNELL ENGAGE BINOCULAR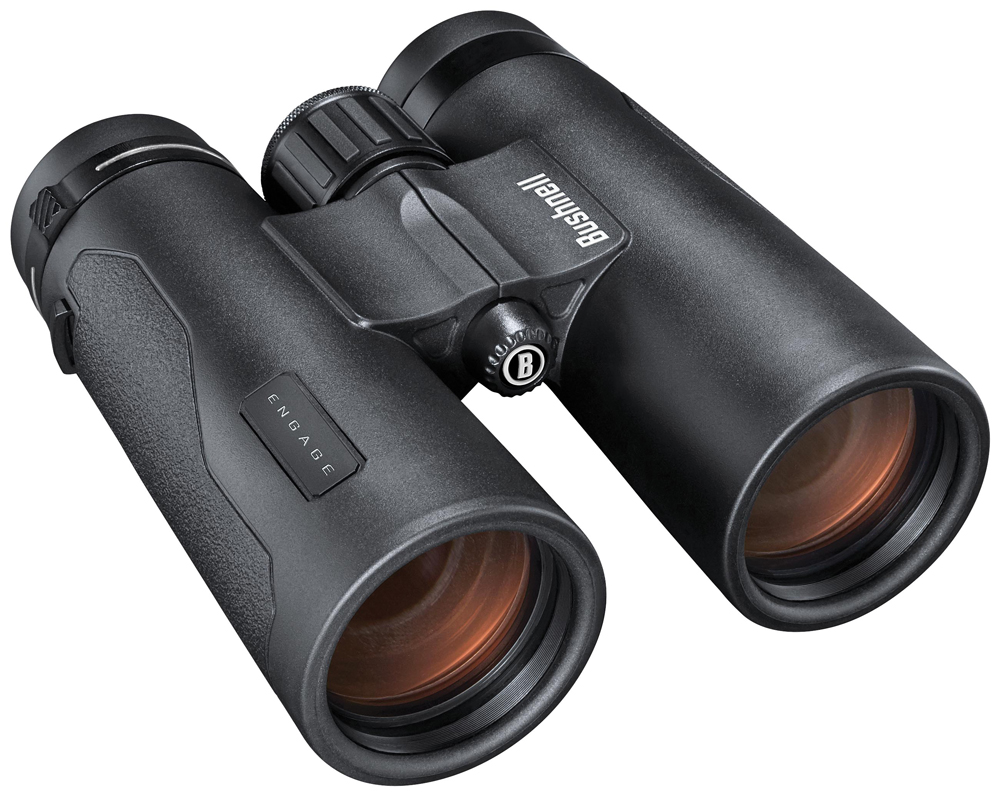 The new Engage line is backed with the all-weather assurance of Bushnell's exclusive EXO lens coating, which repels dirt, debris, oil, and moisture. The fully multi-coated optics offer maximum brightness and clarity, and they're housed in a lightweight yet rugged magnesium chassis. ED Prime Glass and a locking eyepiece diopter ensure razor-sharp images.
ZEISS VICTORY POCKET BINOCULAR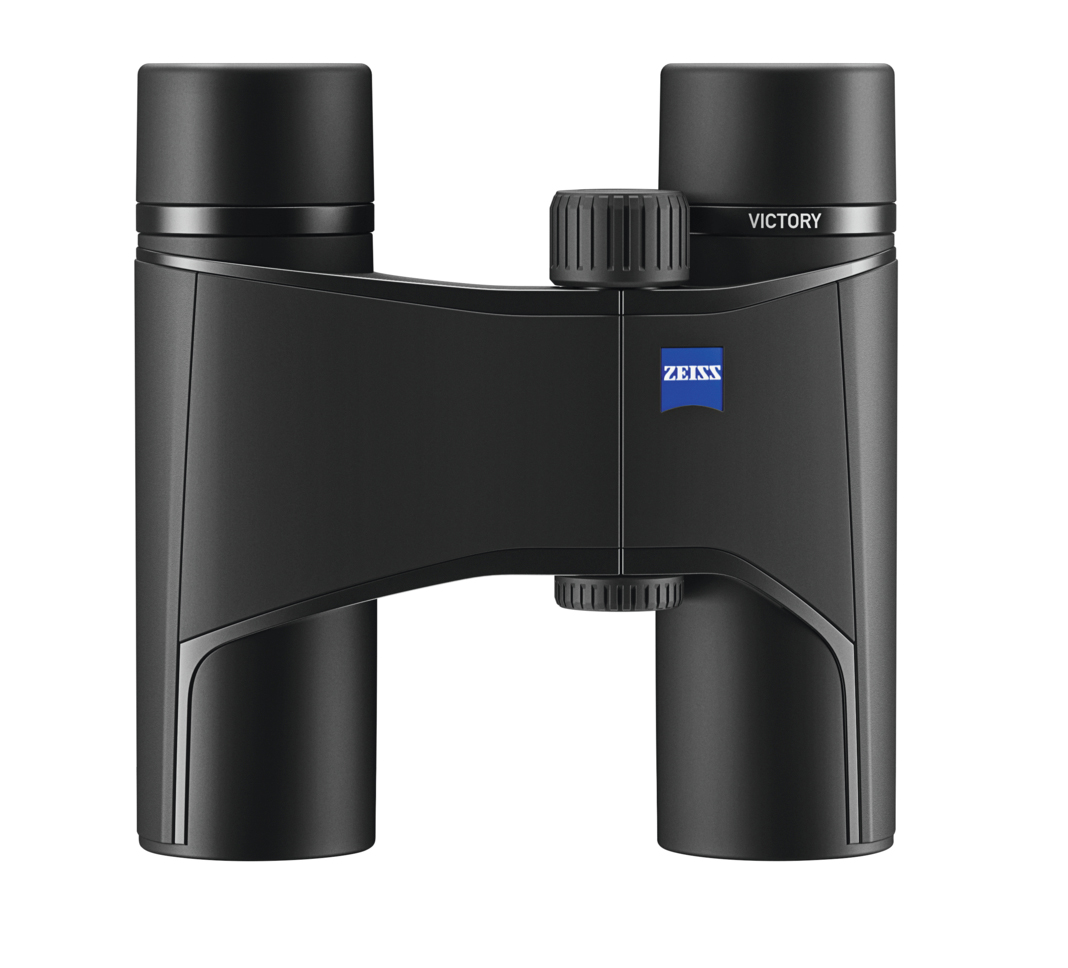 The new Victory Pocket binoculars feature FL-Lenses that produce uncontested resolution and edge-to-edge sharpness, along with the lowest color fringing in class. In addition to extremely high-quality color fidelity, image definition, and contrast, the Victory Pocket has the widest field of view currently available with 8x magnification. Available in 8×25 and 10×25.