Huge alligators have been taken in 2015 all across their sunny Southern range. Some broke records for length, others for weight. Whatever their boasting feature, all made for incredible photos and stories. Most were caught by the hook-and-line method, where hunters (anglers?) throw large treble hooks over the gator, retrieve them back toward the animal, then hook it in the body somewhere around the legs. Snares are often legal, and, in at least one case, a rifle was used.
Many gator seasons are still underway with plenty of time to spare. As the temperatures start their downward spiral, it's exciting to imagine what reptiles are waiting to be taken in the remaining hunting days.
Here are some of the impressive kills so far this season.
South Carolina
A Georgia resident landed a 755-pound gator on Lake Marion September 19. According to The State, South Carolina native Zack Derrick, his 8-year-old son Chaz, and Zack's uncle Peewee had been on the lake for three hours with nary a gator in sight. When they finally spotted eyes, Derrick thought it was the reflective glow of a respectible 10- to 12-footer.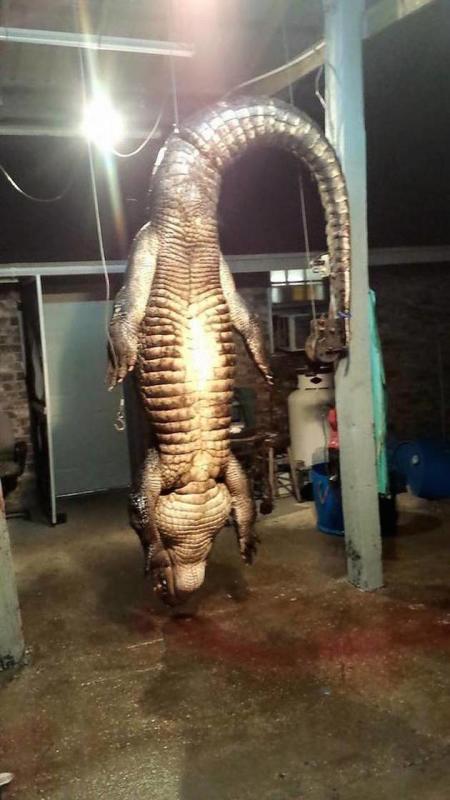 The 755-pound alligator taken by Zack Derrick. (Photo courtesy of The State)
The two adults got two hooks into the beast and fought to keep it on top of the water. Using a bang stick—a bullet fired from the end of a metal pole by smacking it into the target—the men were able to get the alligator safely into the boat. It was Zack's first gator on his first gator hunt.

Dead and on the dock, it stretched to 13 1/2 feet.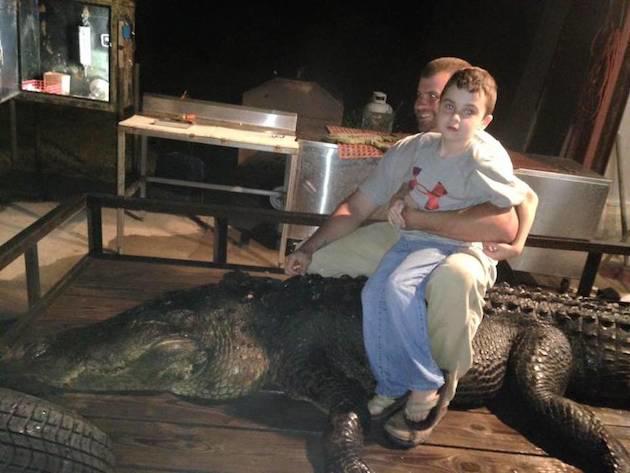 Zack Derrick and his son Chaz. (Photo courtesy of The State)
Alabama 
Mark Fletcher had tried for nine years to get a gator on Lake Eufaula, even hunting with a guide a dozen or so times. He received two permits during that time, and try as he might, it looked like his second would end in defeat like the first.
Eufaula reportedly has gators, but not many big ones. AL.com put the number of 12-foot-plus alligators low. Still, Fletcher knew a big reptile was still around. Another group had caught a 12-foot, 2-inch gator mere weeks before Fletcher hooked his—with an 8-inch piece of its tail bitten off.
Fletcher trolled the lake for hours before spotting the animal, which dove to get away from its pursuer. That's when Fletcher channelled Captain Ahab and harpooned the gator as it lay on the bottom, three feet under the surface.
Whether Fletcher's was the attacker who bit the other gator's tail, no one knows for sure.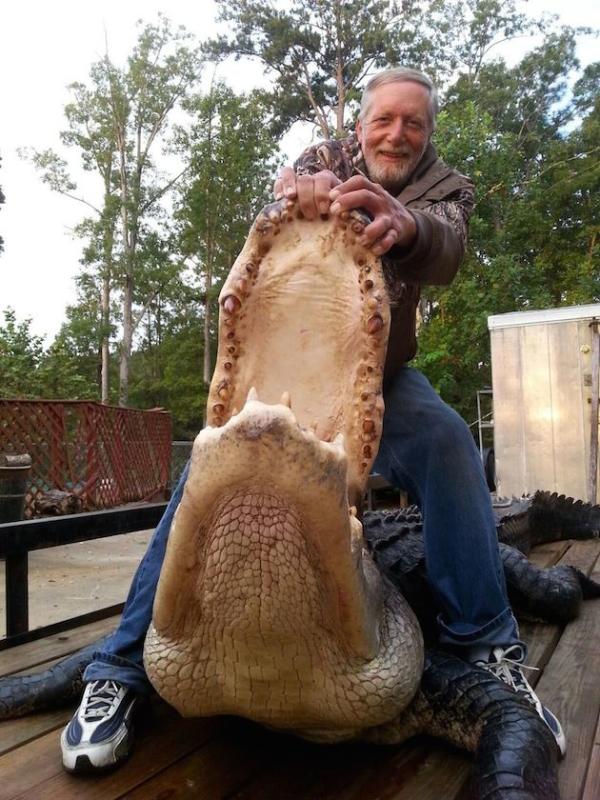 Mark Fletcher with his 13-foot alligator. (Photo courtesy of AL.com)
Mississippi
All of Mississippi's alligator records were broke in the now-closed 2015 season, some multiple times in the same day.
The Jackson Clarion-Ledger reported Clayton Gibson of Natchez broke the male weight record with his 822-pound beast August 29. Later that day, Angelia Rivers brought in a record 13-foot, 7 3/4-inch male to break the length record.
By sundown the new records had both been broken, this time by the same alligator.
Kennie Crechale of Morton brought in a 14-foot, 1/4-inch male weighing 826 pounds. Crechale shot his animal with a rifle, which was legal, securing the first documented 14-footer in Mississippi history.
The tail alone was 4 feet in girth, according to the Clarion-Ledger.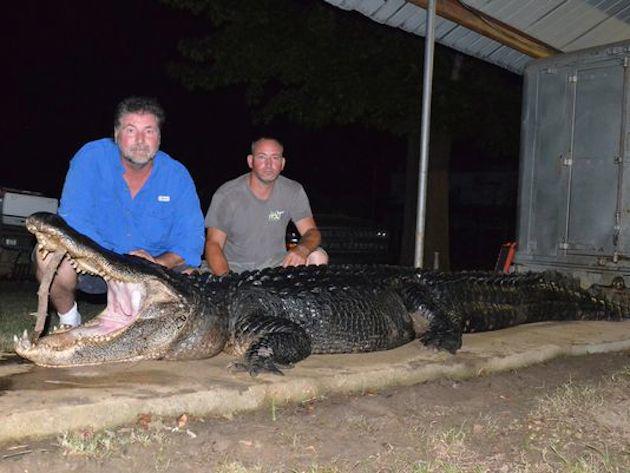 Kennie Crechale, left, and Ronnie Clifton pose with Crechale's record-breaking alligator. (Photo courtesy of R. Flynt/MDWFP, Jackson Clarion-Ledger)
The Jackson Clarion-Ledger also reported  Jonathan Kent took the longest female at 10-feet, 6-inches. He hooked into her, at which point she dove to the bottom and fought for nearly an hour. When she was finally in the boat, Kent knew just from one look she could break the previous record—an even 10 feet.
Though males reach 13 feet or more, the females' growth rates drop off sharply after 7 feet. To kill a 10-footer is incredible.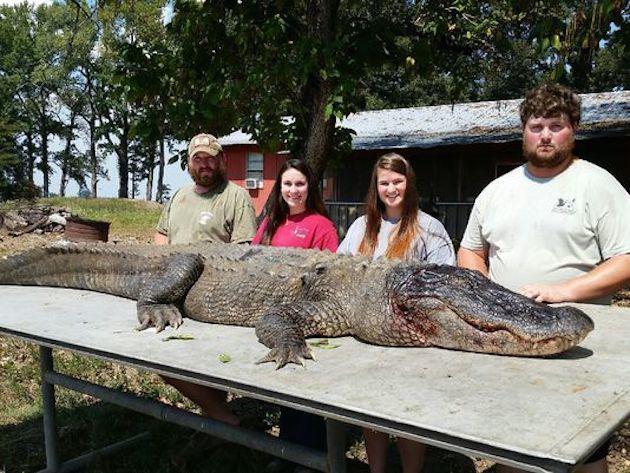 Jonathan Kent, right, poses with his friends, family, and record female alligator. (Photo courtesy of R. Flynt/MDWFP, Jackson Clarion-Ledger)
Florida
A Sunshine State couple harpooned their near-record 12-foot, 2-inch gator after spending three prior years unsuccessfully chasing it.
Holly Sartori and her husband Tony annually stalked the alligator on St. Johns River. According to WTSP 10, the animal was constantly in the company of females and never gave the hunters a chance, but that changed August 27.
The couple airboated into the area and spotted the gator after a few hours. When the animal became aware of them, it dove under, causing the two to blind cast in his general area. They hooked up, and a tense fight, harpoon, and bang stick later, the gator was in the boat.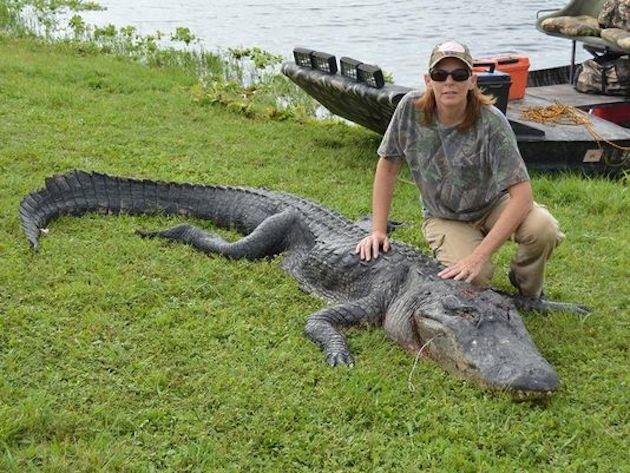 Holly Sartori harpooned this gator after four years of hunting it. (Photo courtesy of WTSP 10)
Cover Image: Thinkstock