Well, we've finished our elk hunt and have a day to gather our gear and our thoughts before heading for home. One stop we wanted to make before leaving was to visit our friends at Fierce Firearms, right here in Gunnison, Utah, just a few miles from our hunting grounds. Our elk guide, Marty Hansen, and his son Kylan went along with us to see some incredible rifles.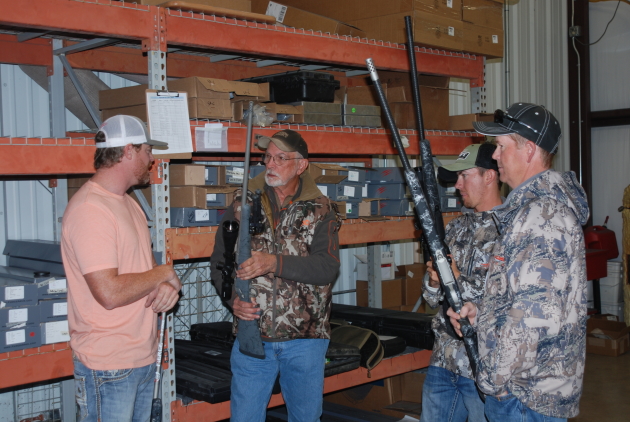 Fierce Firearms has set the high-water mark in an industry that specializes in long-range hunting rifles. They use modern, space-age technology and materials to create rifles that guarantee ½-inch groups at 100 yards. Impressive!
Courtney Crane, director of sales, was kind enough to tell us about their operation and show us around the shop as craftsmen were finishing carbon-wrapped barrels and fitting up hand-laid carbon fiber stocks. They are working hard to meet the high demand for their rifles.
Their new CT Edge you see Marty holding is what they consider the pinnacle of the Fierce Edge rifle line. Featuring a titanium action and carbon-wrapped barrel, this is a serious hunting rifle. This is the ultimate Mountain Rifle, weighing in at just 5.7 lbs.
The folks at Fierce Firearms don't just build these fine rifles, they are dedicated hunters as well. Courtney shared with us about his recent successful hunt for caribou and moose in Alaska. These guys know their business! You can order a rifle custom built to your specs or contact them for a short list of dealers who may have rifles in stock.
You can tell by what many professional guides, like Marty Hansen, carry that the combination of light weight, ruggedness, and accuracy produce reliable results in the field. Before your next hunt you might want to consider a Fierce Firearms rifle; I know I plan to.
Now, next stop, home.