First place winner Tyson Peterson carefully lands a largemouth bass to photograph and release.

Hobie has continued to revolutionize the sport of kayak fishing with its patented MirageDrive foot pedal system, which allows anglers unparalleled efficiency to tend their rods, tackle, and cameras without also needing to juggle a paddle.
Last year, the company initiated efforts to introduce kayak fishing to Kentucky with its first annual Hobie Bass Open at Kentucky Lake Dam Village State Resort Park, located between Kentucky Lake and Lake Barkley. Over 30 anglers competed in this inaugural event, and, inspired by the 2014 tournament's success, Hobie set plans in motion for 2015.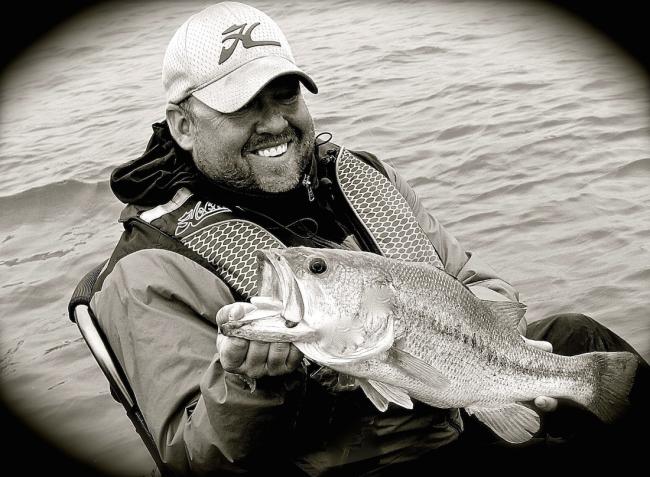 Third place winner Jay Wallen poses with a gorgeous largemouth during the Second Annual Hobie Bass Open.
The Second Annual Hobie Bass Open returned to Kentucky Lake May 29-31 with great success, with 73 seasoned bass anglers competing in a two-day catch-photo-release tournament using human-powered kayaks. Five anglers under the age of 16 also competed in the tournament's newly minted Junior Division. Sporadic thunderstorms, heavy winds, and choppy waters tested competitors' endurance and skills, but trophy-size bass and daily limits rewarded those anglers who adapted to the unpredictable conditions. Over 420 bass were logged using the iAngler app, which provided real-time leader board updates, streamlined the process of verifying anglers' length measurements, and supplied valuable data to fisheries managers.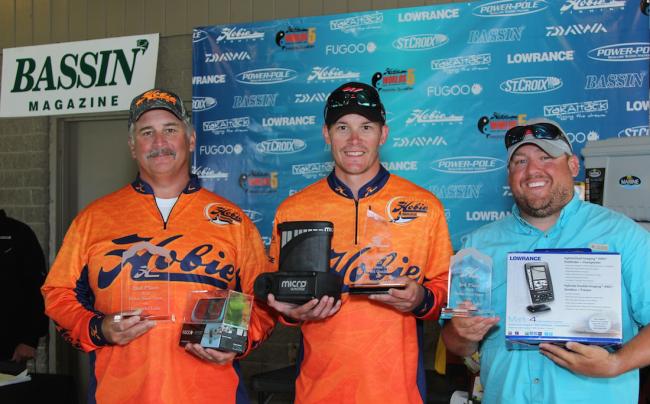 Left to right: Second place winner Tom Michael, first place winner Tyson Peterson, and third place winner Jay Wallen overcame two days of unpredictable weather, wind, and currents, each demonstrating world-class angling.
The home-field advantage prevailed in this tournament, and Lexington, Kentucky's Tyson Peterson took top honors, along with $3000 cash and a Power-Pole ® MICRO™ anchor. He will join 2014 Hobie Fishing World's Champion, Steve Lessard, and 2014 IFA Champion, Benton Parrott, as part of Team USA at the fifth annual Hobie Fishing World Championship on Shang Lake in Changshu, China on November 9-16 of this year. The top seven winners walked away with cash prizes, including New Jersey's Tom Michael, who took second and $2000, and Kentucky's Jay Wallen, who took third and $1000.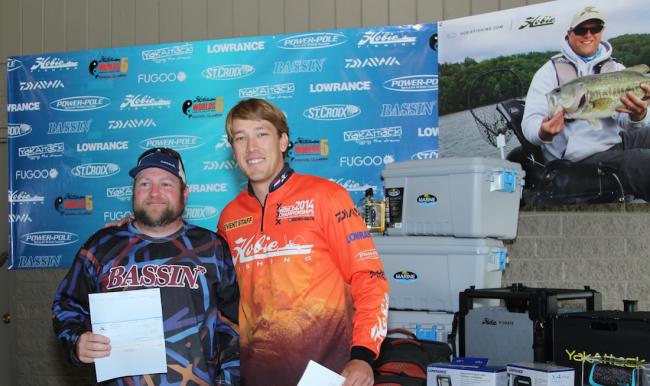 Fifth place winner Brad Uhl, left, rounds out the top five anglers in the Hobie Bass Open. Hobie Fishing Team member Morgan Promnitz, right, is the tournament coordinator.

While these world-class anglers battled for bass supremacy, Hobie representatives partnered with local dealer Hooper's Outdoor Center to host a Hobie Fun Fest consumer event for people interested in testing some of Hobie's best-selling MirageDrive kayaks. Parents and children shared the tandem Mirage Oasis, sport fishers tested the Mirage Pro Angler 14, and sailing newcomers and veterans alike took advantage of the blustery skies and made wakes in the Mirage Tandem Island.
The Hobie Bass Open is the second of four qualifiers held in the United States, plus one tournament in Canada, for anglers seeking to represent North America at the Hobie Fishing World Championship in China.
In the next Dispatch, we will review some of Hobie's best-selling MirageDrive kayaks and offer our picks on the right kayaks for serious anglers, recreational paddlers, and more.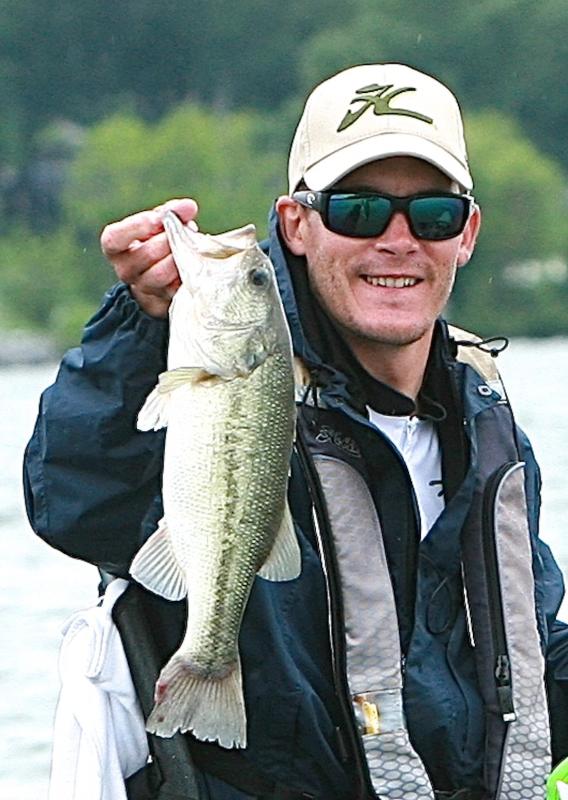 Tyson Peterson caught over 20 bass during the tournament, but the three largest fish won him first place at an impressive 116 inches.
Photo credits: http://www.garynski.com/
Subscribe to the free daily newsletter to have Sporting Classics stories sent directly to your email.