From the 2014 November/December issue of  Sporting Classics. 
The old adage, "The apple doesn't fall far from the tree," couldn't be truer of James Behring, our Sporting Classics Knifemaker of the Year. 
Born in Detroit, James and his family later relocated to rural Ray Township, Michigan. Days spent with his father on the lakes and rivers and in hunt camp did much to shape James' passions and ultimately, his vocation. His first exposure to knifemaking began in the well-equipped shop of his father, Jim "Treeman" Behring. Under his father's watchful eye, James created his first knives in 2005. Working with his dad over the next several years, James honed both his knifemaking skills and his work ethic.
In 2011 James answered the siren call of western mountains and streams, settling in beautiful Missoula, Montana, with wife, Elizabeth (and later daughter, Ellowyn). James hasn't looked back or slowed down since.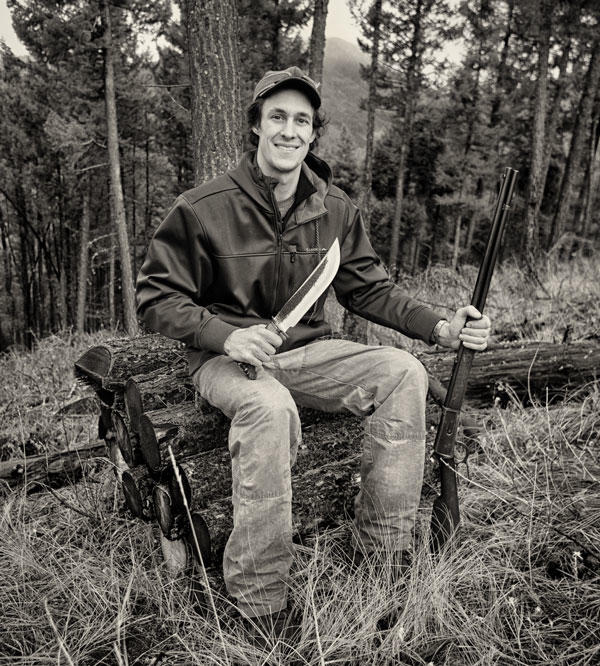 Joining James in his shop are craftsmen Travis Williams, Dustin Millard, and Grant Cunningham. Together, they create some of the finest cutlery on the market today. A good indicator of their success is their association with the Rocky Mountain Elk Foundation, Orvis, Matthews Archery, Cooper Firearms, and Rock Creek Cattle Co. and Paws Up lodges.
Not only a gifted designer and knifemaker, James is an astute businessman. The Behring Made brand is quickly becoming the standard for creativity and quality in a very competitive field.
All Behring knives are hand-forged from O1 tool steel and individually heat-treated to 58-59 Rockwell. This combination of high-quality steel, tempering, and grind insures that each blade will keep its edge for many days, yet can be easily resharpened. Hand-ground and honed to a razor edge, these 100 percent "Made in Montana" knives have found their way into many hunting packs and collections.
For Sporting Classics' 2015 Knife of the Year, the Behring team has created a wonderful Hunter that is sure to become your go-to knife in the field, at the skinning shed, or in camp. The 4¾-inch, upswept blade has just enough belly for skinning and a keen point for close-in caping work. The guard is brass, and the generous handle consists of stacked leather and fiber spacers, ending in crow's beak butt cap fashioned from sambar stag.
Our second knife is an equally beautiful, handy-as-can-be Trout & Bird. The keen point and subtle sweep of its 4¼-inch blade is sure to be on your short list every time you reach for your shotgun or flyrod. The small guard is brass, and like the hunter, the handle is stacked leather with fiber spacers and a sambar stag crow's beak butt cap.
"Behring Made" and the "SC" logo will be etched on each blade and every knife will come in a genuine "Made in Montana" heavy leather sheath.
Only 75 of our Hunter and Trout & Bird knives will ever be made. Our Hunter is priced at $395; the Trout & Bird is $360. You can purchase the pair for $740. Please include $10 for shipping, and allow eight to ten weeks from time of order.
These wonderful handcrafted knives will last a lifetime, then beg to be handed down to the next generation. +++
To pre-order your knife, call 1-800-849-1004 
Be sure to sign up for our daily newsletter to get the latest from Sporting Classics straight to your inbox. 
Knife photos: Sharpby Cooper Photography
Behring photo: Chrischapmanphotography.net