The 19th annual Sporting Classics showcase features beautiful paintings, gun safes, trophy rooms, and a wonderful variety of handcrafted furnishings for the home or office.
Cowboy Cauldron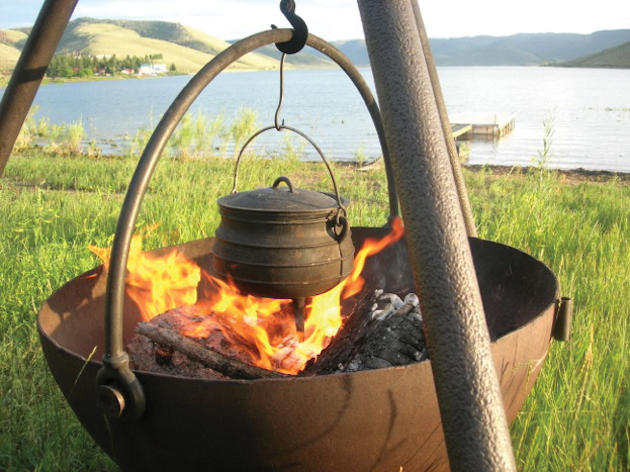 Cowboy Cauldron makes beautiful, durable, and versatile fire pits and grills. Crafted to the highest standards, they are the perfect combination of rugged quality and good looks.
Cowboy Cauldrons are easy to move and clean, and virtually indestructible. They can withstand unlimited heat from either inside or underneath. Available in three sizes.
Mopho Gonde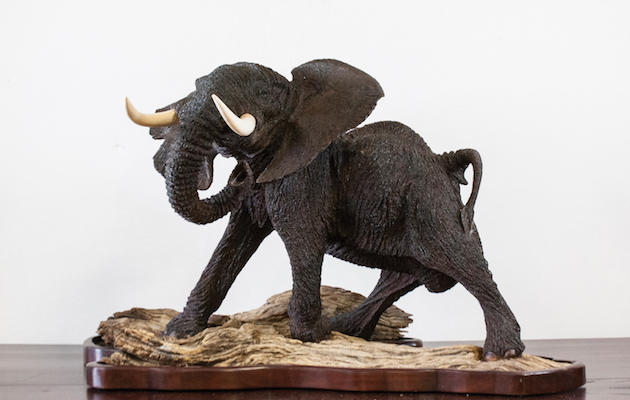 Born and raised in Zimbabwe, Mopho Gonde is the only known artist to create all of Africa's mammals at a museum-quality level in leadwood, the world's hardest wood. His art is handled by Call of Africa's Native Visions Gallery.
Shawn McAvoy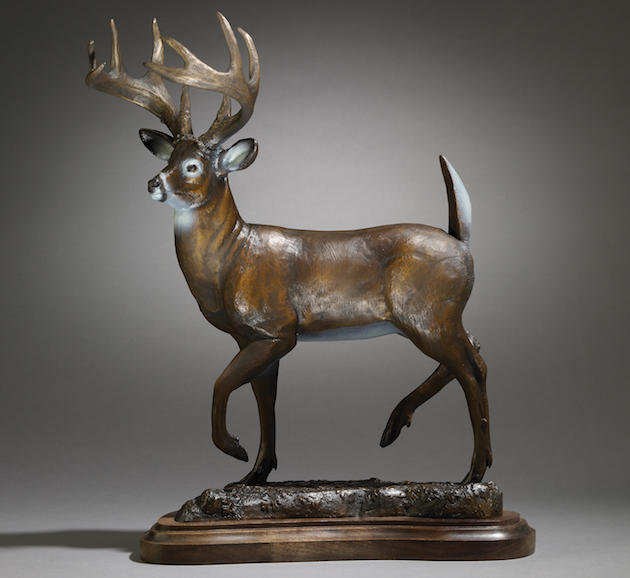 In his riveting sculpture "Power and Grace," Shawn McAvoy captures the powerful, muscular body, yet graceful motion, of the magnificent James Jordan buck. Crowned by his massive five by fives, the buck carries the ultimate in typical whitetail antlers. Alertly posed, he stands on a realistic base of leaves and is mounted on a custom walnut base.
McAvoy has produced this spectacular work of art in a bronze edition of 100.
David Langmead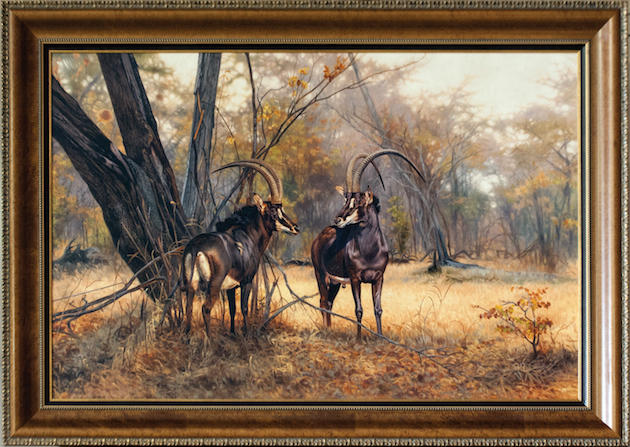 "Nobody's painting Africa more authentically today than David Langmead," said Doug Van Howd (American artist/icon).
David lives and breathes Africa every day of his life and was one of Southern Africa's premier landscape painters prior to moving into wildlife. His art is carried by Call of Africa's Native Visions Gallery.
Heritage Game Mounts
"The Tradition" is the latest addition to the elaborate hunt panels designed by Texas artist Rita Schimpff. Her designs enhance all sizes of domestic and exotic game with Old World style and honor our sporting traditions.
The distinctive panels, featuring ornate oak leaf and acorn motifs, come in several sizes and finishes. Rita also enjoys adding fabrics, monograms, and hand-painted embellishments to her USA-made panels.
Julie Chapman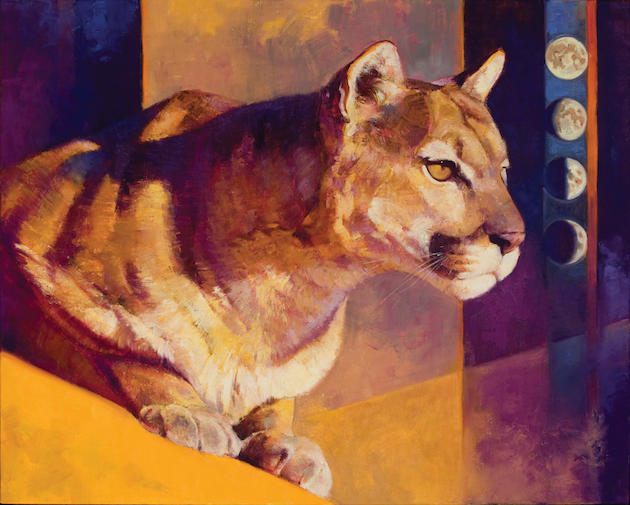 "Artemis is the Greek goddess of the hunt and the moon, both of which also symbolize North America's biggest wild cat," said artist Julie Chapman, who created this striking image of a cougar. Her work is shown in museums, exhibitions, and private collections in the U.S., Canada, Europe, and Asia. "I look forward to working with you to place my work in your home. Visit my website to receive my monthly email newsletter."
Artworks Taxidermy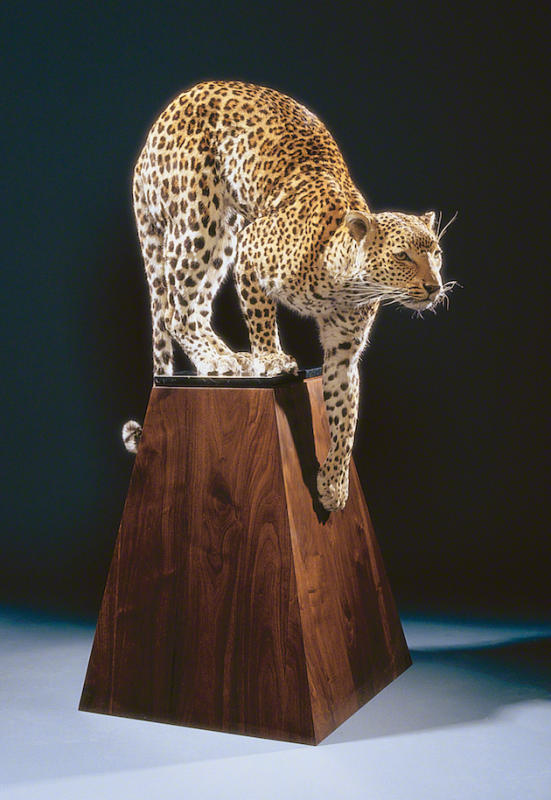 Artworks Taxidermy is a custom design studio with the discriminating hunter in mind. Founded in 1994, the company's innovative designs, commitment to fine craftsmanship, and personalized customer service lead the industry.
Conveniently located near the Denver International Airport, Artworks is USFWS- and USDA-approved to receive trophy shipments from any hunting destination in the world. From the smallest game animal to the largest project, Artworks Taxidermy guarantees superior mounts that will capture the memory of your hunt for a lifetime.
James Corwin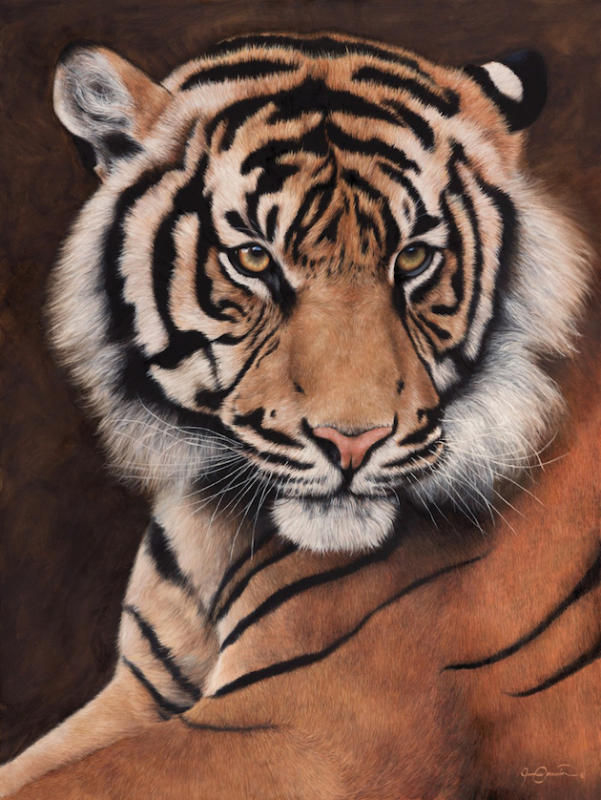 James Corwin creates distinctive oil paintings through a unique balance of gestural paint techniques and precise detail. Primarily focused on wildlife, he paints a finely detailed subject, often emerging through obscure and atmospheric landscapes.
Corwin strives to stir strong emotions in viewers of his art. He gathers inspiration and references from his frequent travels to exotic destinations around the world. A recent trip to South Africa opened his eyes to the impact of poaching on wildlife. A portion of his sales supports conservation projects throughout the world.
Purdey Silver Place-Card Holders, African Set Of 5
This set of five hallmarked sterling silver place-card holders is perfect for any dinner party. A thoughtful gift for the host or a compliment to the table at home, the settings are clearly laid out with these in place.
Featuring a lion, leopard, Cape buffalo, warthog, and elephant, the holders were handcrafted in Birmingham, England.
Green River Stone Company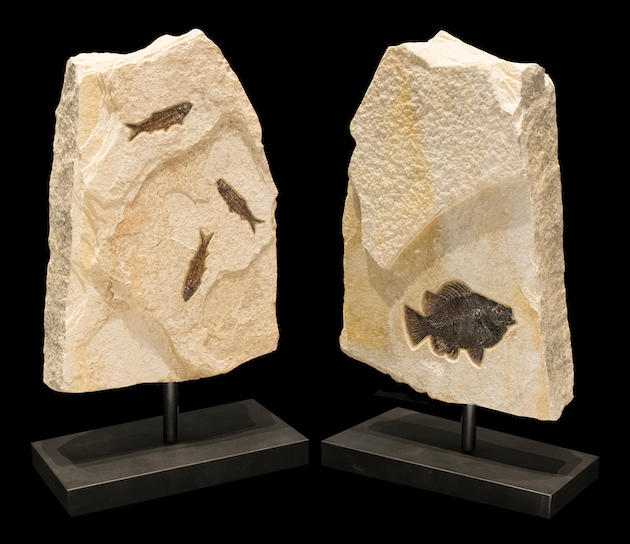 Green River Stone is now offering free-standing fossil sculptures. Like their famous fossil murals, fossil tables, countertops, and tiles, all of the company's sculptures contain authentic 50-million-year-old fossils carefully excavated from the company's private quarry.
Each sculpture is two-sided and mounted on a handmade iron pedestal, allowing it to be rotated so both sides can be enjoyed. Variations in shape, color, texture, and fossil content make each one unique. The sculptures range up to 30 inches high and 34 inches wide.
Quarried from ancient lakebed sediments, each sculpture comes with a certificate of authenticity.
Liberty Safes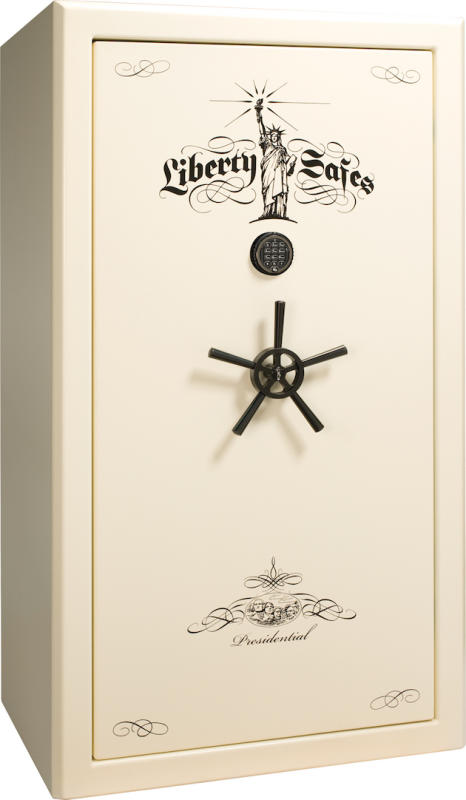 Liberty Safes has been building high-quality home and gun safes since 1988. Over its 28 years, Liberty has transformed its safes into a fine piece of furniture, designed to compliment any room in the house. With finishes as fine as the finest automobiles and security you can depend on, Liberty Safes has changed the perception of what a safe can be.
Liberty Safes are made in the USA and have a lifetime warranty.
Wyoming Backcountry Décor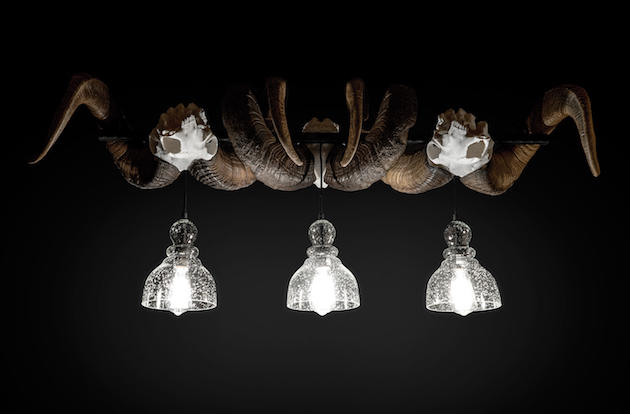 Wyoming Backcountry is a family-owned business that handcrafts custom chandeliers for your home or business. Each creation is one of a kind. Wyoming Backcountry can create a chandelier to your specifications while making sure it suits your decor perfectly. It can also custom cast your trophy animal and incorporate it into a personalized piece of art, or you can choose from Dall's, bighorn, desert, or Stone's sheep head replicas available in their inventory. They even have Marco Polo heads, in addition to trophy reproductions.
Browning ProSteel Beast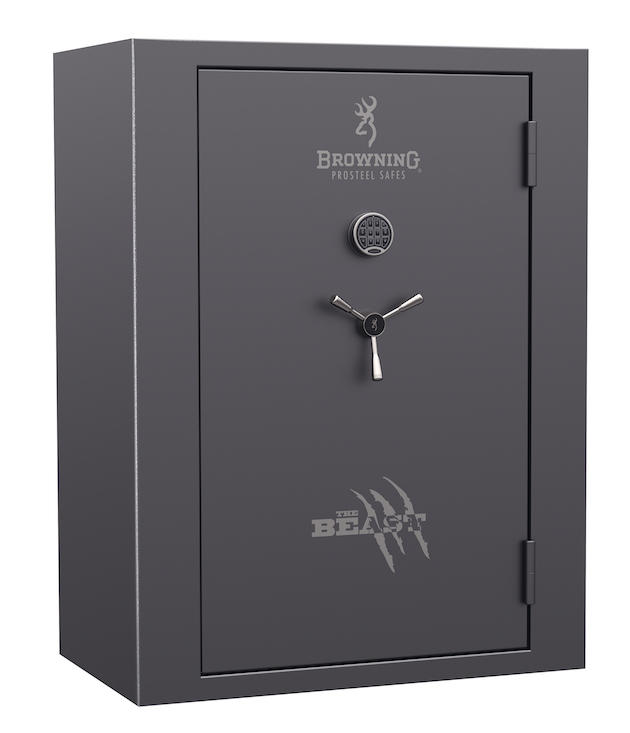 New in the Browning ProSteel lineup is the Beast, which is built to give those with big gun collections a large safe with superior features at a great price. The Beast is 58 inches tall, 44 inches wide, and 27 inches deep. It features a 12-gauge steel body and a one-inch formed door with partial inner plate. The Force Deflector Locking System has one-inch-diameter chromed locking bolts to help keep the safe secure.
The Beast has ThermaBlock fire protection with a 1400° Fahrenheit/60-minute rating to maximize defense against exterior heat. The interior features the DPX Storage System, and adjustable Cantilevered Modular Shelving built on a steel frame with carpeted wood shelves. The Beast's High Capacity Barrel Rack provides rapid access to 41 long guns (13 per rack). Total long gun capacity is 56, depending upon gun sizes.
Sportsmans Table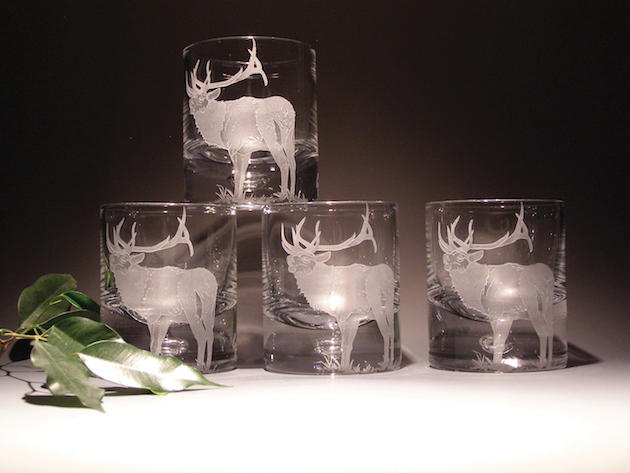 Master artist Lorraine Coyle creates intricately designed and hand-etched crystal rocks glasses. Each design is deep-carved to capture the splendor of the wildlife in incredible detail. The inherent beauty of nature will shine in your home through this barware, displaying your love of the outdoors. Many options available with special orders.
Scott Woolever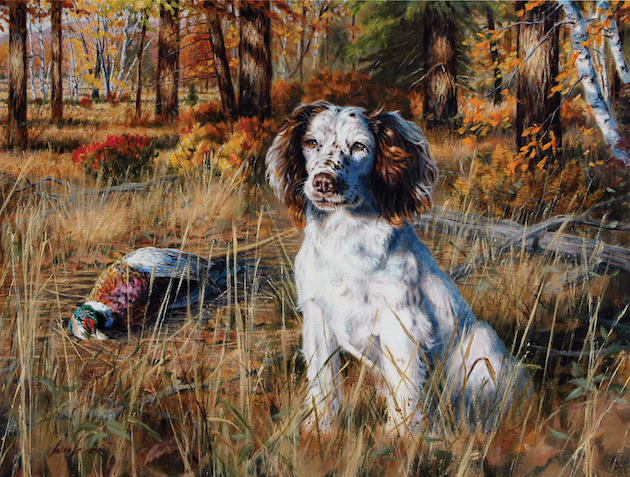 Scott Woolever specializes in portraits of adults, children, pets, wild animals, outdoor sporting scenes, and landscapes on a commission basis. Scott is inspired by the great schools of art, including the Hudson River painters, French Barbizon School, Dutch landscape and portrait traditions, and the American Impressionists. His work is presented in some of the best galleries and portrait agencies in the country.
Ed Anderson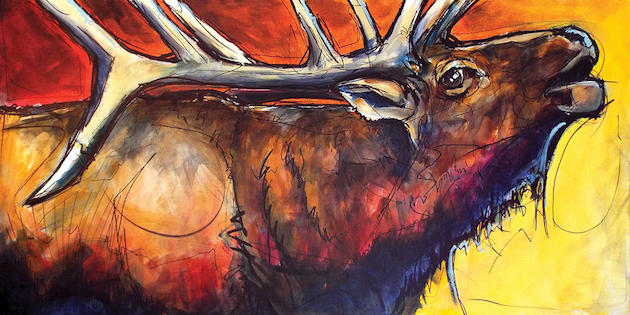 From the mountains of Idaho to the flats of Florida, Ed Anderson strives to capture sporting life and Americana with his unique brand of bright, gestural paintings. His work has been featured by the Rocky Mountain Elk Foundation and Bonefish Tarpon Trust, and his journals have been seen in numerous publications. Ed's new compositions will continue to be informed as he travels the world fishing and hunting.
Brent Cooke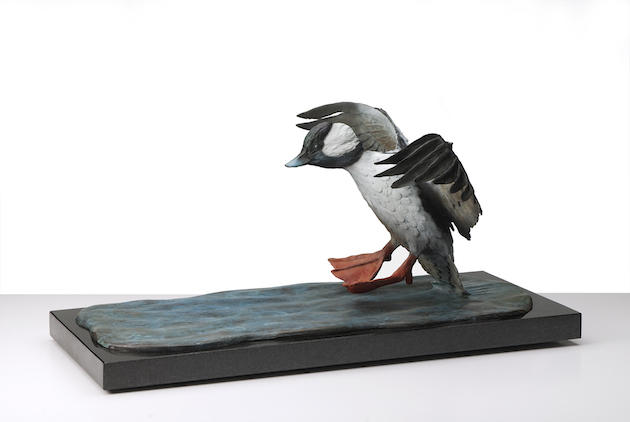 "I just wanted to capture the moment when the bufflehead lowers its tail to touch the water as it lands. Ducks use their tails as an early warning just before their landing gear touches down," explains artist Brent Cooke.
A resident of Victoria, British Columbia, Brent is the recipient of the Canadian Wildlife Federation 2015 Robert Bateman Award, which recognizes an individual who brings awareness to conservation through artistic work.
Fair Chase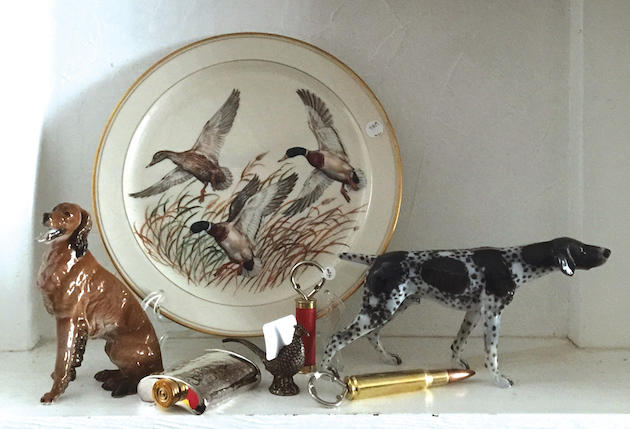 Fair Chase has been offering hunting, shooting, and equestrian books for the past 34 years. It sells out-of-print, deluxe, signed, and rare editions, along with a very small group of new books.
In 2004 Fair Chase expanded its offerings to include antique and collectible art, dinnerware, game plates, barware, decanters, vintage scarves, neckties and bowties, jewelry, and very carefully selected new items. It also represents talented bronze artist Liz Lewis.
Bob Bertram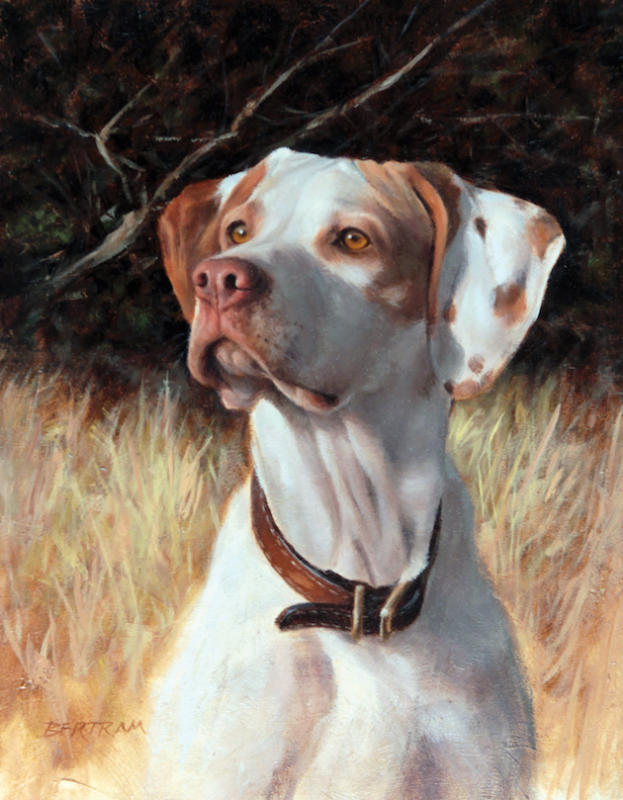 Artist Bob Bertram creates stunning portraits of dogs. Few artists are able to capture the essence of their subjects with a brush the way Bertram does. He has mastered a subtle combination of realism and impressionism to create portraits that seem to be alive.
Bertram's goal is to be included on the short list of the best dog and sporting artists to ever wield a brush.
AD Maddox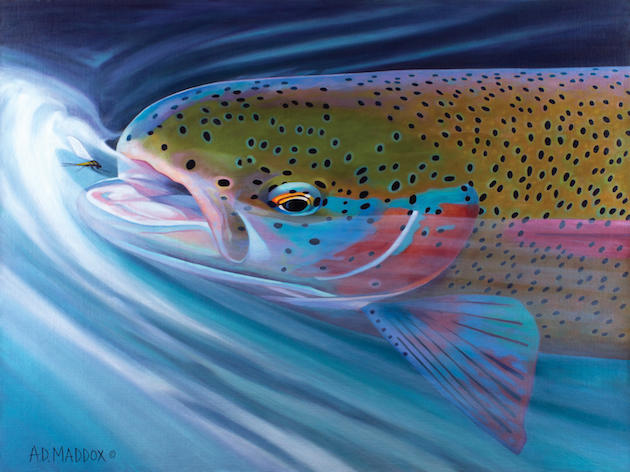 "I believe people fly fish to enter a more serene state … one that is completely free from the chaos and pressures of our modern society. I strive to capture these brief moments of perfection on canvas so the viewer can remember the utter simplicity of the experience. Fly fishing is a spiritual pursuit!"
Self-taught artist AD Maddox paints in oils, mainly on Belgian linen, and develops each piece with her signature layering technique. Fascinated by bright colors, Maddox is constantly challenged by each piece.