Since 1983, the Southeastern Wildlife Exposition (SEWE) has proudly presented the finest in wildlife art and the sporting life. Held in Charleston, South Carolina, SEWE is one of the largest and longest-running art events of its kind and has become known as the premier wildlife art event on the East Coast. A three-day celebration of wildlife and nature through fine art, conservation education, sporting demonstrations, and the people who make them all possible, SEWE plays host to hundreds of artists, exhibitors, and experts in wildlife and nature art—all eager to share their art and insights with more than 40,000 attendees from across the nation.
SEWE's impact on Charleston and South Carolina as a whole continues to grow, as does its popularity. Each year, it generates an estimated $50 million; provides the public with easy, affordable, and enjoyable access to wildlife and nature conservation programs; increases awareness about the need to protect and preserve our natural environment; and celebrates our collective love for wildlife, nature, and our role in preserving them for generations to enjoy.
SEWE's 36th annual event will run February 16-18 at multiple venues in charming downtown Charleston. VIP events begin February 15, with a new, global conservation awards ceremony on Wednesday, February 14. The work of 100 painters, carvers, and sculptors will be showcased in the Fine Art Gallery at Charleston Place.
Each year, SEWE includes well-respected veterans, mid-career artists, and talented up-and-comers in the weekend event. One painter is selected as the Featured Artist each year, with Kathryn Mapes Turner selected as 2018's. Turner is the fifth female Featured Artist to be chosen since SEWE's inception, with her artwork unfolding from the mountain valley of Jackson Hole, Wyoming. She was born and raised on the Triangle X Ranch in Grand Teton National Park, where she grew up riding the trails of the valley, learning wilderness lore, and gaining an eye for landscape. The happy synergy of a receptive spirit and a place of magnificent beauty set the course for her life.
"It is a deep honor to be selected to be the Featured Artist for this year's Southeastern Wildlife Exposition," Turner said. "Having been passionate about painting animals since I was a young girl, this is an unprecedented opportunity for me as an artist. My goal is to create work for the show that expresses my profound respect for the natural world and inspires the viewer."
Turner's painting Unbridled has been selected as the Featured Painting and subject of the official SEWE 2018 poster. Unbridled depicts the wild horses that live in the wide-open spaces of the West.
"In the high desert plains of my native Wyoming, they live as mustangs, without domestication or fences," Turner said. "Their range is as vast as the distant horizon line. In this image, I wanted to capture this wild freedom that is such a romantic notion in my own heart and one that expresses the spirit of the American West."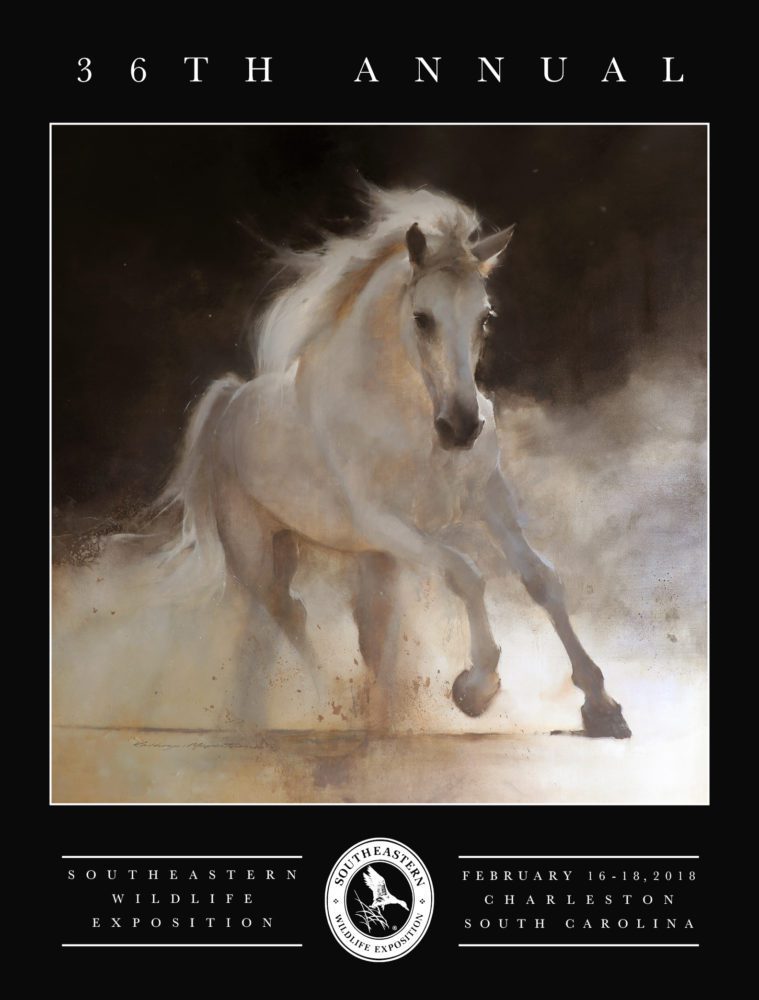 With an ongoing focus on bringing renowned wildlife and sporting art to Charleston, SEWE also welcomes Guest Artist Joseph Sulkowski. Sulkowski studied at the Pennsylvania Academy of the Fine Arts, where he learned to prepare his paints using recipes developed in the studios of Rembrant. With work reflective of the Old Masters, Sulkowski creates rich sporting art painted from memories of his trips from South Georgia to the Scottish Highlands.
Join SEWE and the Banovich Wildscapes Foundation as they acknowledge exceptional contributions to wildlife and nature conservation with the inaugural Award for Conservation Excellence (ACE). ACE recognizes the men and women who have dedicated their lives to conservation and the sustainability of the world's remaining wild places and species. ACE will honor and empower these unsung heroes.
The winner will be announced among five finalists during the ACE ceremony, held February 14. Hosted at the Charleston Gaillard Center, the awards ceremony will be a night to remember, with celebrity presenters, wild animals, wildlife artists, and inspirational entertainment. An event unique to SEWE, ACE is sponsored by Cabela's Outdoor Fund, the Cabela Family Foundation, and Bass Pro Shops. The first-place winner will be awarded a $100,000 cash prize and a $5,000 Cabela's gift certificate. Four finalists will also receive awards and recognition.
Jeff Foxworthy is one of the most respected and successful comedians in the country, and he channels his artistic talents in various forms. Since Jeff was a child, he has been creating sketches for his own enjoyment. In a rare opportunity, attendees will have the opportunity to view Jeff's work in the SEWE Marketplace as well as attend a Q&A where he will discuss where he draws his inspiration from and how an idea makes its way to paper.
A new event at SEWE in 2018 is the Birds of a Feather Brunch Benefit. Presented by Norton & Hodges, this event invites you to step out of Africa and into the Lowcountry to raise money and your glass. Held at the Francis Marion Hotel on SEWE Saturday, bites and bubbles will abound at this premier event, complemented with a silent auction and one-of-a-kind raffle items. There will be live painting by SEWE artist Peggy Watkins and special appearances by some of SEWE's feathered friends. Proceeds from this exclusive event will directly support the Ivan Carter Wildlife Conservation Alliance's mission to truly change the world of conservation. Individual tickets and tables for ten are available on sewe.com.
SEWE is also partnering with Garden & Gun for two events. Long Leaf Pine Preservation will be held Saturday at the G&G headquarter and will include lively conversation about land and wildlife management with featured panelists Bill Palmer, president and CEO of Tall Timbers, and G&G contributor T. Edward Nickens. These experts discuss the value of and need for land preservation in an engaging environment at the G&G.
The future of Oyster Aquaculture will be held Sunday, February 19, at the Garden & Gun headquarters. G&G editor in chief David DiBenedetto will discuss the future of oysters along the Eastern Seaboard with Ryan Croxton, co-owner of Rappahannock Oyster Co., and Cyrus Buffum, founder of Seaborn Oyster Co. Conversation includes a sampling of oysters and bourbon cocktails.
Watch SEWE artists create original pieces live during the Quick Draw/Speed Sculpt on Friday, February 16, in the Fine Art Gallery at Charleston Place. Working in their designated exhibit space, each participating artist will have just one hour to create a piece from start to finish. A live auction will take place afterward, with attendees able to bid on the works.
Back again by popular demand is the special event "Duets and Quintets." Husband and wife Matthew Hillier and Julia Rogers will create an original painting while two sculptors create a piece of sculpture out of clay—all to the background of the Charleston Symphony Orchestra Woodwinds Quintet. A live auction will follow. This will take place on Saturday, February 17, at 2 p.m. in the Fine Art Gallery in Charleston Place.
SEWE will again utilize the Charleston Gaillard Center. This superior performance hall and event space will house SEWE's live performances and the SEWE Marketplace, a curated collection of outstanding local, regional, and national artists and artisans. The SEWE Marketplace at the Gaillard Center will include a varied mix of creations, including handcrafted furniture, woodworks, nature photography, knife makers, jewelry, and more.
SEWE is also excited to welcome back Jack Hanna to the Gaillard Center. Television personality, author, and conservationist, Jack Hanna will join SEWE once again to entertain and delight attendees at the newly renovated Gaillard Center. One of the most visible and respected animal ambassadors in the world, Jack's enthusiasm and hands-on approach to wildlife conservation has won him widespread acclaim. In addition to frequent appearances on programs such as Good Morning America, The Late Show with David Letterman, Larry King Live, The Late Late Show with James Corden, The View, and FOX News and CNN news programs, Jack is the host of TV's Emmy award winning Jack Hanna's Into the Wild and Jack Hanna's Wild Countdown. Jack and his team from Columbus Zoo will have three performances throughout the weekend: two on Friday, February 16, and one on Saturday, February 17.
Busch Wildlife Sanctuary, longtime SEWE favorite, will introduce the wonders of the natural ecosystems and give SEWE attendees an up-close look at alligators, bobcats, foxes, birds of prey, snakes, and much more. Busch Wildlife will have two shows throughout SEWE weekend at the Gaillard Center.
New this year at SEWE are sheep- and duck-herding demonstrations at Brittlebank Park. Windy Knolls Farm owner Bill Coburn will be showcasing the fascinating world of herding instinctive to the collie breed. Watch his collies artfully muster sheep and ducks through various obstacles. Don't miss this master and his dogs at work.
Once again SEWE will host DockDogs, where crowds flock to Brittlebank Park to watch this popular high-flying, big-splashing competition. SEWE's Sporting Village with outdoor outfitters, boats and equipment, and fishing/hunting/safari guides will also be at Brittlebank Park, along with skillful retriever demonstrations, fly fishing, fly tying, and cast net tossing instruction by the experts at Charleston Angler, food vendors, and live bluegrass music.
Also at Brittlebank Park will be a plethora of fun and educational activities and programs for children of all ages, including Eudora Farms pony and camel rides and exotic petting zoo, a spider jump, and a power rock climbing wall. Marion Square will play host to many children's activities as well, including the popular Edisto Island Serpentarium tent.
Marion Square will feature a conservation tent, live educational performances, food from area eateries, and live music. Through the Certified South Carolina/Fresh on the Menu programs, some of Charleston's finest chefs will be conducting cooking demonstrations throughout the day all weekend. There will also be a wide variety of fresh, local products available.
One of the most educational and entertaining shows during SEWE, the Center for Birds of Prey will be conducting free flight demonstrations in the arena at Marion Square. See amazing flight demonstrations up-close by a variety of raptors including falcons, eagles, owls, and hawks and learn about the important role they play in our ecosystem.
Also in the arena at Marion Square, The Orianne Society will present why reptiles and amphibians are an integral part of our ecosystem. Learn why and how The Orianne Society promotes the conservation of these creatures and game species (such as quail, turkeys, and deer) in an informative presentation with the Eastern indigo snake, gopher tortoise, Eastern diamondback rattlesnake and more.
SEWE 2018 is proud to promote and celebrate the art of the decoy. A number of the most respected dealers of antique and working decoys will be housed at the Charleston Marriott. Also at the Charleston Marriott will be a decoy auction by Guyette & Deeter, offering nearly 200 investment-quality decoys with values ranging from $200 to more than $10,000. High-end sporting arms dealers will also be housed there.
Members of SEWE's VIP program enjoy perks and insider access throughout the weekend including private art viewings, parties, exclusive lounge areas (with snacks and adult beverages), shuttle service, and priority entry to all venues during show hours. A limited number of VIP packages are available, offering private viewings, insider access, and special events throughout the weekend.
SEWE day tickets are $15-$25, three-day passes are $50, and children 10 and under are admitted free with a ticketed adult. SEWE provides free shuttle service between venues during show hours with a ticket or badge, and handicapped-accessible service is available.
For more information on SEWE 2018 or to purchase general-admission or special-event tickets, visit sewe.com or call (843) 723-1748.
Please note that all info is to the best of SEWE's knowledge at the time of release and is subject to change.