The old shed next to our barn was a no-frills zone built only of studs and clapboard. Its purpose was simple: to keep tools and equipment dry. There was no insulation, so it wasn't a focal point for the men in either the summer or winter. Except for rainy days, the top section of the Dutch door remained open for much of the year, and the shed attracted a mix of field mice, barn cats, and knock-around boys. I was one of them.
There was the sweet smell, a mixture of hay and oats. Oil and kerosene were stored outside, and a gust of wind would blend it all together into one fine bouquet. As a kid trying to figure out the world, I'd grab a bottle of soda and spend hours just checking out what kind of things were in there and puttering around. My time in the shed was never wasted.
Some of my favorite items were tossed in that cluttered room. There were wooden ammunition boxes that transported cases of shells made by a variety of shotshell manufacturers. Battered duck decoys in need of repair were made from cedar or cork blocks, and above them and hanging from the studs were clay target hand throwers. The throwers needed a coat of varnish on the handle, but the springs, well, they just required a drop of oil, for they never wore out. Calendars with pictures of sportsmen in action hung from nails in the studs, and big, thick, printed catalogs contained essential and new gear.
By spring, the shed would be empty. Broken rods boasted new guides with colorful windings coated with multiple layers of rod spar varnish. Hand throwers were buffed up and oiled, too, and ready to launch a clay pigeon. We patched waders; added new decoy bills and glass eyes and gave 'em a coat of paint. Everything was made as new as possible, and would be reused until, alas, it was beyond repair.
The only part of the shed that didn't get recycled were the ammo crates, catalogs, and calendars. When temperatures dropped well below freezing, the paper and wood made for a roasty-toasty fire. Anything that served as lighter was fair game. There would be more next year—there always were. By the time the sap ran up the sugar maples, the shed was spotless.
But the time came when things changed. Cardboard replaced wooden crates, catalogs shifted to recycled paper and later went online, and when was the last time a sporting goods store gave you a calendar? When I think back on some of those items, which are now highly collectable, I do so with regret.
Why? Because those days represented an era when even mundane objects were filled with joy. Labels on ammo boxes were painted or illustrated by artists we revere today. Their scenes showcased sporting life with dogs, birds, shotguns, and friends. They told stories with style, dignity, and grace. Catalogs and calendars were handheld museums, for they contained settings from oil paintings, watercolors, and line drawings. The goal of a catalog is to sell product, yet they did so very much more. They filled many young boys with enthusiasm, optimism, and hope. At least that's what they did for me.
I recently took a walk down memory lane, when sporting images were used by manufacturers of all sorts of products. The use of bird dogs and hunting scenes wasn't just limited to shotguns, shells, and boots. No, they were used to sell paint, sunglasses, liquor, and dress shoes. Thanks to a collection compiled by the good folks at Willie Walker (pedigree.englishsetters.at/index.php), there are even examples of bird dogs used for selling home insurance. It was the time when hunting and fishing were as popular as video games and reality television shows are today. Let's have a look at a few from the past 100 years.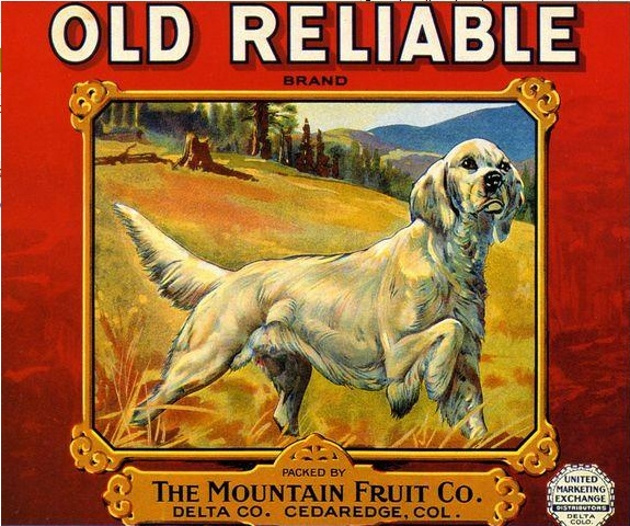 Double gun enthusiasts are familiar with Parker shotguns carrying the tagline "Old Reliable." Yet in 1900 Colorado's Mountain Fruit Company used a similar line. Parkers, setters, and fruit—who would draw such a connection?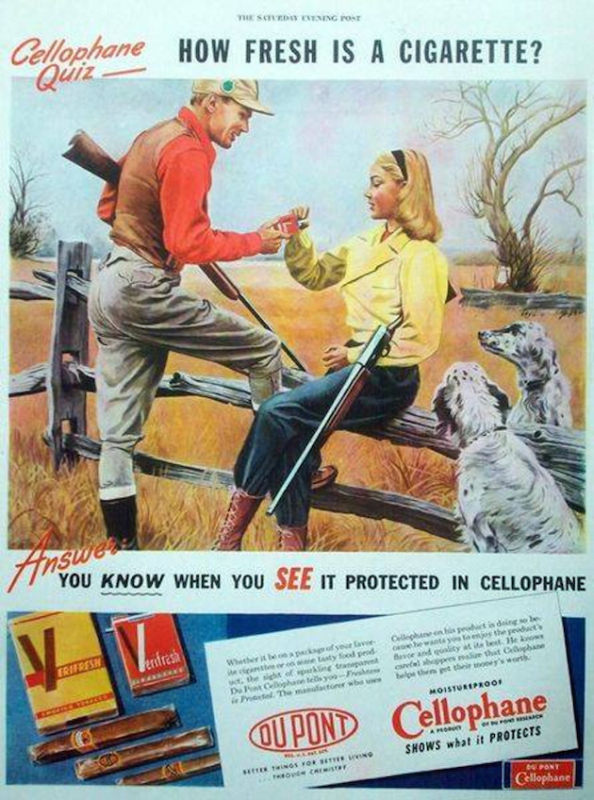 Think women hunters are a new phenomenon? The more things change, the more they stay the same, and this 1942 Dupont cellophane ad proves it. Smoking is out, women hunting is back in, and the brace of setters is a nice touch.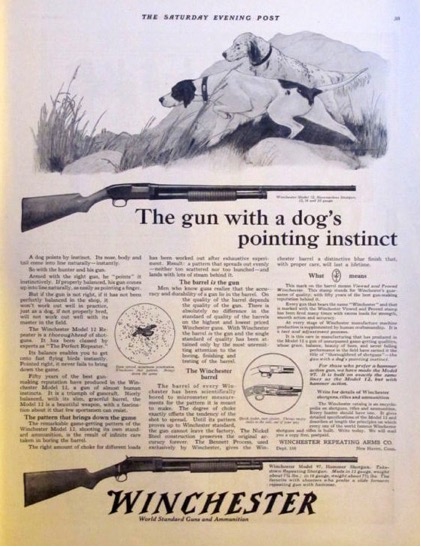 While the first World War raged, Winchester featured pointers and setters in their 1917 advertisement that appeared in one of America's favorite magazines, The Saturday Evening Post. It is very likely that Norman Rockwell had the cover . . .
While the Jay Gatsby/Al Capone/Prohibition 1920s were roaring, this 1928 free-standing Remington point-of-purchase display showed a kinder, gentler time. Boy, do I wish I had that orange belton setter in my office! Wait a minute, I have two real ones . . .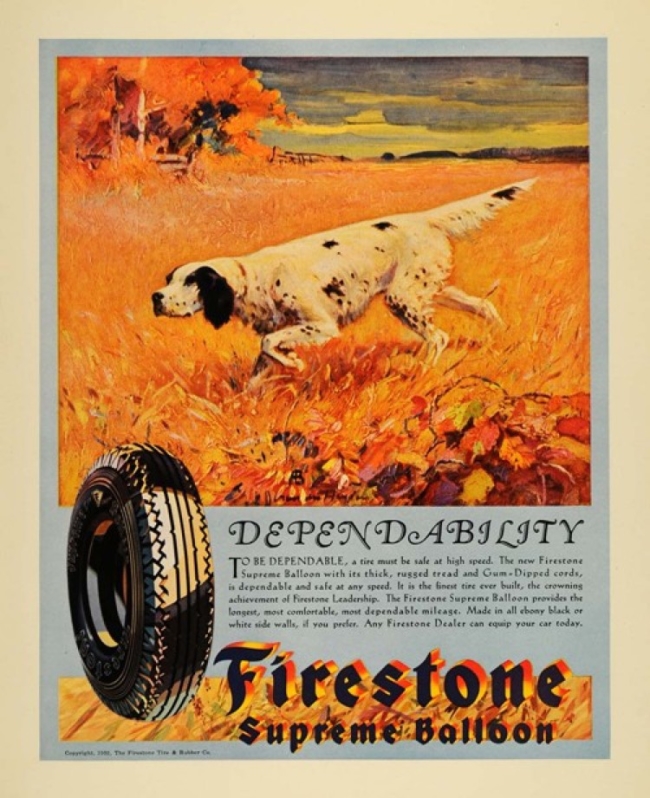 Setters and pointers were not just used to sell sporting gear. Though the Stock Market had recently crashed, this 1930 Firestone ad drew from a setter's reliability to sell tires. I guess you can say we got the point . . .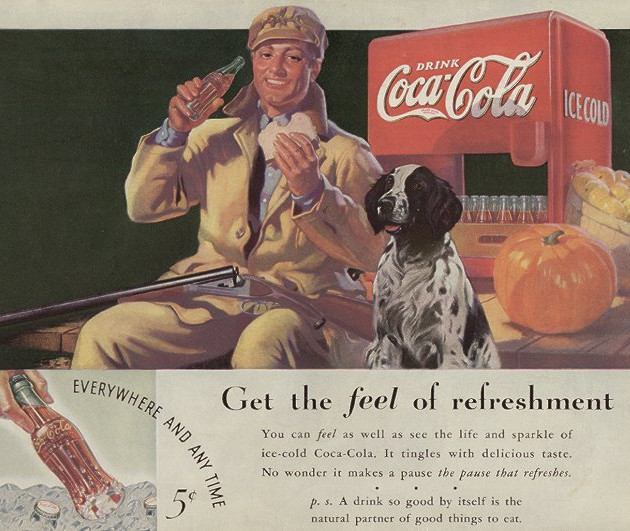 In 1936, here's how you "have a Coke and a smile."
The revered sporting goods company L.L. Bean celebrated its centennial in 2012. Well-known sporting artist Lynn Bogue Hunt scored the cover of this 1936 L.L. Bean catalog with a setter and a grouse.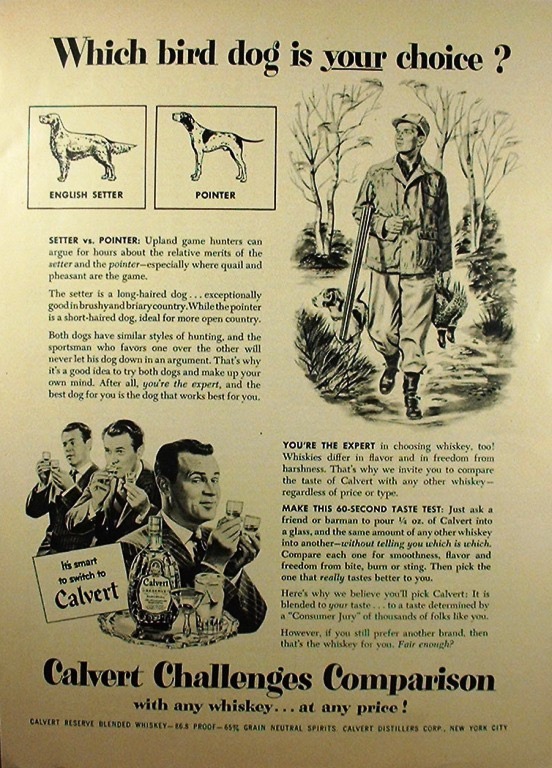 The talk about the pros and cons of setters versus pointers can go on for a long while. What better way to hash it out than over a bottle of whiskey? This Calvert ad ran in 1951.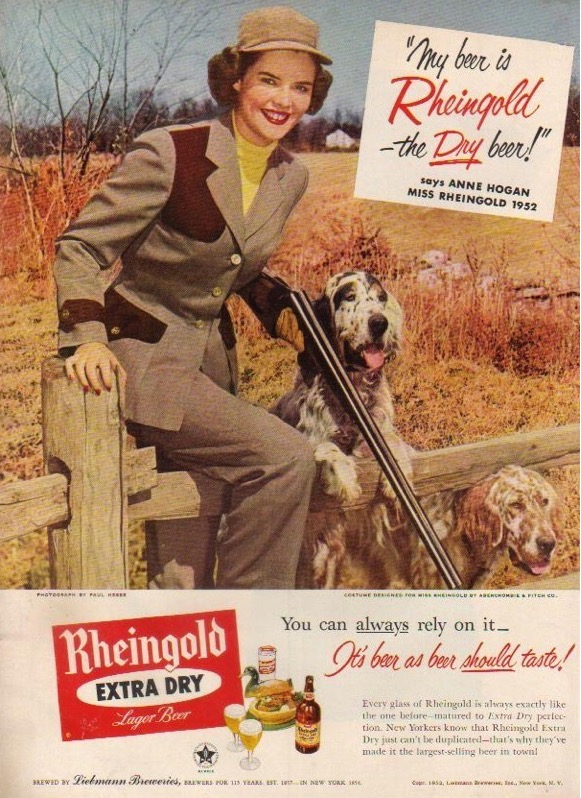 The theme of women hunters reappears in this 1952 Rheingold ad. It is a small wonder that Anne Hogan was chosen as Miss Rheingold. She loves setters, side-by-sides, bird hunting, and beer. What's not to like?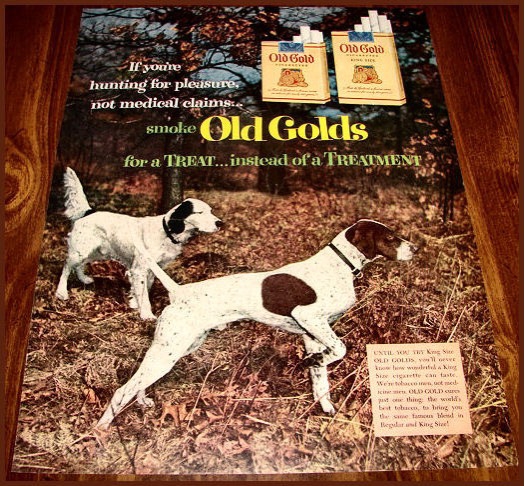 Smoking is now taboo, but not in 1953. I wonder if that is why we say "that pointer and setter are smokin'?"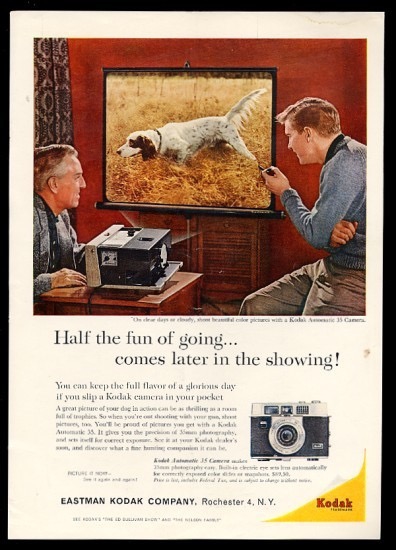 Kodachrome slide film, launched in 1935 and sold as recently as 2010, captured unparalleled sporting activities. This stunning setter on point was featured in a 1960 advertisement.
I remember my head snapping when I saw a '67 GTO ragtop run down the street like it was yesterday. This Delco ad is from the same year. In a few years, hippies would tie-dye clothes for Woodstock while the GM crew tried to slow down the pace.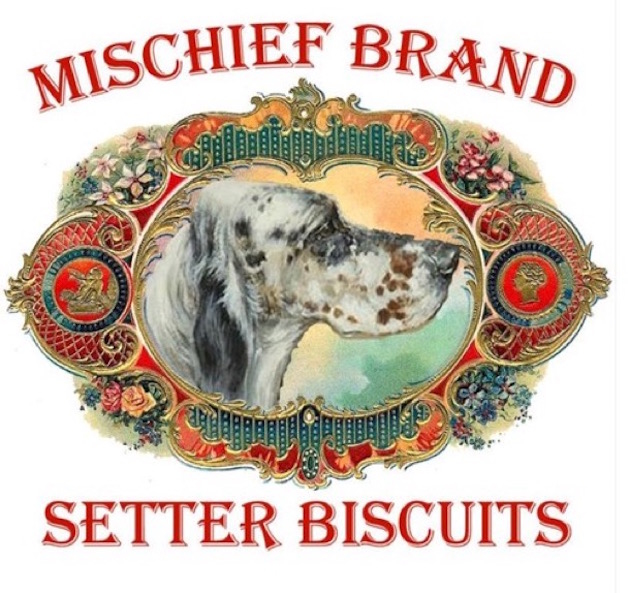 Since those days, the use of bird dogs and hunting has lost its advertising appeal. This dog biscuit logo is reminiscent of artistic labels from the covers of cigar boxes. I think setters are only mischievous when they're not looking for birds, don't you? From 2010.
The world has changed, and perhaps that's why I think about my old shed so much. It was a place where I was surrounded by a kinder and gentler time. And I'm longing to bring it back.
New Lynn Bogue Hunt Book Coming Soon from Sporting Classics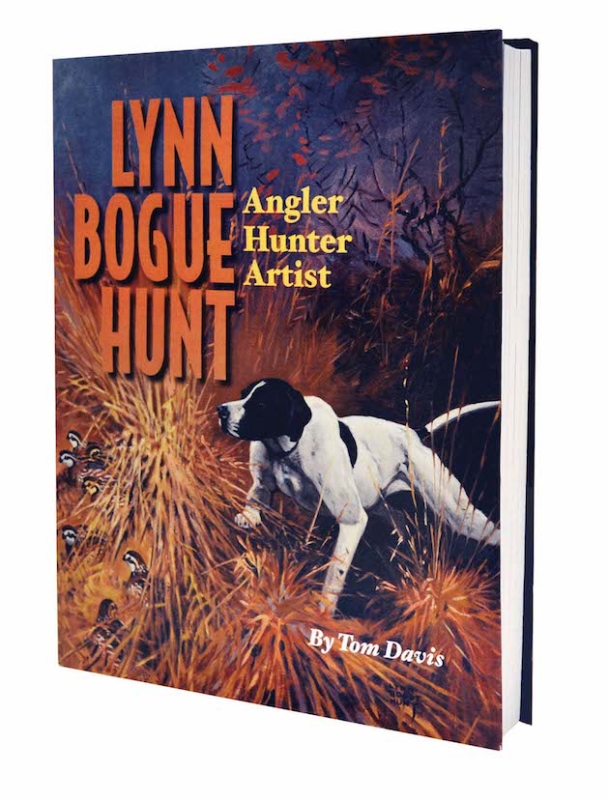 Acclaimed wildlife artist Lynn Bogue Hunt, who illustrated more national magazine covers than any other artist in history, is the focus of a beautiful new coffee-table book from Sporting Classics.
Angler, hunter, and artist, Lynn Bogue Hunt was America's most popular and prolific outdoor illustrator of the mid-20th century—the "Golden Age" of the American outdoors. He painted a record 106 covers for Field & Stream; illustrated dozens of books on waterfowling, upland bird hunting, and saltwater fishing; designed the 1939-'40 Federal Duck Stamp; and was described by his friend Ernest Hemingway as "the finest painter of game birds that we have in America."
Lynn Bogue Hunt—Angler, Hunter, Artist showcases the complete collection of Hunt paintings acquired by New Jersey sportsman Paul Vartanian. Not only is it the world's largest collection of Hunt paintings, drawings, and memorabilia, but the largest and most complete collection of the work of any major sporting artist.
Along with fascinating text by Sporting Classics Senior Editor Tom Davis, the book features some 150 iconic images that will thrill Hunt fans and be a revelation to those less familiar with this legendary artist.
Scheduled for release in mid-September, this sumptuous 9×12-inch book will be available in a hardbound Collector's Edition for $60 and a limited edition (500) leather-bound Deluxe Edition, signed and numbered by Paul Vartanian, for $90.
To pre-order, call (800) 849-1004.