Michael Sieve was named as the 2016 National Pheasant Fest & Quail Classic Featured Artist, and for good reason. Sieve is a world-famous artist who enjoys working the land and improving habitat as much as he does hunting. His land ethic made him the perfect artist for Pheasants and Quail Forever to partner with given their conservation advocacy.
Sieve calls conservation his hobby, something he does to relax and give back to the environment when he isn't hunting or painting or photographing.
"I've got three different properties and all three are managed, either exclusively or largely for wildlife," Sieve said. "I've got a cattail swamp in western Minnesota; half of that is just pheasant habitat. Then I've got two places in eastern Minnesota where I plant, literally, thousands of trees."
Widely known for his white-tailed deer paintings, Sieve is a multifaceted artist who captures the bright head of a pheasant as fully and flawlessly as he does a buck's antlers and coat.
"My range of what I do is quite broad. I've painted everything from songbirds — chickadees and warblers, stuff like that — all the way to elephants to whales to people, hunters mainly. Pretty broad range."
Sieve created a "Print of the Year" as part of his Featured Artist role. The print is entitled Shelterbelt Pheasants. In it, two roosters and a hen look back at a hunter as they make their way up a low rise. The painting seems to center on the pheasants' reaction to the hunter, but the true focus of the print is the landscape the scene takes place on.
"They wanted a painting with a lot of habitat. Pheasants Forever is strongly a habitat organization; that's their thing," Sieve said. "So they wanted a painting that really showed pheasant habitat.
"I tried to do a modern habitat painting, not an old-time habitat. So the modern painting has the shelterbelts. Clearly it's a managed land for pheasants. That's what I wanted in that painting: to show modern conservation habitat at work. That's basically what it is. It's got a couple hunters in it, but that's not the focus."
The print has been showcased at chapter banquets throughout the winter and will continue to be displayed into the spring.
His print The Comeback Call was the 2014-15 Print of the Year for Quail Forever.
Sporting Classics is proud to be selling an original Sieve painting. Royal Hunt is a 24×36-inch oil-on-canvas. It was painted in 2008 after Sieve spent a month in India's Ranthambore National Park. In it, a tiger slinks away from an approaching maharaja and the accompanying elephants.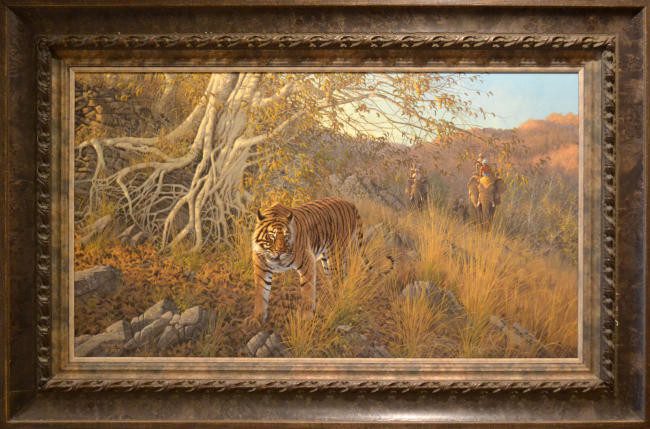 "With my painting, I've had the opportunity to travel all over the world," Sieve said. "The tiger trip was to India to photograph tigers — specifically tigers. A friend of mine who I travel with a lot and myself went to two places in India and basically rented elephants and moved through the jungle."What you do there is you listen for the alarm calls of chital deer or peacocks or monkeys, and then you start following the sounds until you find the tiger and photograph them."Thanks to native elephant drivers, Sieve was able to locate multiple tigers per day for a month. In that timeframe, only one day went by when they failed to find at least one tiger in either the morning or evening light.
"The most we saw was six in one day," Sieve said.
The big cats are so conditioned to the elephants' noise that they approach the men and their means of transportation without fear, using the constant shuffling of the elephants to mask their own sounds. The elephants act as sonic camouflage for the tigers, which allows photographers an incredible opportunity to see them up close.
"We had a couple times where the tigers actually charged the elephants," Sieve said. "I think they do that for fun, just to get a reaction. You know, the elephants can hold their own. But it freaks them out instantly. They get really defensive and turn to face them and stuff like that, and then the tigers had to back down."
All of these encounters played a part in Sieve's painting when he returned to the U.S. Even though many instances of tiger and elephant interactions had taken place, neither animal was the main focus of Royal Hunt. Despite the name, neither was the maharaja. Instead, the focal point and impetus for the painting was a tree.
"The beginning of that painting, and I remember it very well, was the banyan tree with all the roots," Sieve said. The parasitic tree that begins life as a fig is widespread in India and made a strong impression on Sieve as he traveled in India.
"That's what I wanted to paint starting out. I didn't really know what the tiger would be doing, whether he'd be laying there, walking, or what. Ultimately I just thought, Well, you know, this hunting scene is really interesting. Ultimately I just picked that theme and went with it.
"I basically just wanted to combine my experiences with the habitat — which I'm always big into, the banyan tree — and the history, and take the three things I'm interested in and bring them all in to one painting," Sieve said.
Sporting Classics is listing Royal Hunt at $15,000. Interested parties can purchase the painting via the Sporting Classics store. For more information, contact Chuck Wechsler at chuck@sportingclassics.com.