From the 2003 May/June issue of Sporting Classics. 
As the breechloading gun began its evolution in England during the 1850s, American makers for the most part shied away. Shotgun-making never had been a significant part of the American trade, and the British trade had little difficulty fulfilling the relatively small demand for guns in the United States. Not until 1883, when Congress imposed a 35 percent tariff on imported firearms, did the prospect of shotgun manufacture begin to seem an economical venture.
E. Remington & Sons, America's oldest gunmaker, had already proven there was something to the notion. In 1874 Remington brought out its first double gun, commonly known as the Remington-Whitmore. Andrew Whitmore was a designer who in the early 1870s patented a couple of interesting features for break-action guns, notably a fastener that operated by pushing the top lever forward rather than to the side, an idea Whitmore borrowed from William Powell of Birmingham. Remington bought manufacturing rights and produced Whitmore lifter models in a few variations until 1879.
Three years later the company introduced its Model 1882. It featured a more conventional fastener and side-swing top lever. It came in 10 and 12 bore, ultimately in a total of seven grades, and it proved popular enough that Remington kept it in production through the catalogue of 1887.
It was not, however, exactly the same gun through the entire period. Remington made some minor mechanical revisions— most apparent in the shapes of the hammers—in 1883, '85, '87 and '89. Each was designated the Remington New Model of 18-whatever. In 1887 a 16-gauge version appeared along with the standard 10s and 12s.
The Model 1889 is the endpoint in the evolution of Remington hammer guns. Like all the others, it was extremely well made and finished, but there is a sleekness about it that the others can't quite match. And its low-profile hammers with their nearly circular necks are distinctive.
Remington offered it in seven grades, the lower three as production guns, the higher four, nicely engraved, on special order only. Grades 1, 2 and 3 look virtually identical. The two Model '89s you see here are No. 2 Grades—and the upper one is a 16-bore, which is extremely rare among Remington doubles.
Charles Semmer has done more active research on Remingtons than anyone else, so I'll let him explain the differences among the lower grades: "Grade 1 is the only one that contains decarbonized steel barrels, Grade 2 has twist steel barrels and Grade 3, Damascus. Remember, the 1880s was still a time when twist or Damascus barrels was one sign of a top-quality gun.
Actually, the Model 1889 came at a watershed in company history. E. Remington & Sons went bankrupt in 1888, and when the New Model 1889 appeared, it was under the style Remington Arms Company. It was the last of the hammer guns, superseded by a series of hammerless breechloaders beginning with the Model 1894. But the handsome old thing didn't go quietly; it remained popular enough that the company kept building it till 1908. That makes the Model 1889 one of the last high-quality hammer guns made in this country.
Hammer guns have become all the rage over the past ten years or so—to the point where unscrupulous dealers are going into English pubs and buying wall-hangers, which they then send to the U.S. to be sold by equally unscrupulous dealers. These guns are in mostly poor condition and are usually badly out of proof. It's legal here, because we have no uniform proof laws and no national Proof House.  Just don't get me started on the ethics involved.
You can get new hammer guns from Italy and a couple of English makers. There are still some old sweeties available, too. I looked for two years and kissed a few toads to no effect before I found my Purdey, vintage 1886. She's all I could ever want.
Charles Semmer estimates total production of Model '89s at 134,200. You might wonder why more of them don't show up on the market. You can answer that for yourself just by giving one a thorough going-over. This is a gun you'll want to keep. +++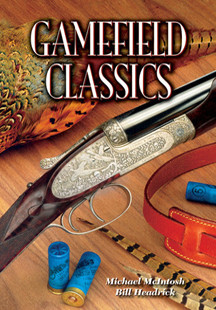 This story originally appeared in the 2003 May/June issue of  Sporting Classics and in Gamefield Classics by Michael McIntosh & Bill Headrick, available here.
Photo by Bill Headrick.