The first John Rigby was born in Dublin, apprenticed in the Irish gun trade, and set up in business on his own in 1775, at premises in Suffolk Street, Dublin. By the turn of the century, when his sons William and John Jason joined the company, Rigby owned a wide reputation for fine-quality rifles and duelling pistols.
Succeeding generations maintained both the level of craftsmanship and the company's specialty as a riflemaker—particularly William Rigby's son John, who took over upon his father's death in 1858. Under his guidance, Rigby rifles dominated British match shooting for nearly three decades. An astute businessman, John Rigby also understood the value of a presence in the prestigious London gun trade, so in 1866 he established the first of Rigby's London shops, at 72 St. James's Street.
In 1887 John Rigby was appointed superintendent of the Royal Small Arms Factory at Enfield, charged with overseeing development and production of the Lee-Enfield .303 military rifle. His son Ernest managed the London business and presumably looked after the company's affairs in Dublin as well. With John's younger son Theo not yet ready to take part, the family soon found itself spread a bit thin and in 1893 sold off the Dublin branch to the gunmakers Truelock & Harris. From then on, Rigby was based solely in London.
The company moved its front shop to new premises at 43 Sackville Street in 1908. The workshops were at 12 Ham Yard, off Great Windmill Street, just north of Piccadilly Circus; demand was such that about 1910 the factory expanded into No. 13 Ham Yard as well. Both front shop and factory were at those addresses when the rifle you see here was built.
He found himself "most agreeably surprised."
Although Rigby's built a fair number of guns over the years, it has always been known primarily for its rifles—and like most English riflemakers of the late-nineteenth and early twentieth centuries, the company developed a number of proprietary cartridges. The earliest was the .450 Rigby Match, invented about 1875; the most famous is the .416 Rigby, developed in 1911 and still widely used today. In between, the company introduced its .275 Rimless (or .275 High Velocity) in 1907 and its .350 Rimless Magnum in 1908, along with a rimmed version known as the .350 No. 2 Rigby.
Major Thomas Sloan of the United States Army specified the latter cartridge when he ordered this double rifle from Rigby's in 1922. It was completed in 1923, as No. 17939, its 26-inch barrels regulated for the .350 No. 2 factory load of a 225-grain bullet that left the muzzle at 2,625 feet per second.
It is a typical best-quality rifle, from the leather-covered Silver's recoil pad and Rigby's distinctive mutton-leg lockplates to the quarter rib and rear sights comprising a standing bar and two folding leaves. Like most rifles of its kind, it's fitted with a stalking safety—a little lever that when engaged blocks the safety thumbpiece in the SAFE position. As a gun-bearer customarily holds a double rifle muzzle-forward on his shoulder and follows close upon a hunter's heels, a stalking safety is a substantial asset to one's peace of mind.
Ballistically, the .350 Rigby is equivalent to the .35 Whelen—fine for plains game, adequate for heavier, more dangerous animals when all the conditions are right, but nobody's notion of a stopping rifle. By the 1940s it was extremely popular among African hunters. John Taylor, in his book African Rifles and Cartridges, admits to some misgivings about its relatively lightweight bullet, but once he got hold of a Mauser-action bolt rifle cambered for the .350 Rigby Rimless, he found himself "most agreeably surprised." It is, he writes, "an intensely satisfactory weapon."
Thus spake Pondoro, who effectively extended the .350 Rigby's lifespan, though the old cartridges ultimately became obsolete.
John Rigby & Company (Gunmakers), however, did not. In 1955 the company moved its front shop from Sackville Street to 32 King Street and, in 1963 back to Sackville Street, at No. 28. In 1924 the factory moved from Ham Yard to Crown Yard, off Stanhope Street, and to 100 St. Martin's Lane in 1973. As the hard times of the mid-twentieth century continued to bedevil the London trade, Rigby's moved again and again—to 13 Pall Mall in 1969, to 5 King Street in 1985, to 66-68 Great Suffolk Street, in Southwark, in 1987. Now, Rigby is an American company, based in southern California.
What hasn't changed in the 225 years since the first John Rigby took both a wife and a business of his own at age eighteen is the intention that its guns and rifles should remain intensely satisfactory. +++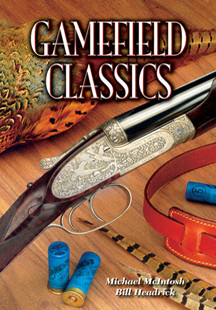 This story originally appeared in the January/February 2001 issue of  Sporting Classics and in Gamefield Classics by Michael McIntosh & Bill Headrick, available here.            
Photo by Bill Headrick.