The International Fly Tackle Dealer show, or IFTD, recently took place alongside the International Convention of Allied Sportfishing Trades Show, or ICAST, in Orlando, Florida. Together, these two trade shows represent the largest fishing convention in the world, with new product announcements and sneak peeks for 2016-2017. From fly fishing to spinning tackle and baitcasters, ICAST/IFTD showcased new rods, apparel, lures, kayaks, and gear to appeal to anglers of all ages and experience levels.
While these two shows shared the same convention hall, IFTD offered a more laid-back, intimate vibe than its counterpart. Two large casting ponds provided a central meeting place to test the latest technology in fly rods and reels, while fly-casting contests and the Iron Fly Tying Competition fostered friendly rivalries and camaraderie among the attendees. Whenever we had a free moment, we often found ourselves beside the casting pond watching the hypnotic back-and-forth of a half-dozen fly rods wielded by expert fly fishers.
We've rounded up some of our top picks from the IFTD show floor for upgraded fly rods, reels, and accessories. Whether you fish the streams in waders, enjoy kayaking and boating, or pursue tarpon in saltwater, you're sure to find something in this list to add to your current fly fishing gear.
Fly Rods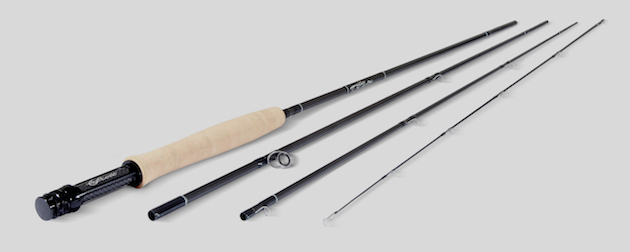 Scott Flex Series
Manufacturer: Scott Fly Rods
Ideal for: Freshwater fly anglers who prioritize fast, light casts and superior workmanship
Last year we covered the newly released saltwater Meridian Series from Scott Fly Rods. This year the company has combined many of the technological advancements from the Meridian and Radian Series fly rods to create the Scott Flex Series for freshwater angling. Scott Fly Rods' X-Core technology and Advanced Reinforced Carbon delivers blanks that combine strength, stability, and sensitivity for accurate casts, rapid hooksets, and superior control over the fish. These fast-action rods effortlessly generate line speed and tight loops while casting to help control your fly presentations.
The Flex Series comes in 4-piece configurations from 3-weight to 8-weight and lengths between 7'6" and 10'. All Scott Fly Rods are proudly handmade in the USA.
For more information, visit scottflyrod.com/flex.
Fly Reels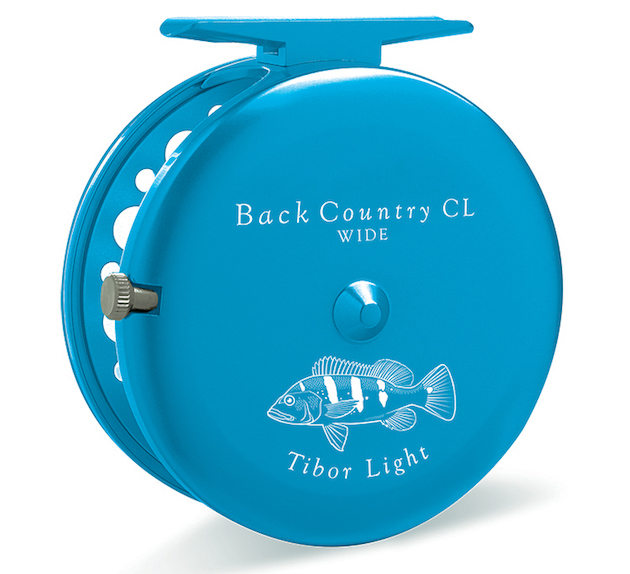 Tibor Signature Series
Manufacturer: Tibor Reels
Ideal for: Anglers who love personalization options to create a custom fly fishing look
No two fly anglers are alike, so an angler's choice of rod and reel should reflect their personality. Tibor Reel Corporation has been a world-renowned leader in designing high-quality fly reels for over 35 years, and the company takes gear personalization seriously in their Tibor Signature Series. Each reel in the series, signed by master reel designer Ted "Tibor" Juracsik, minimizes the number of moving parts and contains a completely ventilated spool and frame to keep the reel cool during long, smoking runs.
When purchasing a new reel, customers can choose from a variety of color finishes, hub colors, and game fish engravings to reflect their personality and favorite target species.
New for this year, Tibor has introduced an eye-catching Aqua Polished Finish, as well as Frost Silver and Frost Black Finish. In addition, the company has added the peacock bass to its lineup of Game Fish Engravings to give customers 16 species from which to choose. Finally, Tibor has expanded its Signature Series lineup with the new Signature 11-12S (Slim), which was designed with Sealed Drag technology for tarpon anglers.
For more information, visit tiborreel.com.
Accessories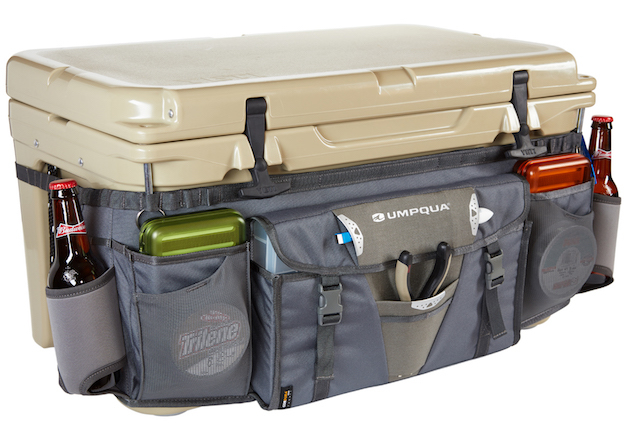 Cooler-GatorZS Organizer
Manufacturer: Umpqua Feather Merchants
Ideal for: Kayak and boat fishing, tailgating, and any outdoor activities involving coolers
When you're kayaking or boating, you want to make the most of limited space, especially if you're packing a cooler with drinks and food for an extended outing. Umpqua Feather Merchants' new Cooler-GatorZS Organizer fits most conventional hard or soft coolers to maximize storage space and create the ultimate work station on a boat or kayak.
This organizer uses Umpqua's ZeroSweep technology with two low-profile nipper/accessory stations and one hemostat/plier sheath. The main compartment holds up to two large fly boxes, while multiple smaller pockets keep the rest of your gear neatly organized. And in true tailgating fashion, the Cooler-GaterZS Organizer even comes with two insulated drink holders and a built-in bottle opener.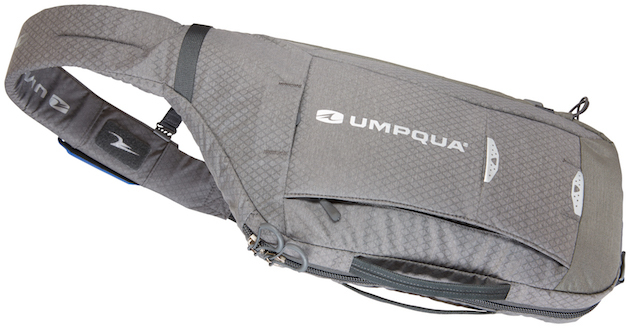 Switch 600ZS Sling Pack
Manufacturer: Umpqua Feather Merchants
Ideal for: Left-handed and right-handed anglers, and tight quarters requiring minimal gear
For left-handed people living in a world made for righties, finding a pair of scissors is hard enough, let alone gear for outdoor pursuits. Fortunately, lefties can check shoulder packs off their list, thanks to Umpqua Feather Merchants' newly announced Switch 600ZS Sling Packs. This sling features a fully ambidextrous shoulder pad, and you switch from the left shoulder to the right shoulder simply by flipping the pack. Umpqua's ZeroSweepTM design creates a streamlined, smooth exterior, while allowing the angler full freedom of movement for casting.
Despite its slim profile, the Switch 600ZS Sling Pack offers an impressive 600 cubic inches of storage capacity and convenient attachment ports to keep your nippers, hemostats, and other must-have tools within easy reach.
To see Umpqua Feather Merchants' full lineup of ZeroSweep products, visit umpqua.com.