Since Blue Book of Gun Values first appeared in 1980, it's become the authority on firearm history, specifications, and values. And for good reason. Helmed by editor and publisher S.P. Fjestad, the book offers encyclopedic insight on firearms, ranging from 1890s-production L.C. Smith side-by-sides to .700-bore Holland & Holland double rifles.
We asked Fjestad to discuss four of his favorite shotguns from Blue Book, and here's what he came up with:
James Purdey & Sons 28 Gauge Over-and-Under, Engraved by Winston Churchill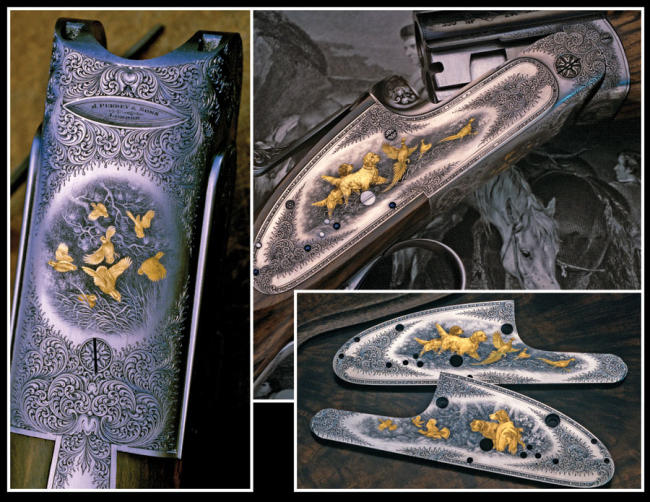 This 28 gauge is the only Purdey shotgun to be engraved by Winston Churchill. With more than 40 years of accolades behind him, Churchill is one of the most accomplished American engravers of all time. He's earned a reputation for crafting exquisitely designed and executed art, using timeless firearms as his canvas. While top British and international engravers routinely work on Purdeys, the company seldom grants the opportunity to Americans, even those of Churchill's stature, which only further distinguishes the gun.
Estimated value: $150,000−$175,000
Factory-Engraved Ithaca Flues Sousa-Grade Trap Model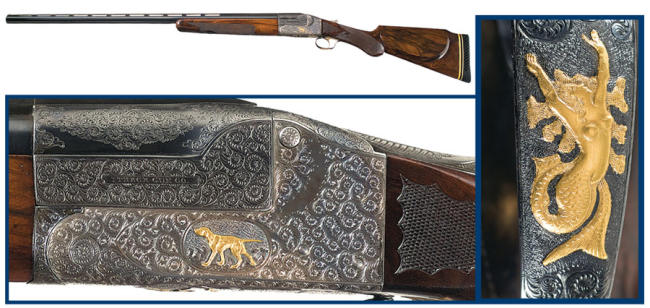 Ithaca introduced the Sousa Grade in 1918 in honor of composer John Phillips Sousa, an ardent shooter, and the shotguns are now among the company's most collectible models. This 12-gauge, single-barrel trap model features elegantly engraved, fine English scroll; 32-inch barrels; an oval panel with a gold-inlayed hunting dog; a duck–marsh scene; and the company's trademark gold mermaid on the trigger guard. Its beautiful walnut stock includes a straight grip, beavertail forend, presentation Pachmayr recoil pad, and sharp checkering.
While trap shotguns usually see a lot of wear, this particular model shows only a few handling marks. The gun also boasts a factory letter denoting it as custom-made for industrialist Philip du Pont and a silver and gold scimitar marked "Medina" next to the trigger guard.
Estimated value: $16,100
Piotti Side-By-Side Engraved 12 Gauge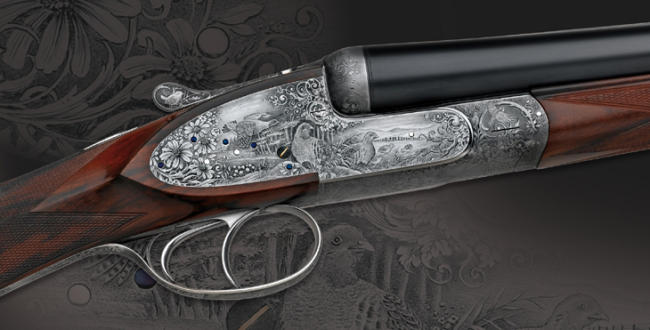 This 12-gauge Piotti side-by-side was hand-engraved by Italian master Gianfranco Pedersoli, who specializes in elaborate ornamentation, gargoyle imagery, and the bulino engraving technique. Bulino involves punching deep, tiny dots into polished steel to form an image, and Pedersoli never renders the same pattern or scene twice, even for matching pairs of shotguns. 
So what happens when one of the finest engravers meets one of the finest shotguns? The word expensive rightly comes to mind. A Piotti pinned sidelock side-by-side without engraving starts at $30,000, and in this case, Pedersoli's work might add another $50,000.
Estimated value: $70,000
Darne V22 28 Gauge Side-By-Side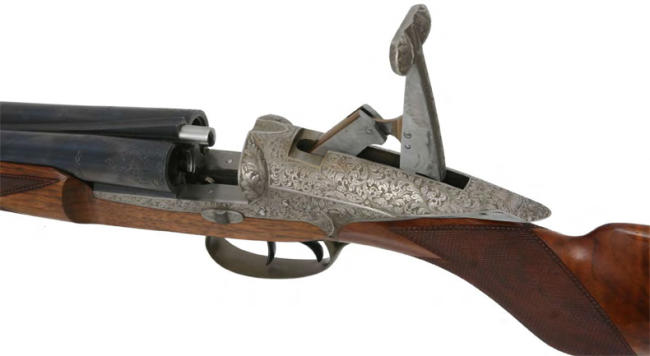 Made in St. Etienne, France, this Darne side-by-side exudes the flair of traditional European sporting shotguns. Notice the fine checkering and extensive engraving on both the frame and back of the breech. Likewise, the barrels are bored in special steel tubes, polished at length, and soft soldered at low temperatures to preserve the metal's integrity.
Most notably, Darne side-by-sides have a distinctive action not found on other shotguns. The breech mechanism slides rearward to open the action for removing and loading shells. Closing the breech again cocks the gun. Because the barrels remain stationary, the forearm doesn't pivot and explains the gun's elongated design. A full-length rod through the stock carefully fits beneath the action, reducing recoil and cartridge movement when fired.
Pierre and Regis Darne established their namesake company in 1881, and the organization continued making guns under the Darne name until 1990, when Paul Bruchet, a former employee, obtained permission to manufacturer firearms under the name.
Estimated value: $12,000
Read more about classic shotguns and Blue Book of Gun Values here.
Photos and text provided by Blue Book.
This is promotional content supplied by a third-party sponsor.