Double Guns of Nashville, the area's newest dealer of fine firearms, is announcing its grand opening with a special event. Double Guns of Nashville will be hosting a party at their headquarters, located on the grounds of the Nashville Gun Club at 1100 County Hospital Road, this Saturday, November 19, from 10 a.m. to 4 p.m. Come out and demo the "finest collection of sporting guns in Nashville."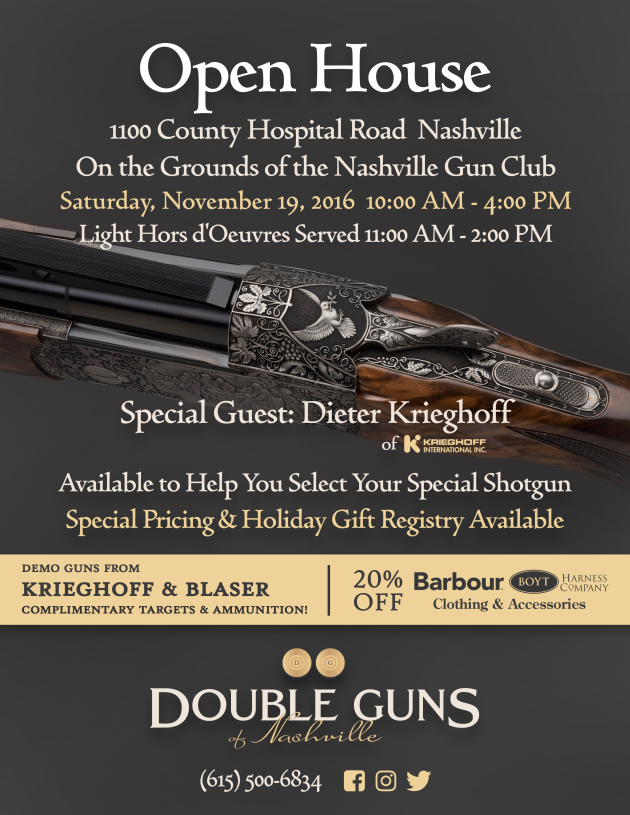 Special guest Dieter Krieghoff of Krieghoff International will be in attendance to help you select your special shotgun. Dieter Krieghoff represents the fourth generation of the Krieghoff family, continuing a tradition of 130 years of quality gun making. Double Guns of Nashville is proud to carry a variety of Krieghoff shotguns, as well as a variety of other premium firearms brands.
Double Guns of Nashville will serve light appetizers from 11 a.m. to 2 p.m. There will be event specials and holiday gift registry options on men and ladies gear and apparel from featured brands including Krieghoff, Blaser, Barbour, Boyt, and Bob Allen.
Double Guns of Nashville is a collaboration between longtime Nashville friends Barry Rich and Terry Hetrick. Barry has an extensive history in banking, with a lifelong passion for fine guns and clay shooting. Terry has been a certified shooting instructor since 1993 and boasts a client list ranging from first-time shooters to the highest level of professional competitive shooter. Terry also participates in the Scholastic Clay Target Program, aimed at ushering in the next generation of competitive shooters.
Double Guns of Nashville's phone number: 615-651-4690.