Florida Keys guide and co-host of Saltwater Experience, Capt. Tom Rowland knows that hosting clients with varying degrees of angling skill is the ultimate testing ground for new products like St. Croix's Mojo Salt series. After extensive field experience, Rowland grades this lineup of conventional and spinning rods a solid A+.
"Mojo Salt is perfect for the rigorous nature of a guide boat," Rowland said. "With nine models in the series, Mojo Salt applies to so many techniques, and the wide variety of species I chase. They're the battle axe of saltwater fishing."
Retailing at $200-220, Mojo Salt offers exceptional value while maintaining St. Croix's legendary acumen for blank design.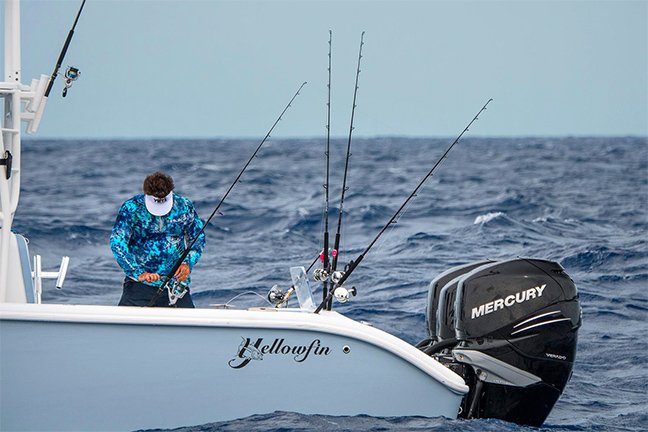 "The Mojo Salt's blank construction definitely makes it more durable," Rowland said. "It's the attention to detail; St. Croix invests tremendous effort into ensuring uniform wall thickness throughout the entire blank.
"That's huge because if you don't have uniform wall thickness, you're creating weak spots in that rod, and inevitably, it's going to break. Maybe it's on a cast, maybe it's on a fish, or maybe you're just carrying it out and you notice the tip is broken. We're not having any of those issues at all."
More about Mojo Salt's intelligent blank design: At the core, what yields these rods their immaculate balance of unparalleled strength and durability—and the perfect amount of flex—is St. Croix's dynamic blend of premium-quality SCII graphite with FRS (Fortified Resin System) and linear S-glass.

To that, Mojo Salt's Integrated Poly Curve (IPC) tooling technology eliminates all transitional points in the rod blank, delivering smoother actions, increased strength, and greater sensitivity. This, while Advanced Reinforcing Technology (ART) adds a magnitude (10X) of strength with virtually no increase in blank diameter or weight.
With Rowland's angling repertoire ranging from light-tackle, shallow-water pursuits to more demanding coastal and nearshore targets, Rowland said the Mojo Salt construction not only delivers the durability and consistency he needs, but also a particular design element with wide-ranging benefit: the taper of the blank.
"Mojo Salt has a slightly slower, more progressive taper," touts Rowland. "I like that for all of our bait-fishing applications like catching big tarpon on live mullet. Sometimes you have to cast the bait, and the more progressive action does a better job launching the mullet."

Elsewhere, Rowland finds Mojo Salt rods offer superior flex for throwing larger artificials such as big tube lures for barracuda. Hurling these hefty baits long distances is key, but the forgiveness of a rod with a little more flex helps maximize every bite.
Built for hardcore saltwater boat, pier, and jetty anglers, each Mojo Salt rod features Sea Guide boat rod guides with rust-resistant SS304 frames and aluminum-oxide rings, Premium EVA handle, and Fuji DPSH Boat Rod reel seat and complimentary gimbal. St. Croix adds two coats of Flex Coat slow-cure finish, underwraps guides for enhanced blank protection, and backs this craftsmanship with a five-year warranty backed by St. Croix Superstar Service.
"These rods are super durable, and we have broken zero guides," Rowland said. "Normally, giving these rods to many different charter customers, the guides are going to be your first problem. You knock out the ceramic insert or one of the feet breaks, and it catches your line. But these rods are definitely heavier duty, and we're not breaking any of them. They're fantastic."
Retail prices: $200-$220.

Mojo Salt Features:
Integrated Poly Curve® (IPC®) tooling technology
Advanced Reinforcing Technology™ (ART™)
Dynamic blend of premium-quality SCII graphite with FRS and linear S-glass for unparalleled strength and durability
Incredibly lightweight saltwater boat, pier and jetty rods
Sea Guide boat rod guides with rust-resistant SS304 frames and aluminum-oxide rings
Fuji® DPSH Boat Rod reel seat and complimentary gimbal
Premium EVA handle
Two coats of Flex Coat slow-cure finish
Underwraps on guides for added blank protection
5-year warranty backed by St. Croix Superstar Service
Designed in Park Falls and handcrafted in Fresnillo, Mexico