From the March/April 2015 issue of  Sporting Classics, on newsstands March 4.   
Sporting Classics' 15th annual Awards of Excellence once again salute the best of the best—the companies and individuals whose products and services are having a significant and long-lasting impact on our sporting lives.
The nominees were submitted by our senior and contributing editors, then finalized by the Sporting Classics staff. The honorees were chosen for their achievements in defining what a great sporting product should be. Their engineering, craftsmanship, and innovations have set higher standards than ever before.
We're proud to present the winners of the firearm categories. 
2014 Company of the Year
Caesar Guerini was founded in 2002 when Giorgio and Antonio Guerini of Italy teamed with Wesley Lang of the US to build firearms that would represent the newest standards of premium performance, durability, and value for American sportsmen and women.
Now headquartered in Cambridge, Maryland, Caesar Guerini USA produces a wide variety of fine shotguns, from upland field models to sporting clay target guns, as well as trap and high-rib sporters. Imported from Caesar Guerini in Brescia, Italy, their over-and-unders incorporate outstanding craftsmanship, precise manufacturing tolerances, and top-notch materials. And each gun is backed by some of the best customer service in the industry, including a complimentary PitStop maintenance program and a lifetime guarantee.
"We don't strive to be the largest gunmaker in our niche, but the best," says Lang. "We always try to add value for the customer by making a better product without an increase in price."
Every Caesar Guerini gun is a modern classic, a functional example of Italian art.
Rifles
RIGBY MAUSER
Many consider the Rigby Mauser bolt-action, Magnum Action, magazine rifles of the early 20th century the epitome of a dangerous game rifle. With proven durability and reliability, Mauser's controlled-round action and John Rigby's craftsmanship have made these rifles the choice of professional hunters who appreciated the five shots in a magazine rifle over the faster two shots of a double.
Whether chambered for the .375 H&H, .450 Rigby, or the famous .416 Rigby, each Rigby Mauser was impeccably styled and precision built for perfect, reliable function. Form followed function, not fashion. The result was a profile instantly recognizable by aficionados of fine rifles.
And now that form, updated, is being built again in London for the first time in decades. An alliance between Rigby and Mauser has brought real Rigby Magnum Mausers back to the 21st Century. —Ron Spomer
Optics
LEUPOLD VX-6 SCOPE and CDS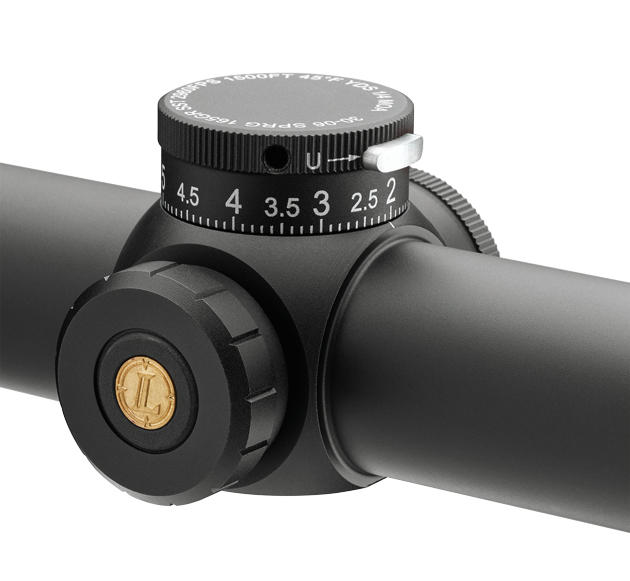 Leupold tags itself as "America's Optics Authority," a description that's as clear and accurate as their scopes. The unquestionable category leader in functional innovation, Leupold is being recognized for two exceptional products—the VX-6 series of riflescopes and the CDS (Custom Dial System).
Leupold's VX-6 scopes have a 6:1 zoom ratio that provides double the flexibility of just about everything else on the market. Better yet, Leupold engineered the VX-6 in such a way that there aren't any bad spots in the optical prescription. With a VX-6, the image is sharp, consistent, and flat right to the edges, regardless of magnification.
The CDS system takes the long shot out of long shots. After all, it's easier to hit without holdover. The Leupold Custom Shop actually creates a custom elevation dial with shooter-supplied ballistics, including elevation, temperature, and humidity. The downside? No more excuses to miss. —Dwight Van Brunt
Shotguns
BENELLI 828U OVER-AND-UNDER

Blending innovation with classic design has long been a Benelli hallmark, and this philosophy is clearly apparent in the company's first foray into the over-and-under market. The new Benelli 828U is a contemporary interpretation of the traditional over-and-under design with the accent on maximizing the performance and shootability of a lightweight, 12-gauge field gun. A joy to carry at only 6.6 pounds, the 828U is nonetheless exceptionally well-balanced, neither whippy nor muzzle heavy.
The gun sports floating crio barrels, no side ribs, and a lightweight, low-profile carbon fiber rib. Barrels, either 26 or 28 inches, are interchangeable. The 828U is built with steel hinges and a locking-plate system that reduces stress on the pins and on the receiver while also making for easy opening. Two performance features stand out. Drop and cast adjustments can be tuned to 40 settings, assuring a custom fit for practically every gunner. The gun also features Benelli's Progressive Comfort System, a recoil-reducing system that not only works but is also unobtrusive.
Making changes to classic designs is always tricky. Benelli, however, has done an artful job in blending the old with the new and creating a 12-gauge field gun that points well, shoots soft, and carries easy. —Doug Painter
Lifestyle & Design
KRIEGHOFF INTERNATIONAL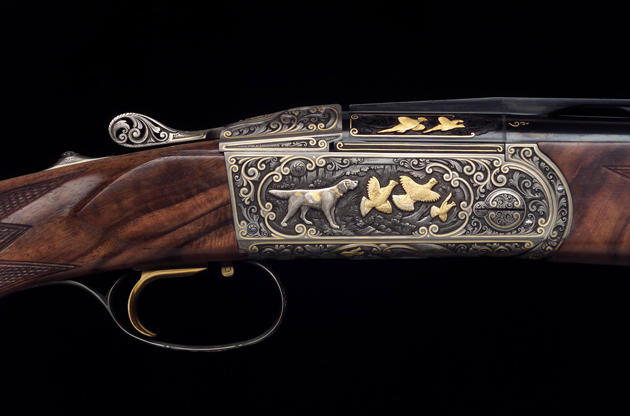 Krieghoff's worldwide presence in the hunting and clay-target fields started with a single thought: To build the perfect drilling for German hunters.
In 1886 Ludwig Krieghoff did not foresee his vision would be perpetuated for five generations and evolve into the Krieghoff K-80 becoming a dominant force in clay target sports.
The Krieghoff family's innovative spirit and unwavering commitment to quality is built into every firearm at its factory in Ulm, Germany. In addition to the company's flagship K-80 and K-20 shotguns, hunters can select from a variety rifles. The bespoken Essencia, available as a side-by-side shotgun, single-shot rifle, or double rifle, is built for the most demanding firearms connoisseurs, while the Semprio slide-action rifle, with its fast handling and interchangeable caliber versatility, makes it the perfect choice for any kind of big game hunting. Safari hunters carrying the Classic Big Five double rifle know they can efficiently take any trophy, whether leopard or lion, elephant or Cape buffalo. The Krieghoff Drilling, still offered today, laid the foundation for what has become a company known across the world for its quality, reliability, and commitment to customer service.
Shooting Sports
BARNES BULLETS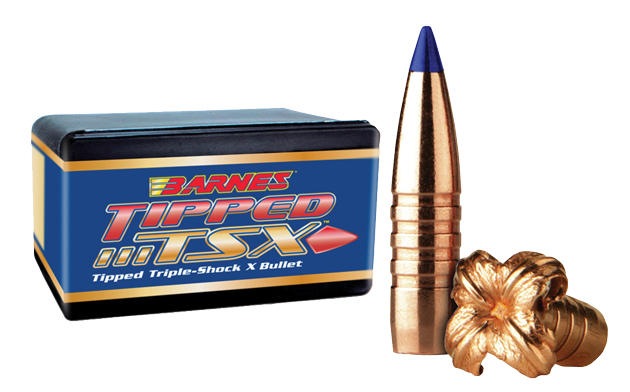 Innovation drives advances in shooting as much as computing, and innovation is usually risked by individuals, not corporations. Mom-and-pop operations take risks and then drag big companies in their wake. Barnes Bullets has created one hell of a wake.
Since the mid-1970s mom and pop at Barnes Bullets have been Coni and Randy Brooks, two 20-something kids who didn't know they couldn't challenge the big, established bullet and ammo-makers of the world. So they did. Starting in their basement. Once Randy's wild-and-crazy, all-copper, hollow-point X-Bullet caught on, the industry sat up, took notice, took a hint, and started chasing that wake.
Today, most bullet manufacturers offer some kind of monolithic bullet, none more successful than the current crop of Barnes bullets. TSX. TTSX. LRX. Spit-Fire TMZ, XPB . . . All monolithic. All deadly. All the time. —Ron Spomer 
Special Editor's Award
BERETTA PICO HANDGUN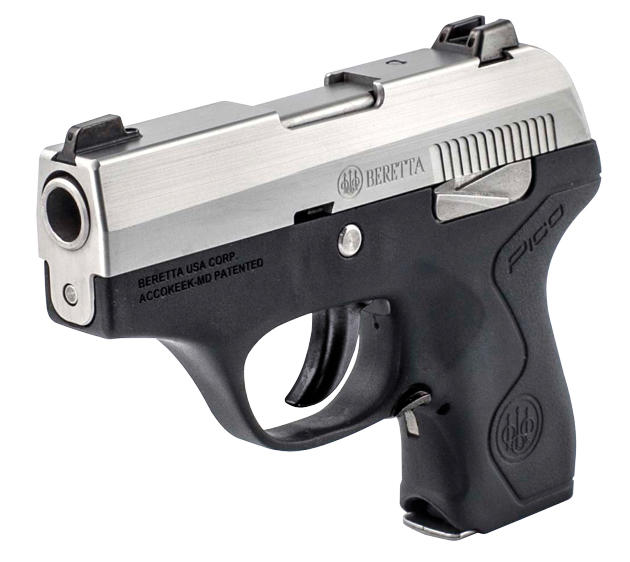 The ultra-concealable Pico is the thinnest .380 semi-automatic pistol on the market and an excellent handgun for women shooters. The snag-free Pico's slide and frame are only 18 millimeters at their widest points. The grip frame, sights, and even the caliber are all easy to modify—the pistol goes from .380 to .32ACP simply by changing the barrel. The micro compact-carry pistol features a double-action trigger, a removable, stainless steel sub-chassis, and a modular frame that can be easily disassembled for cleaning and customizing. The techno-polymer grip frame can be changed from black to any of several other colors.
Beretta partnered with LaserMax to deliver an integrated laser and a light grip-frame housing for the Pico. By replacing the entire grip frame, the user gets the most integrated, streamlined light or laser possible—critical for such a compact concealable pistol.
Special Editor's Award: Timeless Classic
DAISY RED RYDER BB GUN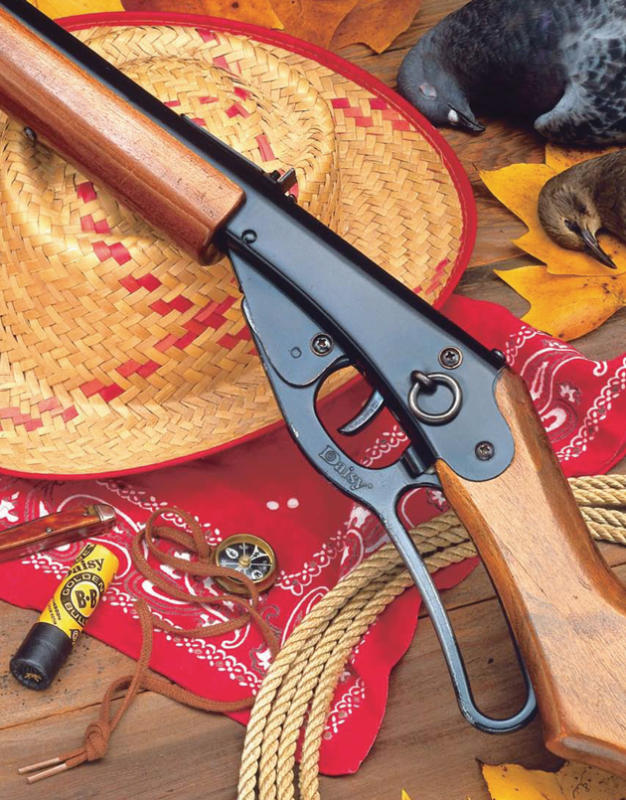 The most beloved American long gun of all time? Sharps .50, Kentucky longrifle, Winchester 94? I conjure a forum of passionate, seasoned shooters, one last nomination after all others are exhausted . . . a quiet pause, and gentle, growing smiles of wholehearted acclamation.
Introduced in 1940 and inspired by a Fred Harman comic strip character, the Daisy Red Ryder BB Gun, with saddle ring, thong, and branded stock, quickly became a runaway favorite of boys and girls everywhere, no matter their age. By 1949 more than a million units were sold that year, unheard of for the times.
Quickly establishing itself as the veritable iconotype of air rifles, it became the gun that won the West for generations of youthful cowboys and girls, and the idolized first gun for an entire nation of budding hunters. No field rat, water spider, English sparrow, marauding squirrel, dragonfly, chicken snake—nor, ruefully, Grandma's mockingbird—ever crossed the line with our trusty Red Ryder at hand.
The Daisy Red Ryder Carbine: the timeless boyhood classic no man ever outgrows. —Mike Gaddis
From the March/April 2015 issue of  Sporting Classics, on newsstands March 4.

Red Ryder Photo: Bill Headrick