Mirage Revolution 13 
During the second annual Hobie Bass Open, company representatives partnered with local dealer Hooper's Outdoor Center to host a Hobie Fun Fest consumer event at Kentucky Dam beach. Tournament competitors, their families, and the general public tested Hobie's impressive variety of MirageDrive kayaks and stand-up paddleboards.
Not wanting to miss out on the festivities, I could not resist field-testing some of Hobie's best-selling MirageDrive kayaks myself. Hobie devotes impeccable attention to detail and user-friendliness to their entire product line and has expanded its fleet of MirageDrive kayaks over the years to appeal to multiple ages, demographics, and recreational uses.
Whether you're a die-hard kayak angler, a recreational lake paddler, or a beginner sailor, Hobie has a kayak that is certain to fit your needs.
Here is my personal shortlist of favorites from the MirageDrive fleet:

Mirage Sport
Ideal for: children, young adults, and women
Weighing in at a mere 60 pounds, the Mirage Sport is the perfect size for small adults and teens without compromising functionality, versatility, and stability. This small kayak is jam-packed with all of the standard MirageDrive features, including Hobie's fully adjustable and removable Vantage CT seating system, dual rod holders, and storage hatches for all of your gear. The Mirage Sport turns on a dime and easily dips in and out of tight spaces.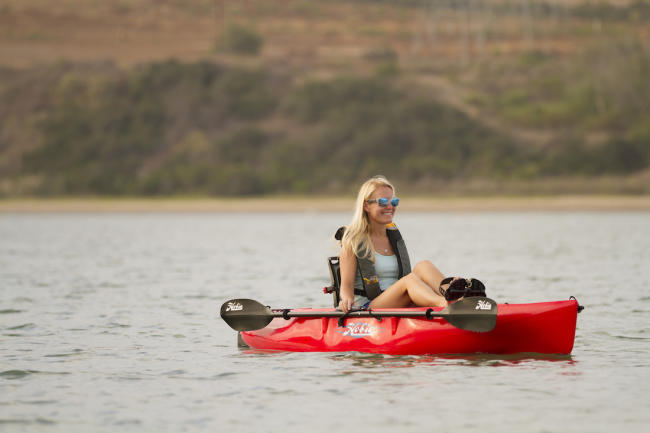 Mirage Sport
Mirage Outback
Ideal for: well-rounded outdoor enthusiasts
Want to do it all in just one kayak? The Mirage Outback is a bestseller due to its incredible versatility, stability, and storage capacity. This kayak easily cuts through choppier water, provides a stable platform for photography, has four rod holders for fishing, and has enough room for your camping supplies and tackle boxes. You can add even more versatility to your Mirage Outback with an optional H-Bar that enhances your ability to stand while casting, or the Mirage Sail Kit for quick and easy sailing on windy days.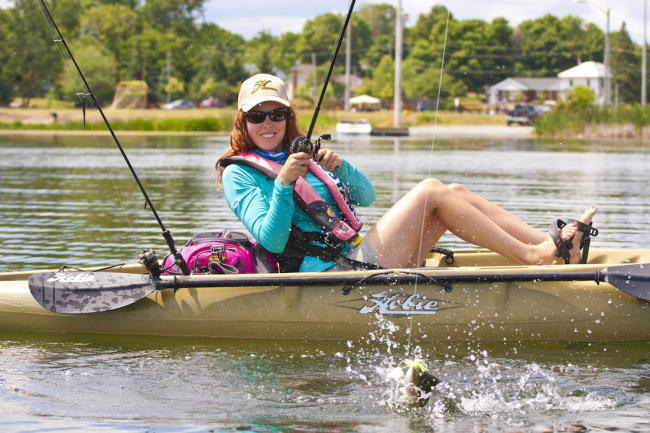 Mirage Outback
Mirage Revolution 13
Ideal for: recreational and long-distance kayakers
Have a need for speed? The sleek Mirage Revolution 13 is a distance paddler's dream. This slender kayak slices through both smooth and choppy water without sacrificing stability or comfort. The Mirage Revolution 13 comes with dual rod holders and enough storage for a long, leisurely day on the water. And if this boat still isn't fast enough, simply upgrade your MirageDrive with the ST Turbo Fins, and get ready to leave every other kayak in your wake.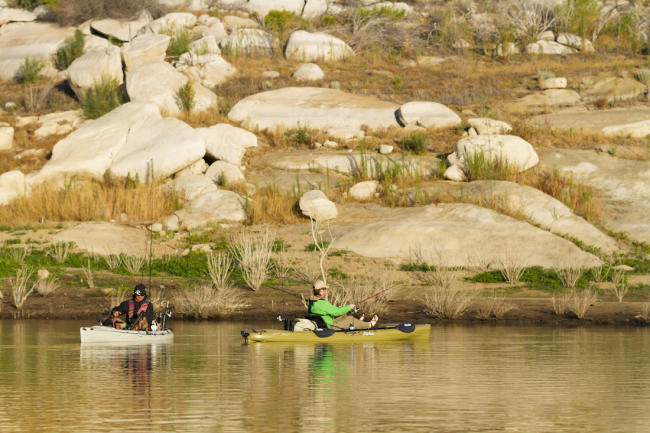 Mirage Revolution 13
Mirage Pro Angler 14
Ideal for: recreational and tournament anglers
The Mirage Pro Anger 14 was specifically designed with serious anglers in mind—and was the single most popular boat during the Hobie Bass Open. Examining its features, it's not hard to see why. The Mirage Pro Angler 14 is unbelievably stable for standing or sitting while you cast, comes with six rod holders, and can hold up to 600 pounds of angler and gear. Despite its impressive size, this kayak covers ground quickly and offers excellent maneuverability in tight spaces. The Mirage Pro Angler 14 is also ideal for photographers, snorkelers, and even scuba divers who need a stable platform with plenty of room for gear.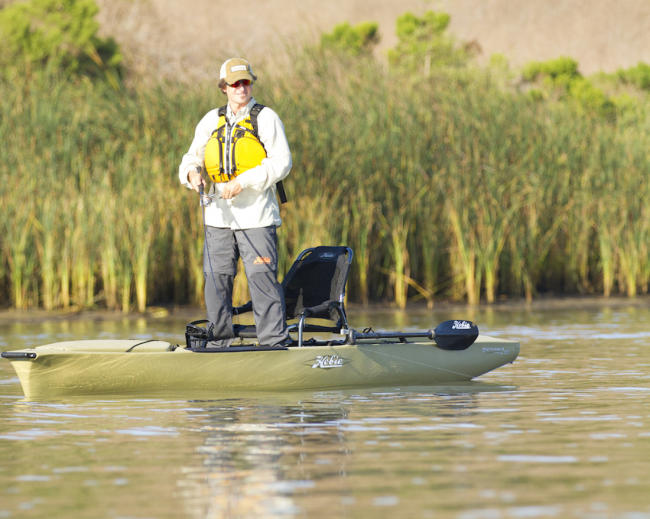 Mirage Pro Angler 14
Mirage Tandem Island
Ideal for: couples, families, and sailing enthusiasts of any experience level
You don't need to be a sailing expert to enjoy the speed and smoothness of the Mirage Tandem Island. Thanks to the MirageDrive, rudder, and only two ropes controlling the 18-foot mast, this kayak is, quite literally, a breeze to use. Couples can enjoy a sunset cruise alone or with the children, but the Mirage Tandem Island is also perfect for solo sailing. If the wind isn't blowing, simply remove the mast and sailing rig and use the boat just like any other tandem kayak.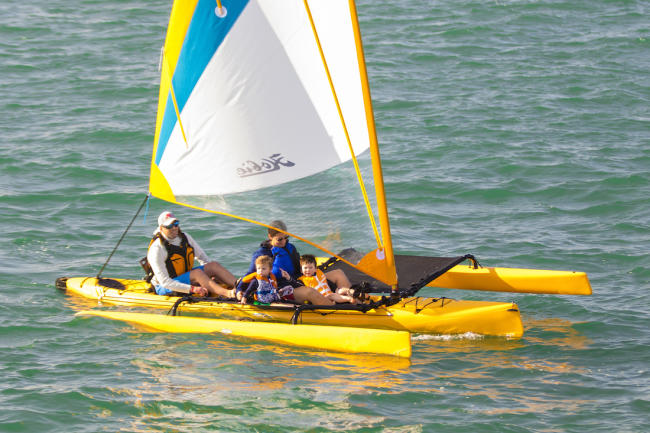 Hobie Tandem Island
Each Hobie MirageDrive kayak comes with everything you need to start enjoying the water immediately – a paddle for navigating tight or shallow water, the Vantage CT seating system that doubles as a detachable beach or lawn chair, and of course Hobie's trademark MirageDrive foot pedal system.
Photos courtesy of Hobie Cat Company. For more information or to locate your nearest Hobie dealer, check out http://www.hobiecat.com/.
Subscribe to the free daily newsletter to receive Sporting Classics stories delivered directly to your inbox.